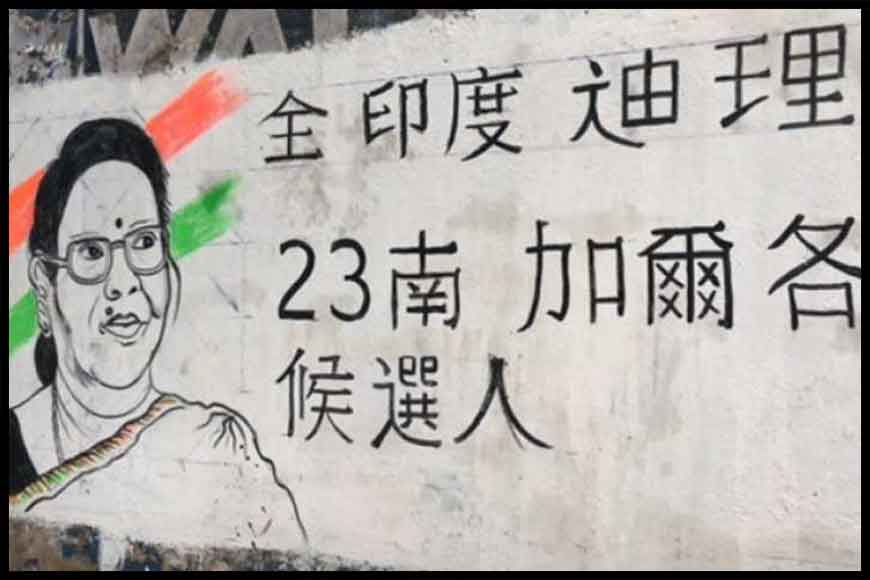 The poll season is keeping the city busy these days. Every political party is trying out various strategies to attract the masses and coming up with unique campaigning styles. Despite popularity of social media, wall graffiti is still a tool for attracting voters. But what has surprised many in the City of Joy this Lok Sabha poll season, are words written in Chinese script on the walls!
China Town of Bengal is a thriving home for Chinese Hakka people who had migrated to Kolkata many centuries back. Even today, the third and fourth generations of the community live here in this locality and play an active role in the electoral process of the state. For the first time in history, the Chinese community living in this locality has been doing graffiti in Chinese language openly indicating their support to the Ma-Mati Manush party. In recent years, a considerable amount of development has taken place in China town. The area hosts the best of Chinese restaurants of the city. There were tanneries here previously which have now shifted its location to Leather Complex off EM Bypass.
The entire Kolkata- Chinese community have been happy with the better roads, water and civic amenities and are therefore, not reluctant to extend their hand of support to Trinamool Congress. The walls of China Town have been adorned by interesting graffiti and slogans in Chinese language. There is a wall which features a mural in support of Mala Roy from South Kolkata constituency urging people to give their precious votes in her favour. If you take a stroll down China town, the other graffiti that meets your eyes is a comical mural depicting Nirav Modi and Vijay Mallya. There are around 5000 Chinese families in China Town out of which 2000 are registered voters. Their innovative wall graffiti in Mandarin language has indeed added a new dimension to the politics in Bengal.