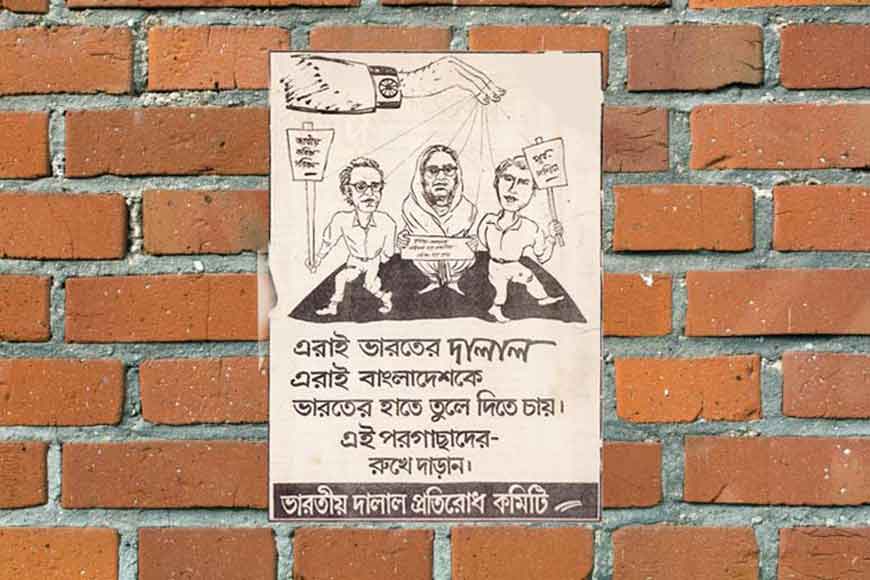 I knew Sunil Gangopadhyay's novel had that power to give voice to the words and feelings of millions of Bengalis across the globe. So, it was a self-imposed responsibility of producing it into a Television Series. Though I knew it would be a very difficult and cumbersome execution, yet something within told me to carry forward my dream.
It was in 1991 when I first set my foot in Bangladesh to discuss the logistics of executing the producing Purba Paschim. This was also the land of my parents and being there was a huge emotional moment for me. By then, I had done quite a number of TV series for Doordarshan and hence had developed a kind of bonding with the then deputy director who often indulged my ideas on various issues. I felt he would be the right person to accompany me to Bangladesh to get a proper direction to the project. He was an experienced hand in small screen production and broadcasting and for strategic reasons I thought of requesting him to hand hold me into it.
It was decided Purba Paschim will be directed by Naseeruddin Yusuf, well-known in Bangladesh by his nickname Bachhu. Bachhu himself was a Mukti-Yoddha, and in 1971 he led the first set of freedom fighters that entered Dhaka after country freed herself from Pakistan. He was the founder of 'Dhaka Theatre', one of the most popular theatre groups in Bangladesh and had staged many socio-political productions that had large scale acceptance among the intelligentsia. Quite naturally, we thought he would be the best person available then with hands on understanding of both the ground reality and performance logistics to take forward Purba Paschim.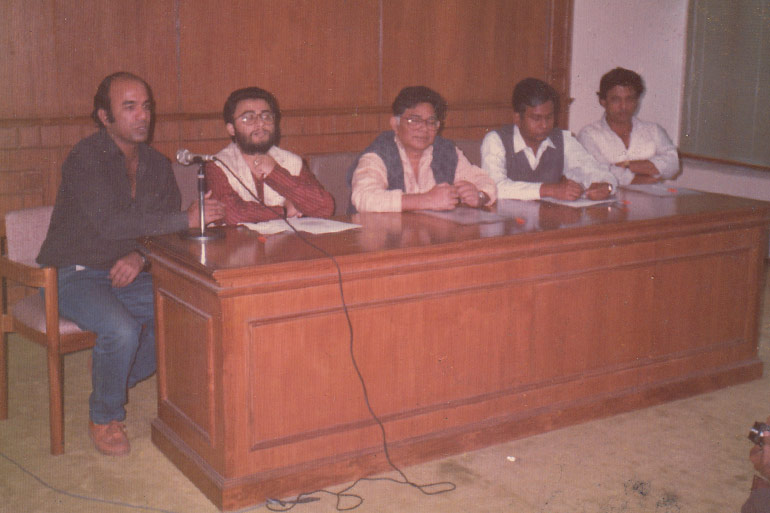 As assistant director we thought of Milan Chowdhury from Kolkata, who had his parental roots in Barishal. He used to stay at Baghajatin colony in the Jadavpur area and seemed as obsessed as me about the history and togetherness of both Bengals. We also needed an 'Intelligence Clearance' from Bangladesh to take forward the series. I was constantly travelling to Bangladesh and needless to say was received well by friends and well-wishers. They almost turned to a second family for me. In 1992 I travelled again, this time with Sunil da. We both realized the production had to be a balanced one, including both Bengals.
We got a grand welcome at the Dhaka airport and Yusuf himself came with his friends to receive us. By then Sunil da's name as an author was quite popular among the literary circle of Bangladesh. On 6th February at 5pm a press conference was arranged at Dhaka Press Club. The crowd was overwhelming. Everyone was looking for an opportunity to meet Sunil da. Other than us, there were many well-known personalities of Bangladesh present at the press meet --- from Salim al-din, Belal Chowdhury to poet Imdadul Haque and others. Sunil Gangopadhyay told the press why he wished Purba Paschim to be shot in Bangladesh, as his story revolved around Bengalis who left this land and then proceeded to various parts of the world, including UK, USA etc. He also said he had immense faith in me and Bachhu to successfully pull through this complex production.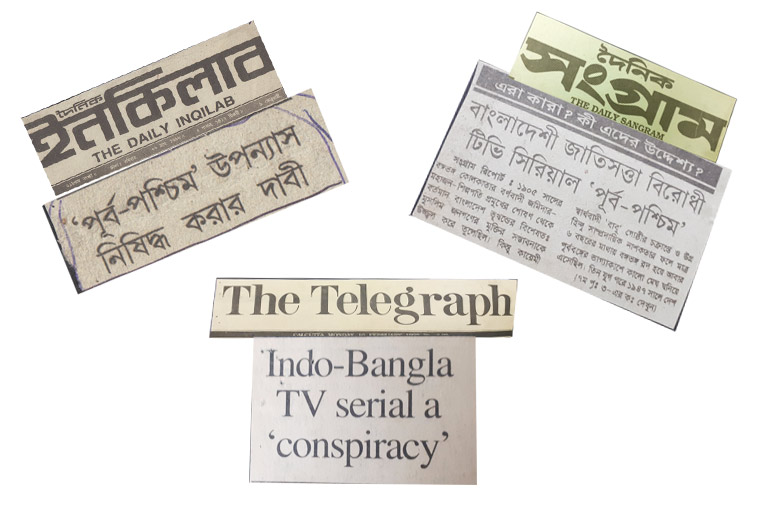 The next day, all major newspapers of Bangladesh carried the headlines of Purba Paschim production. A section of the people of Bangladesh and many intellectuals welcomed this joint venture. But where there is praise, there is jealousy and negativity too. And we had to face that too. Conspiracy theories erupted against me and Bachhu and posters were put up in Dhaka and several districts saying we were trying to unite the two Bengals probably with an ulterior political motive! However, I always had walked against the tide and my determination to pull the serial through further got a boost, thanks to such mindless opposition. I did not pay much heed to the threats and other agenda driven criticism that came my way. Instead, preferred kepping myself busy with the pre-production planning for the clap stick scheduled on the 21st of February shoot.
(Translated by Saheli Mitra from original text)
(To continue)