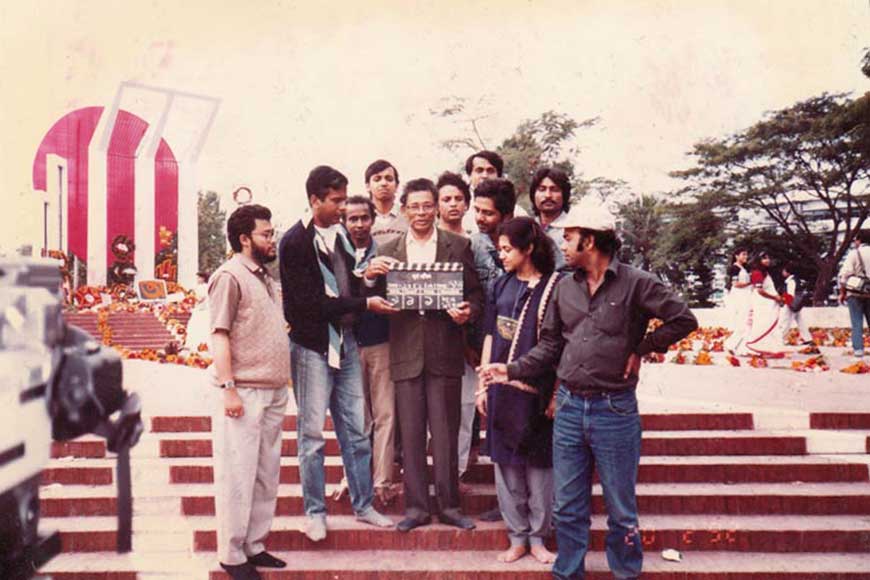 The date 21st February has a special significance in my life, just like it has in the history of my mother tongue Bengali. The two sides of Padma witnessed the start of the first ever television series engaging artists and technicians of both sides of the border. Transcending memories of a bloodied partition, cruelty, hopelessness, human misery and loss, I started the shooting of the TV series 'Purba Paschim' in 1992, based on the Sunil Gangopadhyay's novel of the same name.
21st February was not just celebrating 'Bhasha Diwas' and remembering with utmost gratitude, thousands who gave their lives for the Bengali language; for me it was to bring to the global audience the tale of this diaspora from both sides of Bengal. It was beyond romanticizing the trauma of our ancestors who had to leave their homes and hearth behind. Millions who were uprooted from their roots from Myemenshingha, Dhaka, Sylhet, Chittagong and more, narrated the gory tales of riot and rape, of mass murder and loss of lives. Even today, when I sit back and reminisce the stories heard about our 'home' in Opar Bangla, the heart-warming laughter of my father's friend Abul Saheb, memories of our parents and grandparents who left East Pakistan in 1947, I realize how the lost thread of togetherness needed to be brought back to a larger audience. For nothing can stir the soul of a nation better than memories and nostalgia.
Though I was brought up in South Kolkata's Ballygunge area, such tales never left our homes and I knew that even a geographical and political partition could not divide the love and yearning of togetherness between the two sides of Bengal. It was more evident during the Mukti Yuddha of Bangladesh, when Bengalis from e-par Bangla stood shoulder-to-shoulder to support their brothers of East Pakistan in their rightful demand for independence from Pakistan. These were also the feelings that led Sunil da to write the famous historical novel Purba Paschim on a larger canvas. What Sunil da tried to bring through the chapters was not just tales of two Bengals. It was rather of the psyche called Bangaliyana cutting across caste and religion, the same thread of feelings connecting Bengalis across the globe, be it in USA, Kolkata or in Dhaka. Else why would an East-Bengal football match create the same fervor in Kolkata among youths of today or why would a theatre or movie from West Bengal turn house-full in Dhaka?
I knew Sunil Gangopadhyay's novel had that power to give voice to the words and feelings of millions of Bengalis across the globe. So, it was a self-imposed responsibility of producing it into a Television Series. Though I knew it would be a very difficult and cumbersome execution, yet something in me told me to carry forward my dream. It could probably be my obsession about my parental roots which I considered mine too, that made me take up this almost a once in a lifetime task. By then from 1986, I had engaged myself in various worldwide productions mostly on World sporting events and personalities. Working for Sir Don Bradman's Bodyline series in Australia, covering the 1990 World Cup Football in Italy and the first FIFA Women's Football Cup in China and many more, gave me some confidence to go ahead with such an international venture. In the beginning I decided to distribute the series through Home Videos across the globe and thereafter broadcast it on Doorsarshan and other TV channels. With this dream in mind I one day called upon Sunil Gangopadhyay.
We stayed in the same housing complex as he did. I shared my mind with him. I could understand from my communication that it was loaded with much more emotion than operational logistics. He gave me a patient hearing and though I was skeptical as to whether he will wish to allow me with this task considering my young age, Sunil da just asked: 'From when do you wish to start the series Indrajit?' I just looked into his eyes, he looked into mine, and instantly we knew we were on the same boat waiting to start.
We decided to go to Bangladesh together to officially announce our dream.
(Translated by Saheli Mitra from original text)
(To continue)