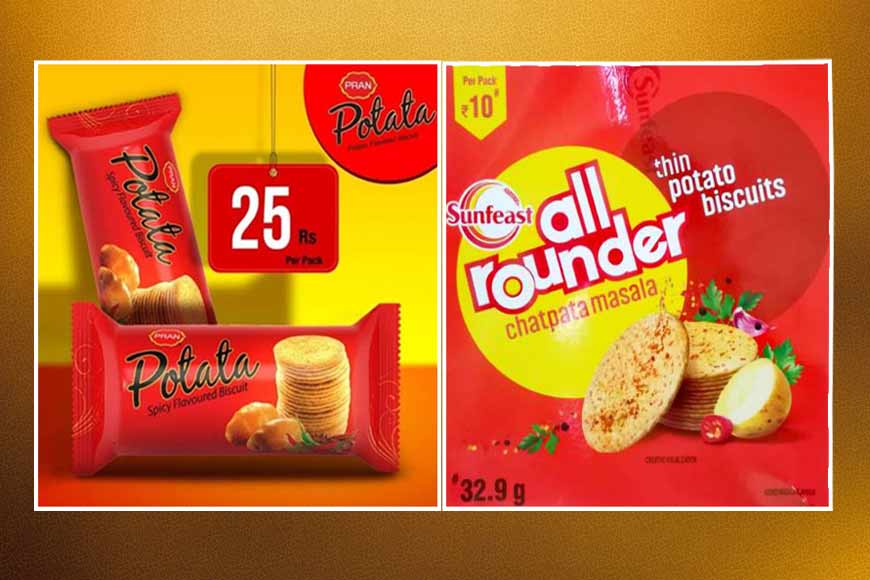 No more Potato Chips, the battle is now on a new turf --- Potato Biscuits. Yes, you heard it right. And the centre of this battle is linked to Kolkata with city based Indian giant ITC launching Potato All Rounder Biscuits to give PRAN's Potata, a wafer-thin biscuit from Bangladeshi food brand PRAN, that has flooded the markets of Bengal, a run for their money. What consumers are enjoying is the taste though --- be it Potata or All Rounder. The excitement is being primarily driven by the unique format of the biscuit and its taste. In simple terms, the product is a hybrid between a biscuit and a potato chip. It is thin, has potato as a key ingredient, and has the taste profile of spicy potato wafers.
Last month when ITC launched 'All Rounder', its own version of Potata for the Indian market, brows were raised. Brand Specialist Indu Mukherjee based in Mumbai said: 'From taste to packaging, both are similar and it will be interesting to see how these two products distinguish themselves from each other. I believe the war will be on marketing and success will be for that brand that will have the biggest marketing chain." Pran's products are mostly manufactured in Bangladesh and imported to India. Most of it is distributed in the eastern markets, given the geographical proximity with Bangladesh. Pran has also been running brand campaigns for Potata in India. The ad builds on the 'biscuit-or-chips' debate and urges trials. It also positions the brand as a healthy snack. The company is one of the largest agro-based product manufacturing company of Bangladesh and has branches across the world.

Meanwhile, 'All Rounder,' the new entrant has been launched under ITC's Sunfeast line of baked products, and not Bingo, its brand of spicy packaged chips and snacks. While Potata sells at Rs 25 for a 100 gm pack, All Rounder is available in SKUs of 33 gms and 75 gms, which are priced at Rs 10 and Rs 20, respectively. In a recent interview Ahsan Khan Chowdhury, chairman and CEO of the Pran-RFL group, mentioned that though Indian FMCG players are really large in comparison, he isn't intimidated. Instead, Khan plans to "learn from them" and wants his products to be readily available across India."
"Potata is an outstanding product, but distribution is critical for success. If ITC gets the pricing, taste and texture parameters right, it could be a blockbuster product. It (ITC) has a robust distribution network across cities, small towns and villages," he adds.
"What is interesting is how a very large player, in this case ITC has been inspired by a product from a smaller brand ie Pran. It is usually the other way around in the food and snacking business," added Mukherjee. Now it is to see which side people of Bengal and Eastern India flip to --- Potata or All Rounder?