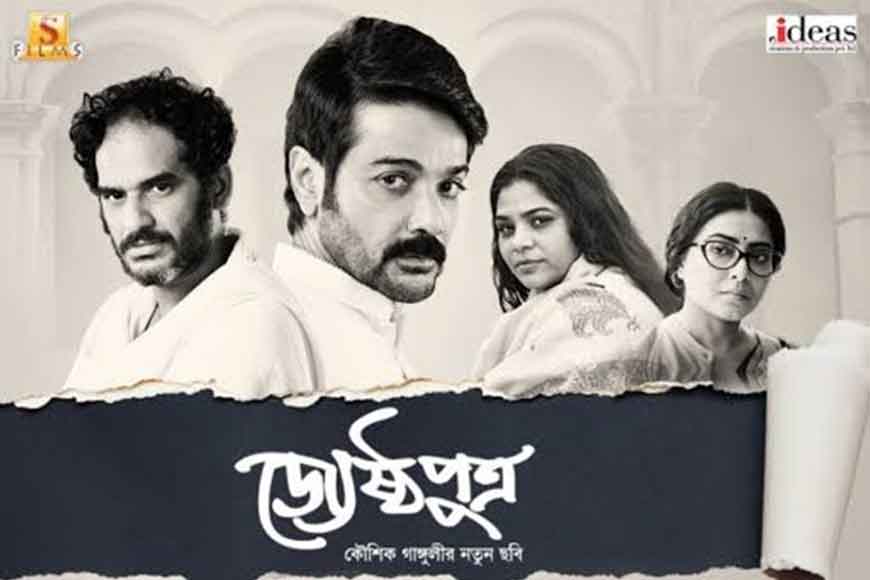 A brilliant weaver of tales on relationships, Kaushik Ganguly, as director and writer, has given us yet another poem on celluloid with Jeshto Putro or the 'first born son'. The film is a tribute to Rituporno Ghosh, a film-maker extraordinaire, as the story is inspired by one left unfinished by the maestro.
A haunting and distressing tale of conflicts between siblings, the movie stupefies us to silence. The plot is unencumbered with intricate sub-plots woven into it and stays singular in execution. References to the past in many places remain sketchy yet eloquent throughout.
The film explores the emotional bonding between two brothers who meet after decades in their ancestral home to perform the last rites of their deceased father. The elder brother, Indrajit (Proshenjit Chatterjee), who is in the public eye as a 'star' in tinsel town, reveals an insatiable appetite for adulation even in the midst of bereavement. The younger brother, Partho ( Ritwick Chakraborty), who has been holding the family fort for many years in Indrajit's absence, is relegated to the background as Indrajit has arrived, and only he must occupy the rightful position to fulfill his duties as the 'elder son' in the ceremonies to follow.
The conflict between the brothers, despite the undercurrent of love that still exists at a subterranean level, comes into focus when Indrajit is haunted by his fans everywhere. This disrupts the peace that must prevail in a house visited by death. Partho is disturbed by throngs of his fans descending on them every day but is more perturbed by his brother's effort to please them to hold on to his popularity.
There are some soul-searching moments between the brothers as the truth unfolds when they are enjoying single malt whiskey together. Partho spells out some home truths by reminding Indrajit of his share of responsibility as the 'first born' in caring for the family and not just as an occasional visitor. He points out that Indrajit the star failed to take care of their only sister, Ilaa (Sudipta Chakraborty), widowed early in life and somewhat mentally unstable. Partho has been the care-giver all along and fulfilling the 'first-born's' duties while his elder brother had been basking in the glory of success. Perhaps, for the first time, Indrajit realizes that society expects a lot more roles for the 'first son' to play than simply accomplish his personal goals.
A different kind of Ramayana comes into play here where Bharat executes Ram's duties as he leaves for 'Dandakaranya' to meet a greater destiny. Ram was a king destined to rid the world of evil but what excuse did Indrajit have, we wonder. In contemporary terms, the movie is thematically sensitive in its portrayal that breathes in life as it is seen often -- without melodrama. The script is subtle yet eloquent.
But what takes your breath away is the acting by three actors in the movie. In Jeshho Putro, we see a matured Prosenjit as Indrajit with a plethora of emotions to explore. As the disgruntled and frustrated younger brother, always in the shadow of his elder brother, Partho could be none but Ritwick. Sudipta Chakraborty is no less adept at playing the over-wrought and mentally unhinged sister.
But a director is not truly great when only the stars give laudable performances. He is great because he gets the best out of all actors, cinematographers, sound- artistes and even extras to create the best work of art. 'Jeshto Putro' is a lyrical presentation of a slice of life not really seen after Ray and is must see for all.