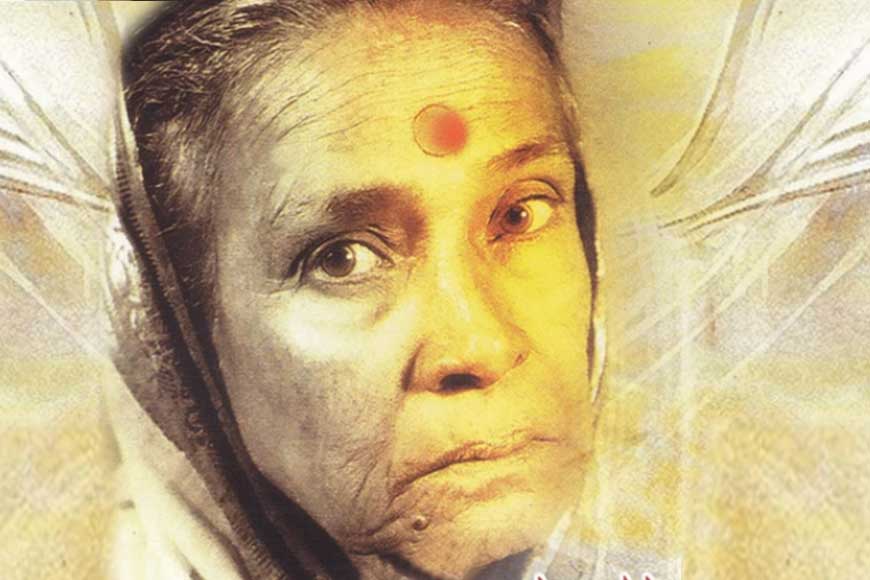 Ek baar hori bolo mon rosona,
arey manob dehai goirob koiro na,
manob deha maatiro bhando,
bhangile hoibe khondo re khondo."
(Say the name of God just once
My friend, take no pride in the mortal body
The human body is a pitcher of clay
When it breaks it shall shatter into thousands of pieces)
Legendary folk singer Pratima Barua Pandey was born amid riches and fame followed the family she belonged to. Niece of legendary filmmaker Pramathesh Chandra Barua, Pratima was born into the royal family of Gauripur in the western Assam district of Dhubri on October 3, 1934. Known fondly as "Hastir Kanya" (Elephant's daughter), from an early age she gravitated towards folk music and befriended commoners like buffalo herders and mahouts, who served their estate. Sacrificing the privileges of royalty, she gave a distinct voice to the Rajbangshi community through her songs. The soulful nature and the humanitarian content of the lyrics touched people's hearts. The simple lyrics are about the entire gamut of human experiences that everyone can relate to.
A student of Gokhale Memorial Girls School, she later joined Gauripur Girl's High School in Assam. She did her college from South Calcutta Girls' College in 1953 but did not complete her formal education and left midway. By then, she was under the spell of folk music, introduced to her by Bharatbala Roy, Sharatbala Roy and Sonaibala Roy. Bhaben Roy was her first folk song tutor. The simplicity of Goalporia folk songs and Bhawaiya nudged her senses and she decided to delve into the vast ocean of folk music. Dr Bhupen Hazarika was instrumental in bringing Barua's talent to the fore. He met her at a function on his return to Gauripur in 1956. He was very impressed by her singing and soon enough, he offered her to sing in his Assamese film, Era Bator Zur. It was the first step towards appreciating the fluidity of Goalpara's folk heritage.
Barua's songs, popularly called the Goalporia lokageet, is part of a cultural community, largely the Rajbangshis, who have been historically dispersed around a vast territory including Assam, Bengal, Bihar, Southern Nepal and even Bangladesh. Barua took the arduous path to locate the songs which were by then on their way to oblivion. They would have been lost permanently if she would not have collected them painstakingly from various sources. The Rajbangshis were a minority in Assam and the history of the land forced them to abandon their cultural moorings and acquire new identities to conform to the altered geo-political legacy of the colonial times.
Goalpara has always been a politically volatile area, especially since Independence. The 1950s witnessed major linguistic confrontations in the region. As a result, the folksongs of Goalpara have been all but nudged out of mainstream Assamese music. Dr Hazarika organized a radio broadcast of Barua's folk songs in 1961. There was mixed reaction, a section of Assamese listeners. raised strong objection against broadcasting of Barua's songs. The language of her songs – neither dominant Assamese nor the upper caste Bengali but a mixture of several dialects (Sylheti and tribal influences too) – came under suspicion as they did not qualify to be "Assamese" enough for public recordings. Staunch pro-Assamese listeners labeled her songs Bengali and alleged as 'non-Assamese.' Purushottam Das recorded her songs in the studio of All India Radio (AIR) Guwahati. And in 1962, her first record, Ek baar hori bolo mon rosona, was released. She had recorded around 320 songs during her lifetime. In 1969, she married Gauri Shankar Pandey. He was a retired principal of Pramathesh Barua (PB) College.
Her life reflects the various phases of the evolving Assamese identity, and how the folk acted as a syncretic energy in the understanding of the Assamese. She was honoured with several prestigious awards including Sangeet Natak Akademi Award, Padma Shri (1991) and D Lit from North Bengal University
She died in Guwahati in 2002. Today, the statue of Padma Shri Pratima Pandey Barua stands at Shaheed Udyan in Chandmari, witnessing massive changes to its cultural milieu and the threat of the appropriation of folk music.