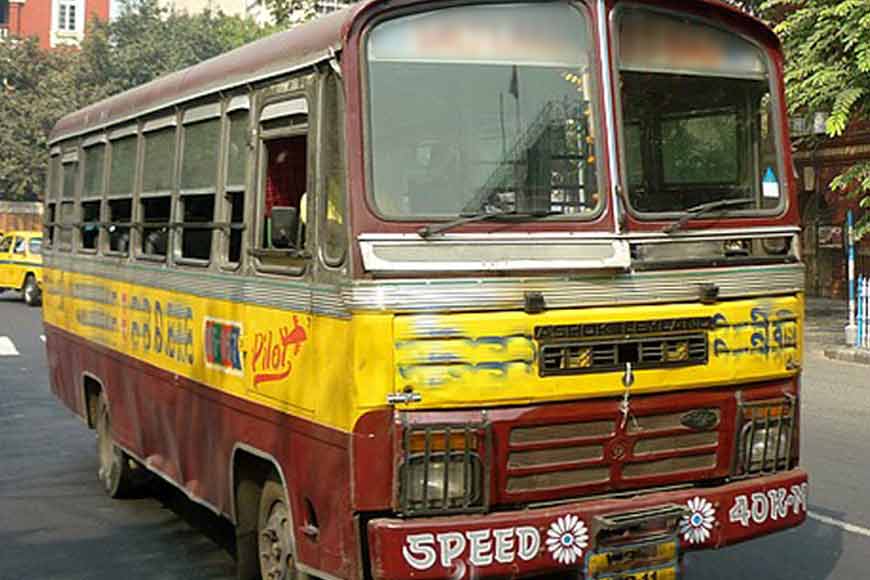 People say hard work and challenges really do turn us into the people that we are meant to be. We would not grow and learn if we were not challenged. At least that is the adage that keeps the mother-daughter duo, Pratima and Rakhee Poddar, going. While life is not easy for the Poddars, they know that complaining about it will not help them pull through the hell-hole. So, when middle-aged Pratima decided to fight tooth-and-nail against the demon called poverty, she unflinchingly took control of the steering wheels in her hands, literally. She took training as a four-wheeler driver and then there was no stopping this determined lady. Initially she grabbed any opportunity that came her way to earn and supplement her family's income. She drove taxis and ambulances now and then until she was offered a regular job as a mini bus driver and she was only too happy to oblige. Professionals in the public transport sector are males where women like Pratima are a rarity and seen as an exception, trying to cross the invisible line and enter the male bastion.
Pratima's husband works as a bus conductor in the city. They have two very talented daughters, Rakhee and Sathi, and the couple has ambitious dreams for both the girls. Rakhee is a bright student, pursuing graduation in Mathematics from Jadavpur University. She is also a state-level diver. Recently, she had participated in the State Inter-University Water Sports Tournament, held at Jalandhar in Punjab and won two medals in diving events.
Rakhee was always enthusiastic about sports. She was a gymnast earlier but now pursues to be a world class diver one day. Rakhee leaves no stones unturned to pursue her ambition but poverty is a huge stumbling block and she has been waging her life-long war against her foe. So far, no impediments have been able to make even a dent in her determination to succeed. Rakhee takes up every challenge that comes her way with a positive outlook. She leads a very disciplined life and challenges herself knowing well that she has very little time on her hands to prove her mettle. Every morning, at the crack of dawn, Rakhee leaves her home at Nimta and heads straight for Hedua swimming pool in Bidhan Sarani. After her rigorous practice session, she travels all the way to south Calcutta to Jadavpur University to attend her college. By the time, her classes get over, Rakhee gets exhausted as she boards the evening local train and heads home. That's her daily routine. But she has taken everything in her stride. At the moment, she is worried as she scouts for a job. Previously the Indian Railways had quota for divers but now that it has been cancelled, Rakhee wonders where she can apply to get a secure job so that she can ease her parents' financial burden and also pursue her sports career simultaneously.
Rakhee's sister Sathi is also a promising gymnast and wants to follow in her sibling's footsteps. For the time being, the Poddar family is busy waging a war against poverty and the 'warriors' are confident of conquering the foe and emerge triumphant one day.