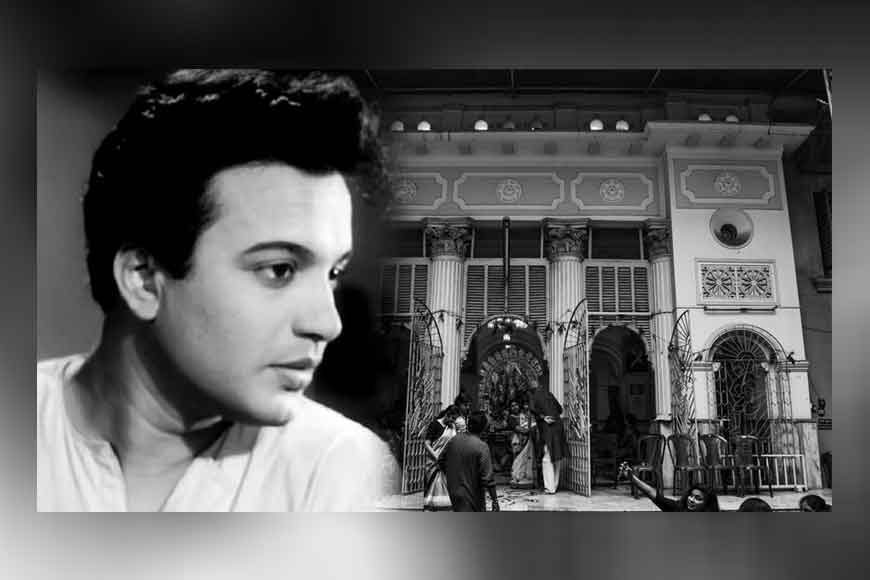 The ancient Thakurdalan at Girish Bhavan in Bhowanipore still stands erect -- a silent testament to the changing times. As the annual preparations for Durga Puja begin, the age-old Thakurdalan is given a makeover. A temporary stage is still erected for holding the Mukherjee family's annual ritual: Jatra Pala (folk theatre). Come Durga Puja and rehearsals begin in right earnest for a night-long theatre performance on Jagadhhatri Puja.
The Thakurdalan at Girish Bhavan is one such place where history was created -- a history, that is intrinsically connected with the Bengali sentiment. It was here that a young actor took his first, hesitant steps into acting. From an early age, Uttam Kumar, then known as Arun Kumar, was very enthusiastic about theatre, like other boys of his age. He participated in amateur theatre with others. In fact, every year, during Durga Puja, a flurry of activities would enliven the Thakurdalan of Girish Bhavan and the place would reverberate with the sounds of laughter, music, good-natured banters as young men scurried around, setting up make-shift stage with sarees and dhotis and other household items, preparing dialogues, rehearsing and chatting over endless cups of tea.
The instant appreciation and encouragement Uttam Kumar received was a heady feeling that pumped him with enthusiasm and confidence and he was prepared to test the waters. Soon it became an annual ritual for him. His acting prowess was noticed from the very beginning. He was entrusted with all responsibilities -- right from selecting the play to the actors et al. Rehearsals would begin during Durga Puja and the curtains would go up at midnight on Jagadhhatri Puja. The audience would sit transfixed, watching well-known jatra pala, including Brojer Kanai, Swayamsiddha, Gayasur Vadh, Noti Binodini.
Uttam Kumar was very attached to his memories and he never severed his association with the Thakurdalan. He always came here to offer his Ashatami anjali. Even when he was at the height of his stardom, he sneaked out of his busy film shooting schedules to join the revelry and participate in plays. In 1975, Uttam Kumar took part in a play for the last time. By then he was an icon and his super-hit film, Sanyasi Raja, was released just before the Pujas. The present generation has continued with the tradition in memory of Uttam Kumar and put up their annual theatrical performance. The Thakurdalan on Girish Mukherjee Road still holds on to memories of a magical transformation of an ordinary boy to a superstar. And memories are all that we have, to hold on and cherish forever.
Image : Facebook