Raigunj teacher creates social distancing awareness in markets with Corona Scissors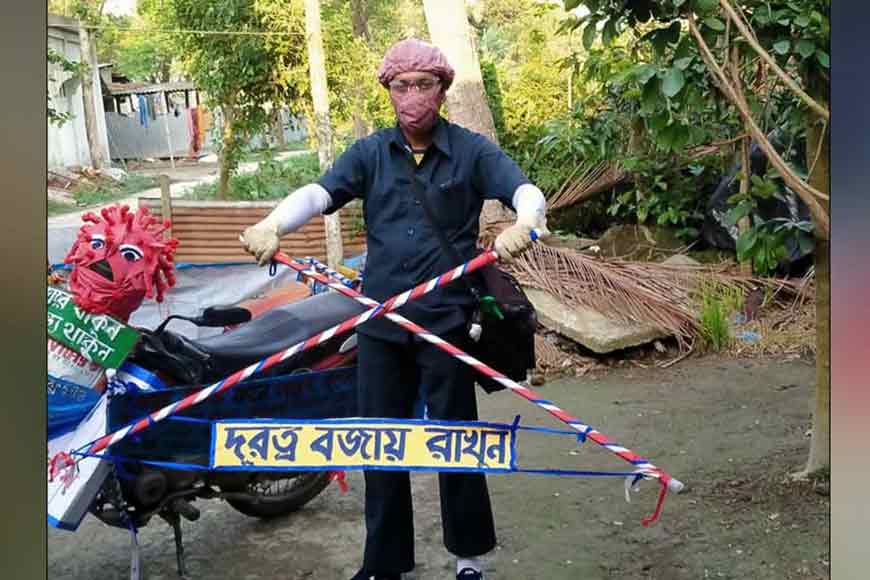 With the advent of Covid-19 pandemic, a new chapter of human history has unfurled. We are engaged in war with a ruthless, invisible enemy and as is natural, during wars, people strategize moves to survive and in the long run,. As the pandemic becomes a bigger part of our daily lives, a definite evolution of human behavior is bound to happen and that could be the new normal.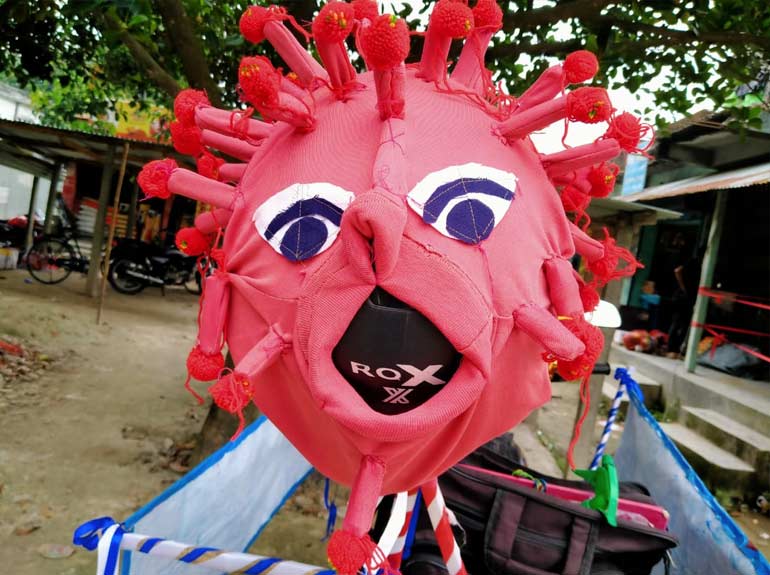 After a stringent nationwide three-month lockdown period, as the country moves to restore 'normal' life, certain health precautions have become a de facto normal social behaviour. However, many people still ignore the magnitude of the threat and jeopardize not only their own lives but of the society at large. To sensitize this section of society, Biplab Kumar Mondal of Karnajora in Raiganj, North Dinajpur district, has been campaigning tirelessly.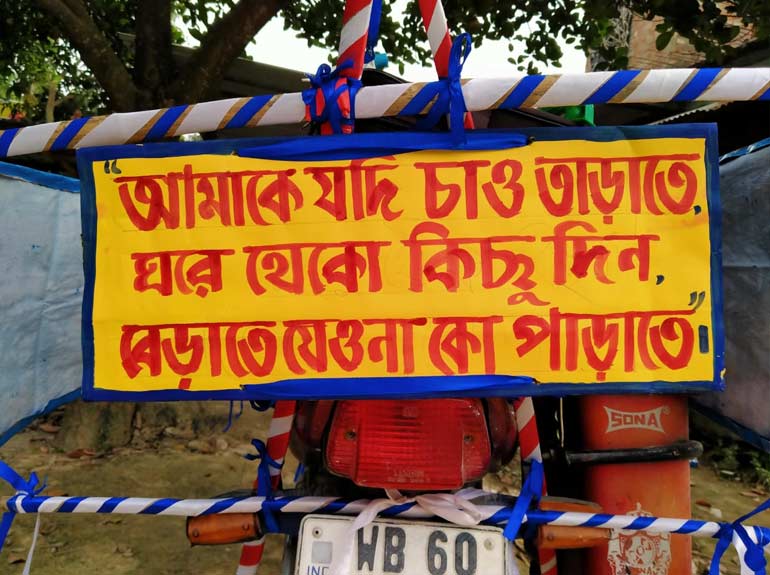 A teacher at Bahin Primary School, Mondal is also an enthusiastic Ayurvedic medicine practitioner. Ever since the nationwide lockdown was imposed on March 24, Mondal has been utilizing both his time and money to sensitize fellow citizens about the potency of the virus. He has already transformed his helmet into a giant model of the corona virus, wrapping it with a red children's tee shirt and covering its surface with spikes that resemble the viral spike peplomers, which are proteins on the surface of the virus.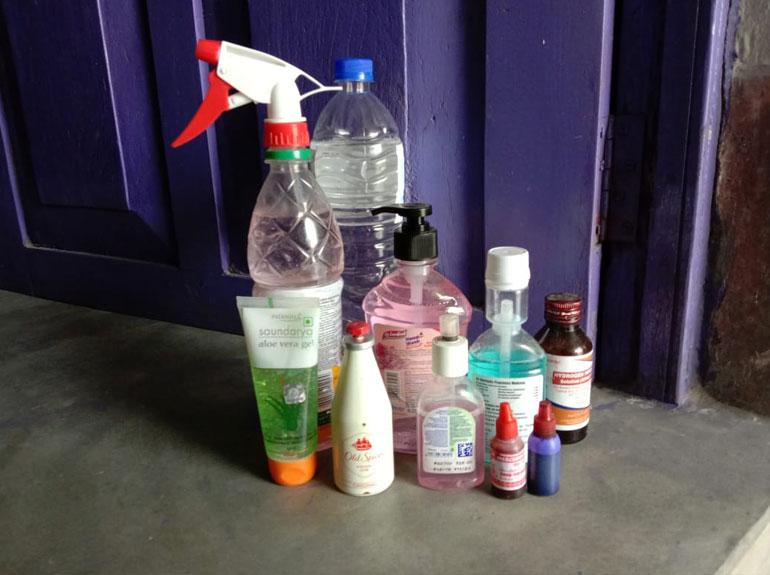 Mondal has also been making masks and distributing them among the masses. Initially he made masks with tissue paper but later shifted to cloth. He buys reams of fabric from the market with his earnings and makes masks at home. He is also making different varieties of sanitizers for different purposes. He mixes hypochlorite powder, alum, camphor and bleaching powder in specific proportion to spray on wheels of vehicles and sanitize. He is making natural sanitizers with aloe vera gel, holy basil (Tulsi) leaf extract, Neem leaves (Azadirachta indica) and olive oil. He is making two more types of sanitizers with ethanol and alcohol mixed with other compounds. Each of these sanitizers have been made for specific uses: some are for vehicles, some for furniture, some for hands et al. Mondal began his mission with determination and continues to do so even now. He frequents the market at Raiganj Karnajora Motor Kalibari area which is close to his residence and voluntarily offers to sanitize not just the surrounding market area but also offers to sanitize strangers' hands, shoes etc. His efforts have been highly appreciated by the locals.
Mondal has devised a novel method to push people and remind them to maintain social distancing. Whenever he notices people crowding in one place, he shoves his way to reach the gathering with an oversized pair of hand-made cane scissors with the slogan, "Keep Safe Distance" written on a piece of paper and stuck on it. The moment the two blades of the scissors open in diametrically opposite directions, people are compelled to move away.
Mondal spent money and made PPE kits which he distributed among local policemen to encourage them and commend their dedication.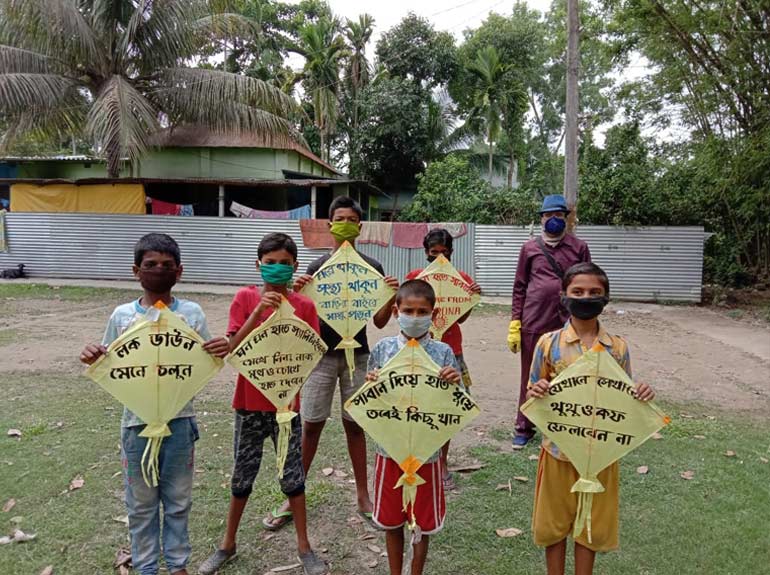 On World Environment Day this year (June 5), Mondal made and distributed aprons to 20 volunteers who cleared poisonous parthenium vegetation from the area. Contact with the plant causes dermatitis and respiratory malfunction in humans, and dermatitis in cattle and domestic animals. It is also responsible for bitter milk disease in livestock when their fodder is polluted with parthenium leaves.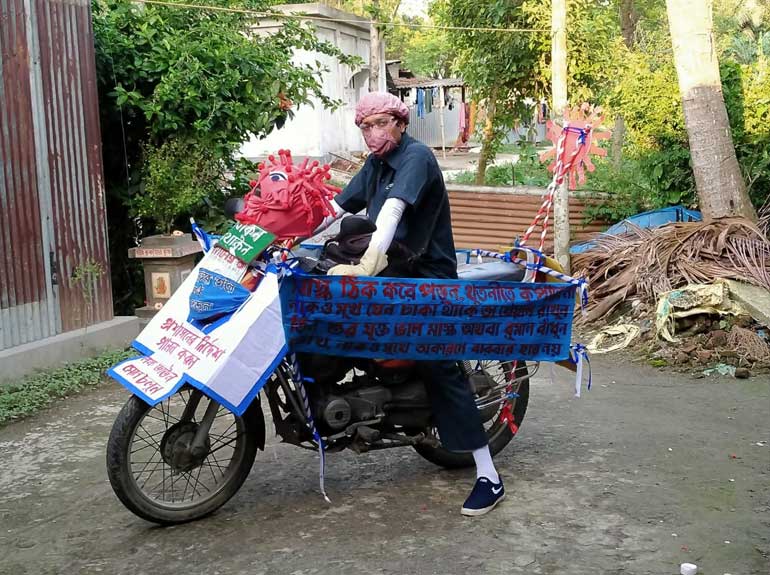 Mondal is a one-man soldier who has waged his war against Covid-19 and we cannot just ignore fighters like him because our lives and the lives of those we love may depend on people like him. He sensitizes us to the issue that it is our responsibility to stay safe for our own sake and that of society by adapting to those new practices. A salute to these unsung heroes who are trailblazers and don't vie for fame or any other financial or other gain when they do their service to humanity.