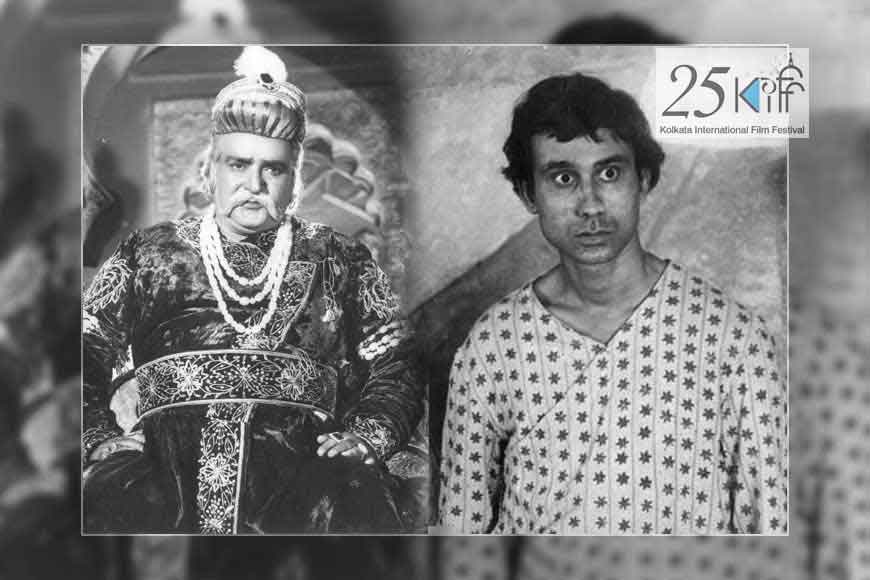 Gupi Gayen Bagha Bayen that was brought to screen and made into a magnum opus that has literally influenced generations, was originally taken from Satyajit Ray's grandfather Upendra Kishore Roychowdhury's book. Upendrakishore's family used to live in Myemensingha in erstwhile Bangladesh. He was brought up by their long time family servant Gupi, whose name features as the protagonist of the book. His grandson Satyajit Ray always wished to make a musical out of this book. So even before writing a script for the movie, he had written songs for it – they were Bhooter raja dilo bor, Maharaja tomarey selam, Ek je chhilo raja, Taar bhari dukh. Later he added two more songs to it including Ore Baghare and Ore Baba Dekho Cheye.
These songs happen to send strong political and social messages of those times. What is even more surprising is the casting in the movie. There was a time when Bollywood's Raj Kapoor came forward to produce Gupi Gayen and gave a proposal saying Prithviraj Kapoor should be made the Raja of Shundi while Shashi Kapoor should star as Gupi or Bagha. Satyajit Ray instantly turned down the proposal and he always had Rabi Ghosh in mind as Bagha. As for Gupi he first thought of casting Arun Mukherjee who had acted in his movie Kanchenjungha. Even he thought of Kishore Kumar, who also could not give dates. It was then that Tapen Chatterjee, who used to work in the advertisement department of Indian Express was chosen for the role, that gave him instant fame for sure.
As for the Halla and Shundi kings, Chhabi Biswas was the first choice. However, after this famous actor died in an accident, Satyajit Ray moved on to Santosh Dutta.