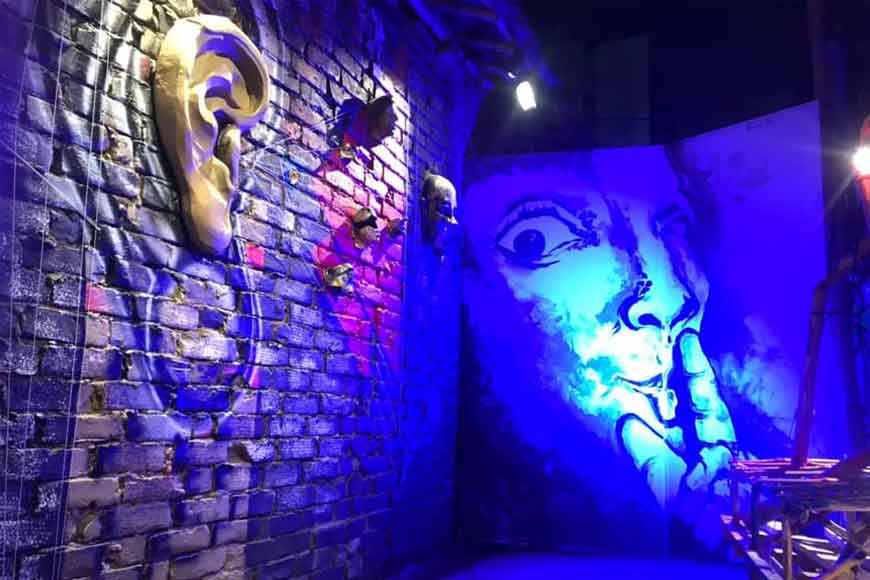 This was Kumartuli with a difference. Not the usual shacks and studios where all round the year one gets to see idol makers concentrating on how to paint the eyes of an idol, or just mixing clay and straw to make a structure come alive. The Bengali New Year saw a different Kumartuli, where a two-day carnival mingled vibrant colours, stories on walls, and the aroma of soil through 'Rang Matir Panchali.' This was organized through a collaborative effort of the idol making community of Kumartuli and a few leading contemporary artists of the city, spearheaded by Partha Dasgupta and Shushanta Paul.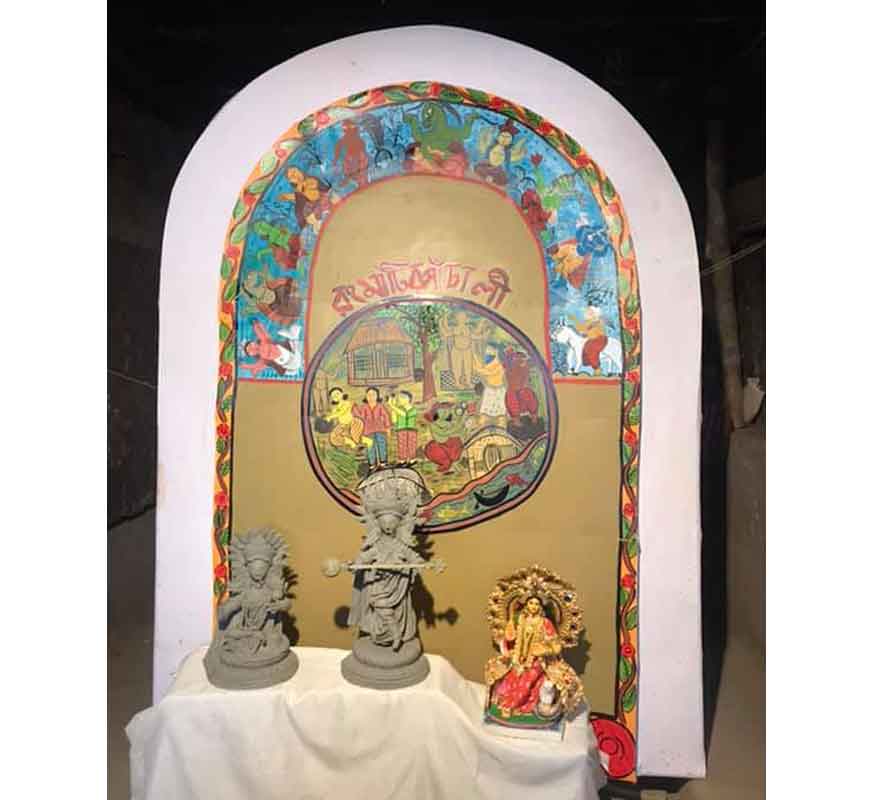 With the recent spurt of theme pujas and worshipping of various Gods getting apparent on almost every street corner of the city and state all-round the year, the idol makers' hands are usually full. Yet, they lent their creative souls to an initiative to showcase to the world that they are also capable of doing other forms of art. And all these happened while they were busy delivering idols for Annapurna Puja or giving the last strokes to Laksmi-Ganesh idols for Poila Baishakh. After all, this would be a celebration with a difference.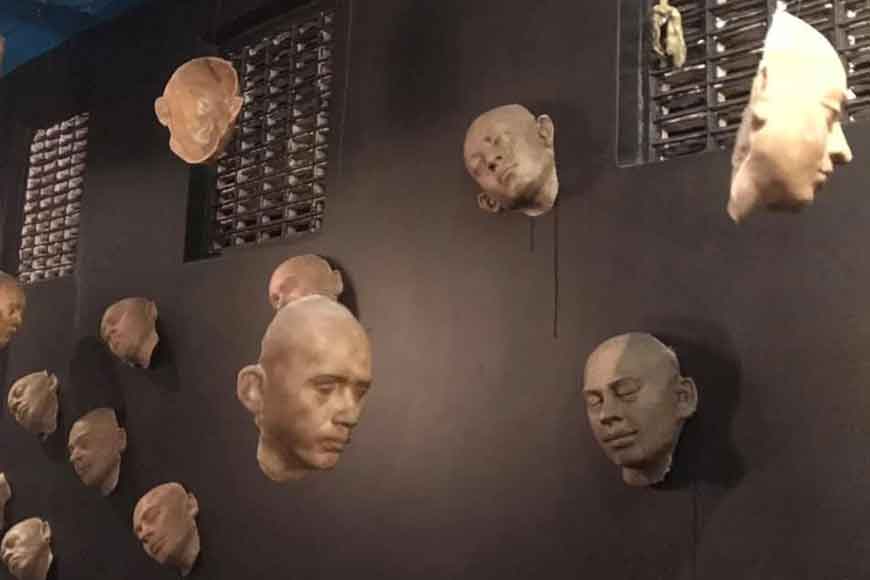 A step into the world of Rang Matir Panchali, opened up a Kumartuli exhibiting idol- making, installations, paintings, sculptures, photographs, wall graffiti, street art and much more. The multi-disciplinary art forms came alive almost in every nook and corner. Efforts to blend modern thoughts, art and perspectives with the traditional, came into being without disrupting the innate charm of the locality. Hard work that went behind such an extravaganza with Partha Dasgupta and Shushanta Paul at the helm of affairs had its own 'wow' quotient. An attempt to build and showcase a series of public art within the living and working area of these idol makers went well with art connoisseurs of the city as well with a huge footfall of visitors from across the state and country.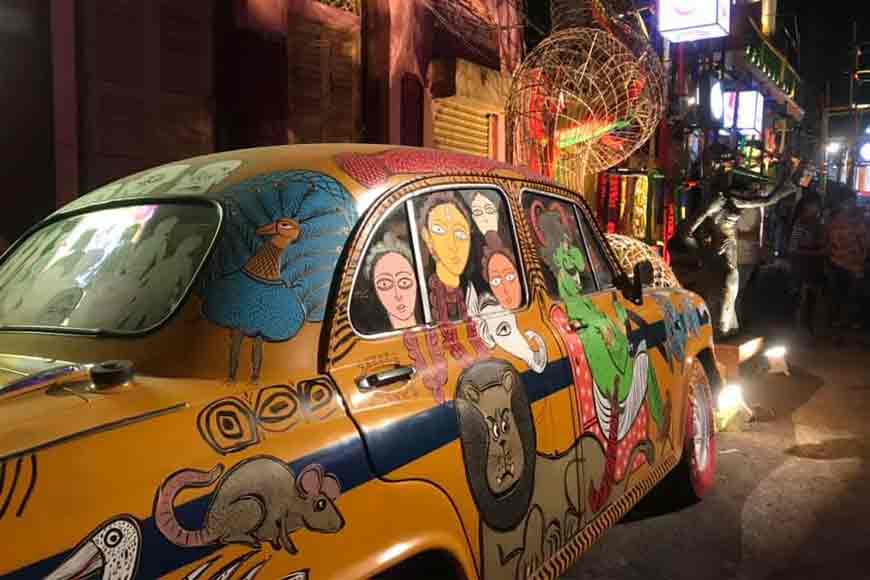 The immigrant sculptors who shaped an artists' hub called Kumartuli suddenly got invaded not by people who are usual visitors to experience their idol making process, but by many who were curious to see a temporary transformation of the eco-system in the narrow alleys of the artisans' colony flanked by thatched workshops.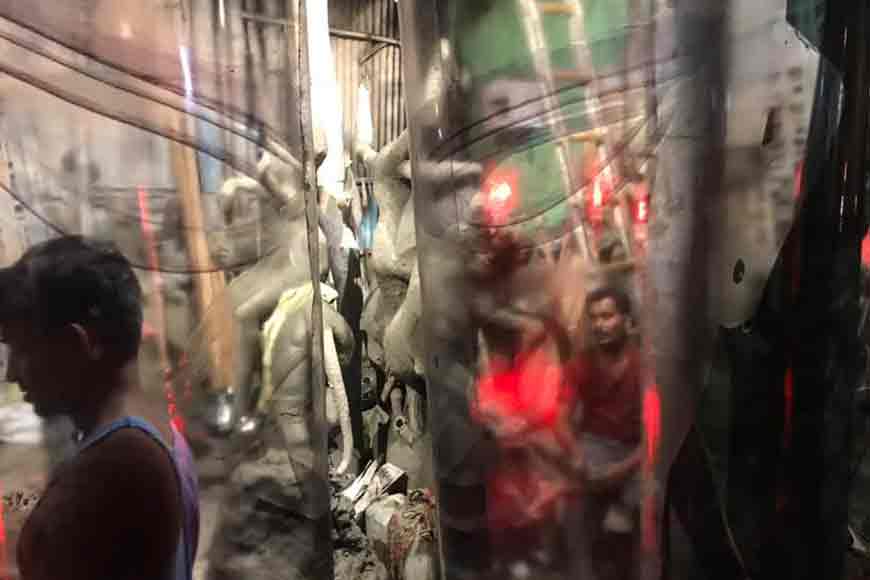 The value of public art has always been neglected in India where art has usually been produced to address a niche elite class, without reaching out to a larger audience. In this regard such initiatives are welcome, but for me, with a rejoinder. The neighborhood itself is identified as a 'Heritage Site' in travel guidebooks and appears in government-sponsored advertisements promoting tourism in West Bengal. Alongside Howrah Bridge and Victoria Memorial, Kumartuli functions as visual shorthand for the city of Kolkata. The Bengal government has pitched for its heritage tag to the UNESCO.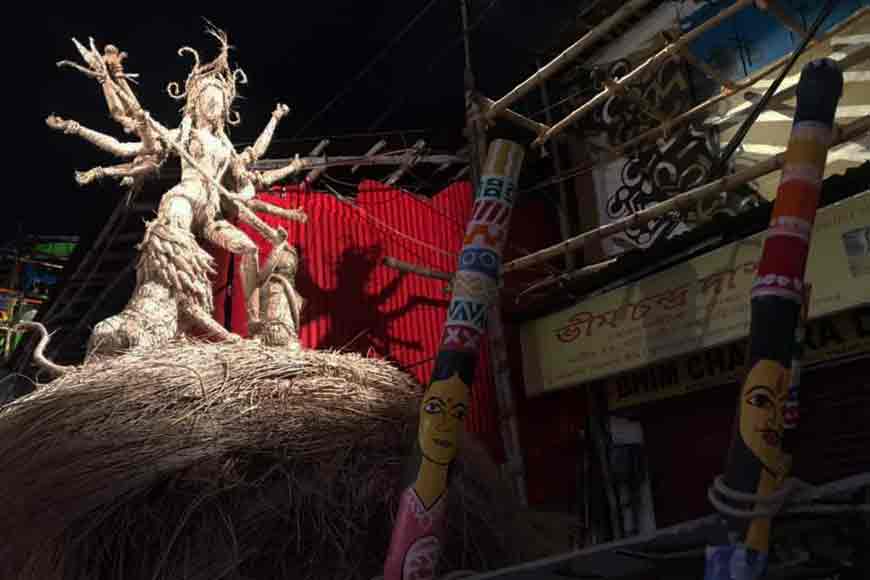 Under such circumstances I felt concerned when a leading installation artist engaged with the city's Durga Puja, closely monitoring this event said: "We will change the ambience of the place." While adding a layer to an existing layer of culture, aesthetics and craftsmanship embedded in the age-old tradition of these 'kumor' community is welcome, a line needs to be drawn between trespassing and transformation.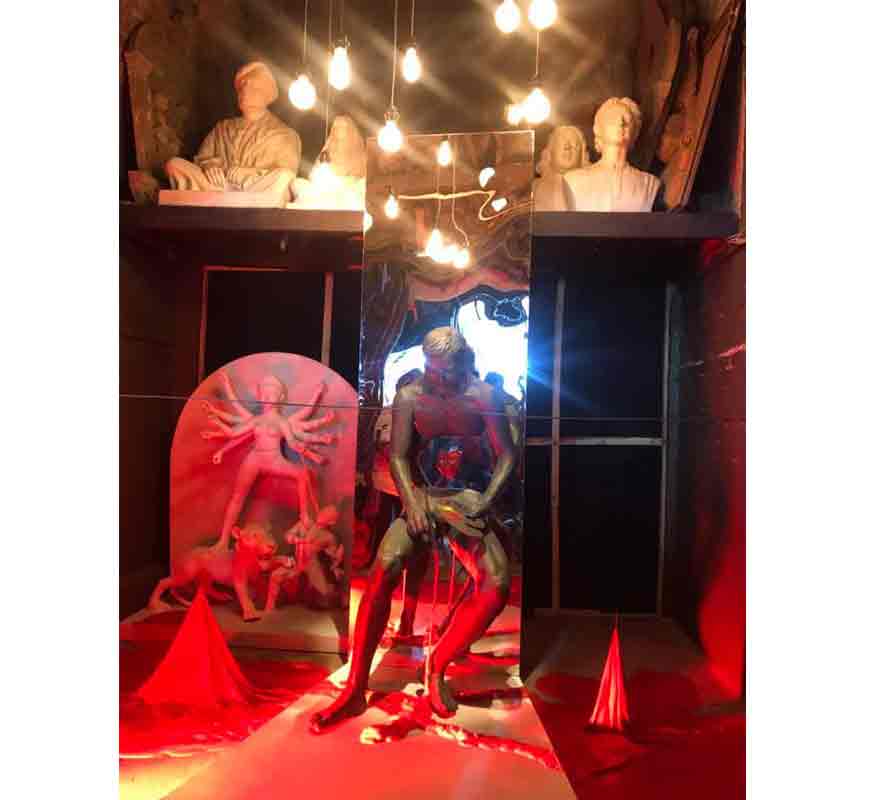 It is difficult to assess the impact of the 'public art' on lay viewers, although it continues to hold the cognoscenti in sway. And indeed, the enthusiasm of the large number of visitors during these two days raised hope. The event was supported by a paint company who, in a few months from now, will engage 'well-appointed judges' to give away prizes for best Durga Puja in the city and will be the target of verbal brickbats of practicing artists for their alleged partisan decisions. Such issues have often been debated at city seminars. However, one cannot deny the support of patrons, whatever maybe the extent of brick batting.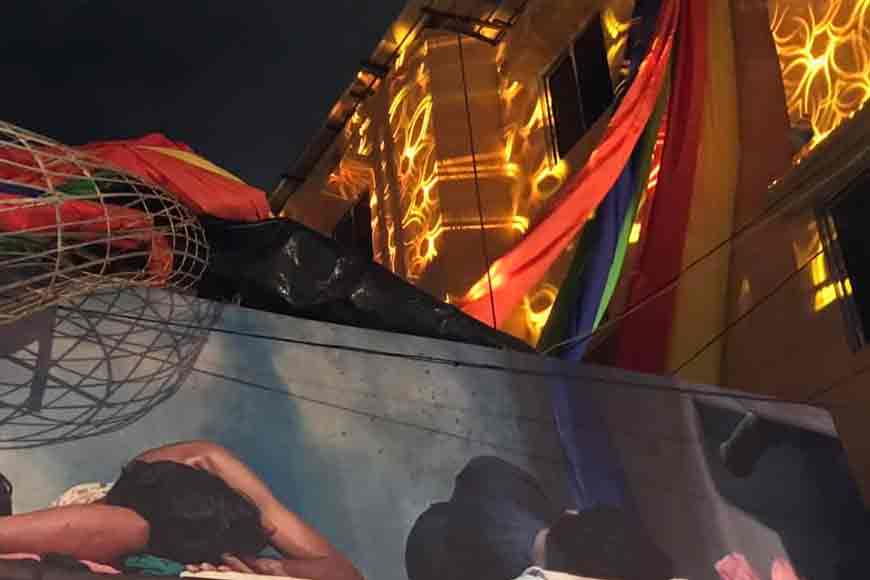 Since ages, art needed patrons for support. In medieval Europe, it was patronized by royalty and aristocracy. Considered to be an acme of Renaissance Art, the Sistine Chapel of Rome was commissioned by the Pope. Leonardo Da Vinci's Mona Lisa was commissioned by her aristocratic husband. Ramkinkar's only monumental sculptural work of public art was the Yaksha-Yakshi duo for the RBI in Delhi, commissioned by Jawaharlal Nehru and Indira Gandhi. The world's tallest statue, 'The Statue of Unity' built as a memorial to Sardar Vallabbhai Patel was supported by the present Indian Government. Even post-partition displaced artisans of Kumartuli were supported by the Roys of Bhagyakul, Dhaka, a wealthy landowner family. So, a paint company as one of their CSR activities has every right to stand beside such initiatives however much they are subjected to criticism by the art fraternity in the months to come!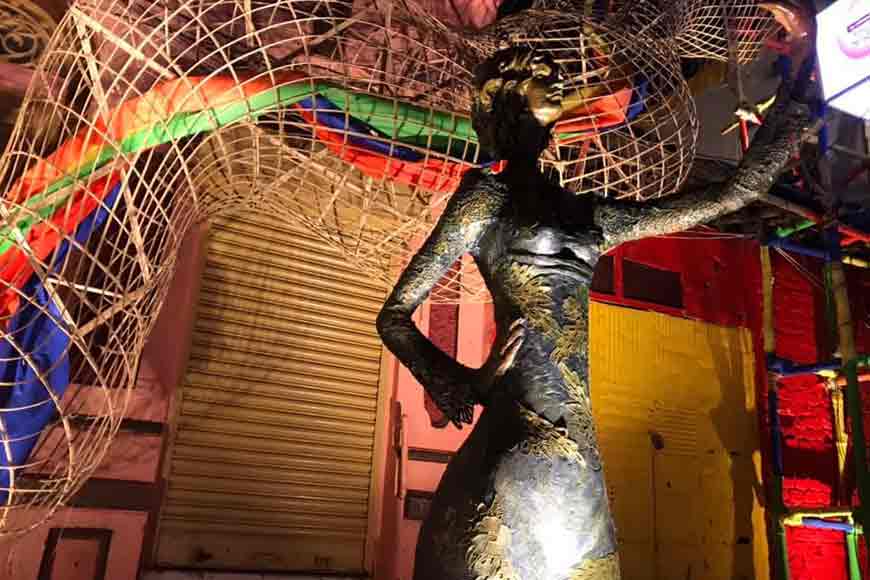 Kumartuli will spring back to its usual fervor in a few days. The workshops will start making the initial structures for Durga idols after this refreshing break. The 'Baro mashe tero Parbon', a narrative and practice built over ages and carried forward by generations at Kumartuli, will go on, however much we think and wish to re-structure its age-old tenor. For some emotions and some creations never die.