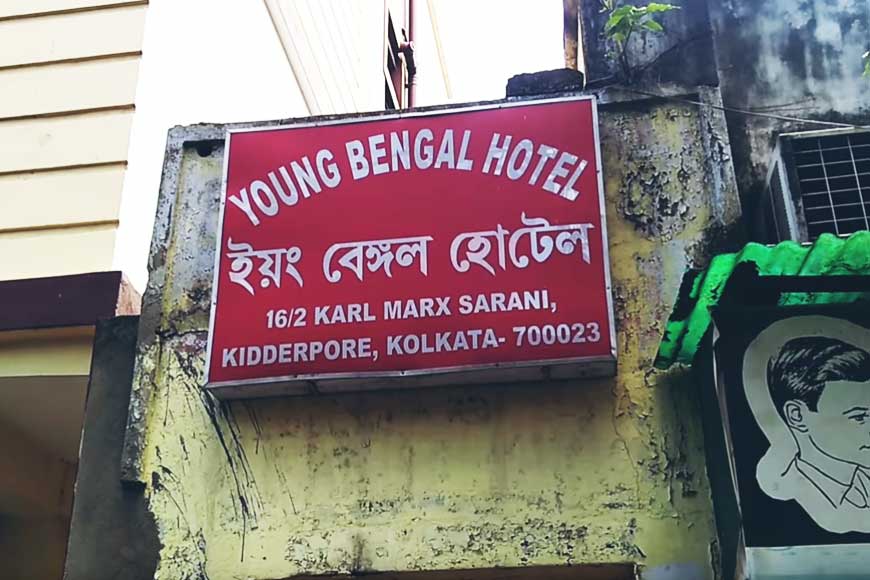 Tucked in a by-lane of Kidderpore, Young Bengal Hotel's rust-red door leads to modest interiors. A non-frill, table and bench affair with no fancy décor, you might feel like a time-traveller, transported to a century for a wholesome meal at a pice hotel.
The concept of 'pice hotel' may be an alien word in the contemporary world. 'Pice' was a currency denomination in colonial India. This concept was common in that era where every item had to be paid for separately, including salt, onions and lemon wedges. Most of the pice hotels have shut down today, but there are still a few like Young Bengal Hotel, which have been around for a very long time and still doing business in the age-old, traditional way.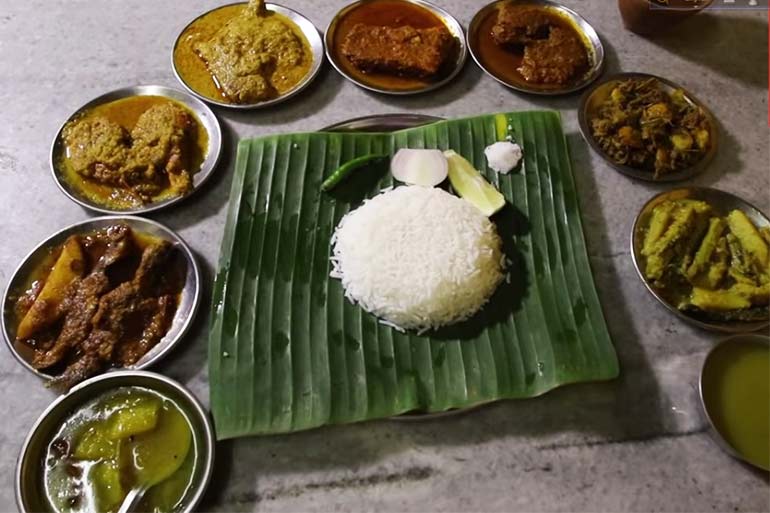 Young Bengal Hotel, as its name suggests, is a storehouse of a great deal of history of the revolutionary Bengal. The Young Bengal Movement was a radical movement started by Henry Vivian Derozio in the 1830s to reform the Hindu Society. A century later, the movement incited staunch nationalist Tarapada Guha Roy to turn into an entrepreneur and that resulted in establishing two eateries in the city, Bangalakshmi in Bowbazar and Young Bengal Hotel in Kidderpore in the mid- 1930s. The 95-year-old eatery was initially launched to provide wholesome meals at a nominal price to the nearby dock workers at Kidderpore.
Times have changed but not the look of the hotel or the items offered on the menu. Nestled among trees, the hotel is located on 16/2 Karl Marx Sarani. Do not go by the look of the hotel and its ancient, worn-out signboard on the façade. As you walk past the gate, you enter a courtyard beyond with a thatched roof building that houses the hotel. As you enter the eatery, you will notice the menu board on display. The prices of the day's fare are hand-written with chalk as per availability of dishes which is dependent on the availability of the main ingredients and their prices on a given day. It means if a particular fish wasn't available in the market that day, or its price had shot up much, the price of its dish is kept blank on the board.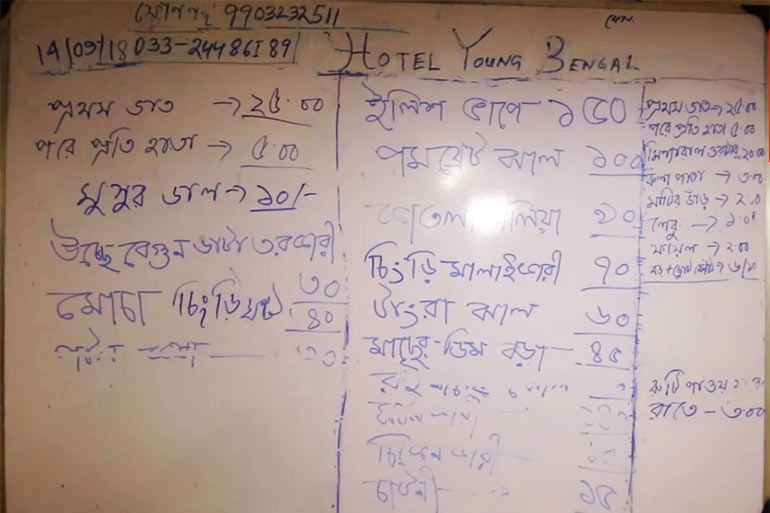 Even today, the menu is almost identical to the one that Guha Roy and the prices have gone up nominally. A basic thali comprising rice, dal, jhuri aloo bhaja, machher jhol and chatni, still reign supreme in the Bengali's heart and this quintessential comfort food is savoured daily by hordes of office goers in the locality. Youngsters often walk in casually only to discover a treasure trove of gastronomical delights at an affordable price.
Here all food items are cooked on charcoal stove and all spices are prepared fresh every day before cooking starts. The homely food is served in an age-old style on banana leaf with a wedge of lemon, a green chilli and some cut onions. Water is served in a bhanr (earthen pot) – a tradition that has not changed since the early 20th-century.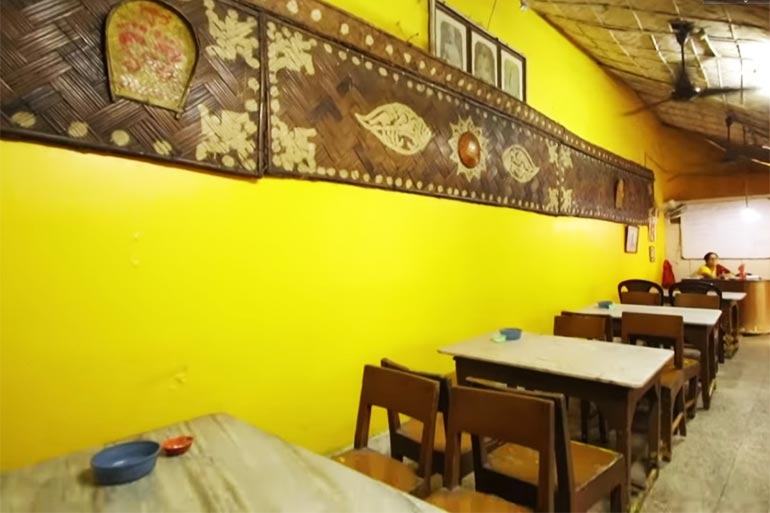 Apart from these staples, one can choose sides like 'shukto'- a medley of vegetables combined with bitter-gourd and bori, 'chanchra'- a unique Bengali mishmash of vegetables and fish head curry, 'postor bora'- crunchy poppy-seed paste fritters, 'dhonkar dalna' and other delicious seasonal vegetable curries like 'enchor er dalna', 'phulkopir dalna' potoler dolma, mochar dalna, kanchkolar kopta, kochu shaak, borar jhal etc. One hit item that is a staple on the menu in winter is Pancharatna, a mish-mash of winter vegetables cooked with moong dal.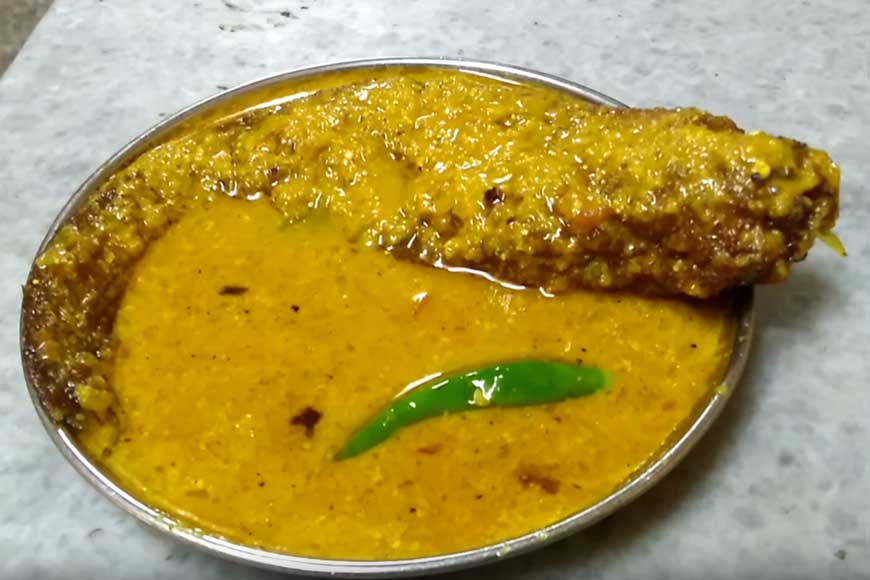 The non-vegetarian items on offer include a variety of fresh-water fish like rui, katla, bata, bhetki, parshe, etc. cooked in various medium of jhol, jhaal, paturi, kaliya etc as well as prawn delicacies like chingri machher malai curry. And then, to round off the meal, chutney made of seasonal fruits including mango, tomato, pineapple, amra etc. or plastic chutney (made with raw papaya and lemon) are offered.
So, if you want to have authentic Bengali home-cooked food and try out those dishes that most Bengali families do not venture to cook for the sheer laborious process involved in the preparation, you can just walk in to Young Bengal Hotel to discover the taste of your favourite dish cooked eons ago by your granny.