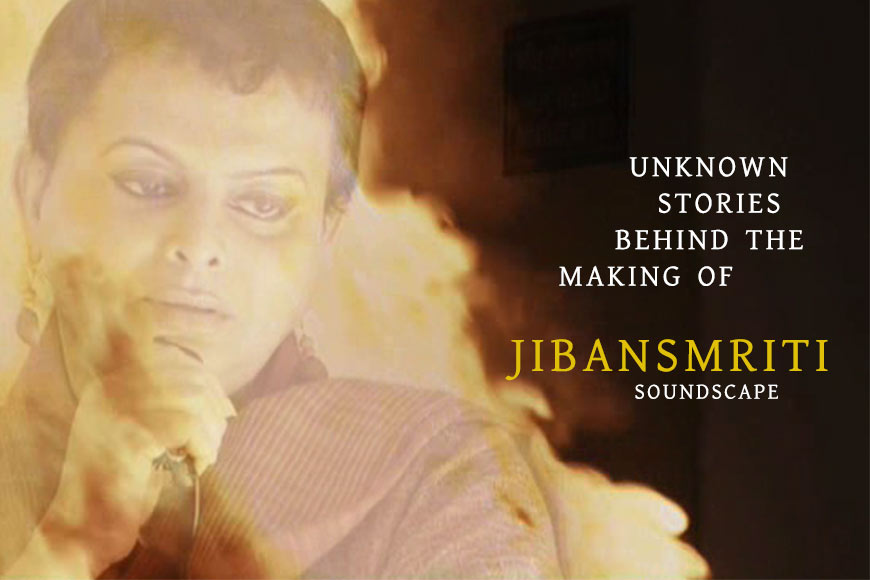 Indrajit: What do you remember about the song recordings for 'Jibansmriti'?
Prabuddha: Well, quite a few interesting things. You already know about 'Gahana Kusum Kunja Majhe', which featured Kaushiki and a few of her students. But before I go on, I'd like to say something more about Ritu. No matter how much of a perfectionist he was or how finicky, he was not the interfering kind. He would always give you leeway, and when he said something, despite the popular perception about his self-obsession or complex psychology, he could take criticism very easily, provided you could establish a base for it.
Once you did that, not only would he be sporting about it, but his entire body language would change. I always felt that what he wanted above all was to respect his colleagues, and feel that they were matching him step for step. If he didn't get that confidence, his disappointment would cause him to behave in a certain way. So you had to work hard to earn his respect, but once you had earned it, his confidence came automatically.
Now back to the music. There was one particular challenge that I faced with the songs. Ritu was very keen that I attend the shoots, which I don't enjoy as a rule. But he wanted to take his team everywhere he went. For the studio sequence featuring us, for example, he did my makeup himself, and it took forever, despite my impatience. Why did he insist? Not necessarily, or only, out of respect or affection for me, but because he could sense my extreme reluctance to face the camera, and my aversion to shoots in general. So he was probably afraid that I would flatly refuse to wear makeup!

The other strange thing about the scene was the way he visualised it. The original plan was for him to lead us as we went on the recce, with the two cameramen included in the scene too. The main cameraman was Samik Haldar, and the parts where he is shown walking with Ritu were shot by the second cameraman Sanjib. All of a sudden, he decided that Prabuddha, that is me, had to open the slats of a closed window, and peer out at Sanjay Das, who was recording outside with a zoom recorder. At that point, Ritu would start to say something to Samik, and I had to glare at him and signal to him to be quiet, because a recording was in progress.
The first time I did this, I was quite mild in my gesture, giving him his space, but he didn't want that. He actually wanted me to hold up my finger and ask him quite sternly for silence. He even acted this out.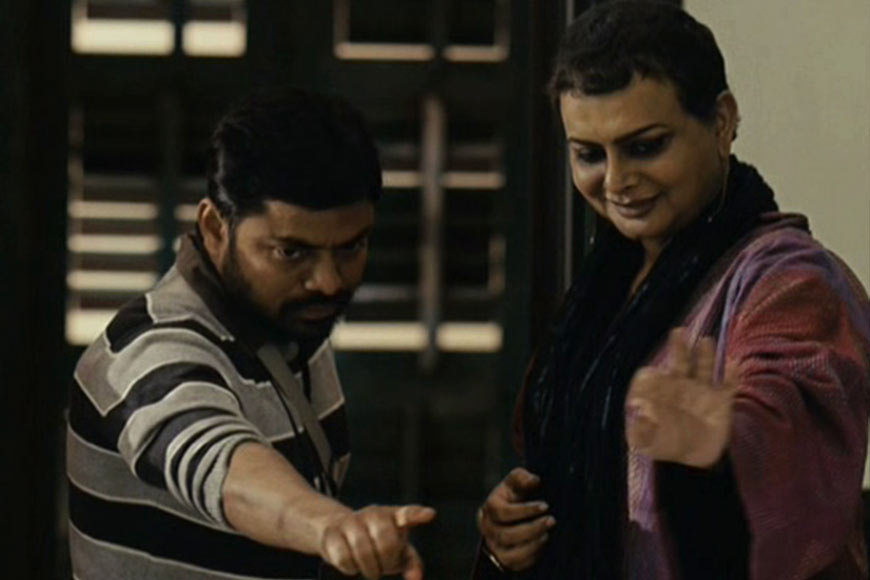 Indrajit: About the songs... how was he during the recordings?
Prabuddha: Veered between demanding and easygoing. The demands were from a directorial point of view. Example, he wanted 'Jodi Tor Dak Shune' to lead in from 'Harinam Niye Jagat Matale', but I suggested that instead of a voice, I would use only a flute for 'Jodi Tor Dak Shune', which I felt was more appropriate for the scene, to which he agreed.
I had asked Kartik Das Baul and his team to sing 'Harinam Niye Jagat Matale'. But at the recording, no matter how hard Kartik tried, Ritu was totally unhappy with the outcome. The principal objection was that Kartik sounded far too polished and tuneful, unlike a common man. And I was thinking I shouldn't have called Kartik, I should have settled for a less skilled singer. After some time, I figured I would let the chorus sing, because they weren't as skilled as Kartik. The moment he heard those slightly out of tune voices, Ritu beamed and told me, "Just listen, how beautiful it sounds."
Yet another big challenge was the scene in which Rabindranath is reciting the song 'Kotobar Bhebechhinu' to his bouthan, Kadambari Debi. We had a reference voice for Rabindranath, so initially we decided to try and get Samadarshi, the actor playing Rabindranath at that age, to sing, since he did have some experience. I called him to my house and did an audition, but found his singing to be far too contemporary.
I then tried a few more singers, no luck. This went on right until the day before the recording. I had even asked my friends for help. Finally, one of them said he thought he had found the kind of voice I wanted. This at one o'clock at night! And Ratul Chanda, the boy in question, lived in Ashoknagar, a long way away. Despite the late hour, I texted Ratul (I didn't even have a smartphone then), asking if he could record four lines of the song and mail me the file. By then, it was nearly two at night, and the recording was scheduled for the morning.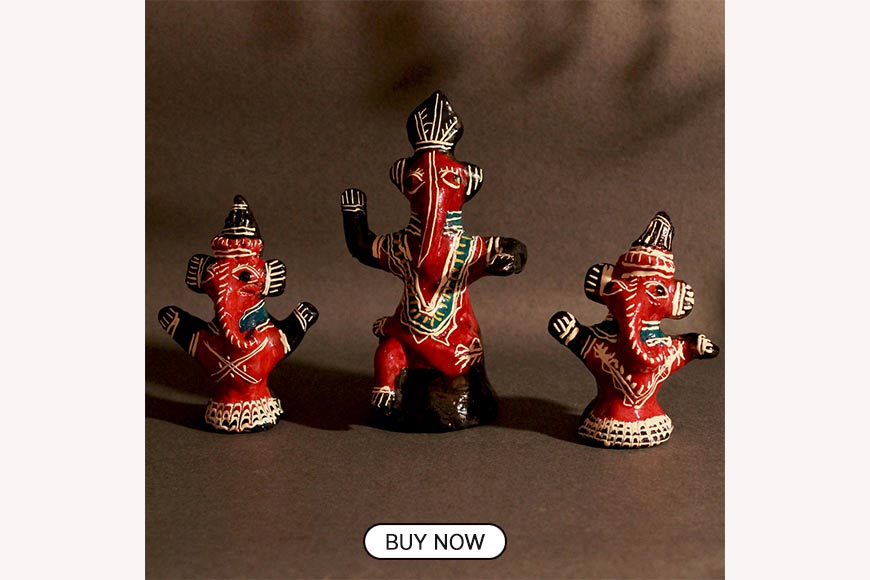 Ritu knew I was stressed out because I couldn't find a vocalist, but he had left it to me to find one. I knew the recording absolutely had to be on schedule, because we had lost a lot of time as it was owing to Ritu's frequent ill health. In fact, the film ultimately took nearly seven months to complete.
Anyway, Ratul sent me the sample, and there was something old world about his voice, which I liked. Deciding to chance it, I asked him to come to the studio. And just in case, I asked Ritu to listen to the boy before we began. He had barely sung two lines before Ritu indicated that he was happy. And as I wrapped up the flute section for 'Gahana Kusuma', Ritu began briefing Ratul on the song, showing him where to pause, which words to emphasise, and which ones to not sing at all, simply hum.

The one song over which we clashed was 'Madhur Tomar Shesh Je Na Pai'. I had wanted an older voice, to express emptiness, but he wanted a young, sweet voice. So it was back to Kaushiki. I got her to sing in a certain way, but Ritu heard it and said, "I'm keeping your version, but I would like another interpretation." And he told me how he wanted Kaushiki to sing, which is the version he finally went with.
There was one other incident. For the death of Kadambari Debi, he wanted to use part of the song 'Amar Praaner Pore'. Ritu's initial preference was a male voice, so I got Manomoy to sing. But in my mind, the use of the song, that too in a male voice, seemed far too obvious. Rabindranath would never have been so shallow in his grief. Ritu was of course hell bent on using the song, so I finally suggested that we get a female voice for it. And he readily agreed, which is how Srabani Sen eventually ended up singing the song.
Ritu himself was not very musically endowed. In fact, he couldn't carry a tune at all. But once again, his instincts were so strong, that he could look at the bigger picture and point out what was working and what wasn't, to the extent that he got me to sing parts of 'Jodi Tor Dak Shune', simply because he felt it was suitable.
Indrajit: So he was more alive to the functional aspects of the music...
Prabuddha: Absolutely. In fact, I remember he made me listen to a whole lot of what he thought was novel kinds of music before we began shooting. I had heard most of it already, which he didn't know, and eventually I didn't use most of his references, but he was never rigid about it. That open-mindedness was always evident.
Indrajit: To what extent did you feel he was intrusive or interfering...?
Prabuddha: Not at all in terms of background music. It was only the songs that he felt strongly about, and monitored closely. For the BGM, I would mail him the scratches, which he would listen to at home. Barring very few instances, the music remained unchanged.
In this context, I have to tell you the story about the film's theme music. I had told Ritu that I would create a recurring theme for the film. So I composed a piece set to seven beats, using a range of instruments, like a sarod, a cello, a steel flute, and a nylon string guitar that was counter-tuned to match the sarod. The piece was based on raga Bhimpalasi, and had a very strong melody.

When I took it to him, he heard it three or four times and said the melody was outstanding. I admit, I was a little surprised by the overwhelming vote in favour, but also very relieved, because once a film's theme music is done, you've won half the battle. Now I've always been a late riser, and Ritu would wake up at the crack of dawn. Which is why at around three in the afternoon, he was practically at the end of his tether, whereas we were at our peak!
Anyhow, the day after his effusive praise of my theme, I woke up to see a missed call from Ritu. The moment I called, the first thing he said was, "You know that theme music you've done, it's rubbish. Just dump it." I stayed absolutely silent, and said "Okay." I realised that the kind of mood he was in, there was no point arguing. For whatever reason, he had suddenly become completely averse to that music. Wondering what had gone wrong, I now sat down to work out a new theme. Within a couple of hours, I had composed something on my guitar.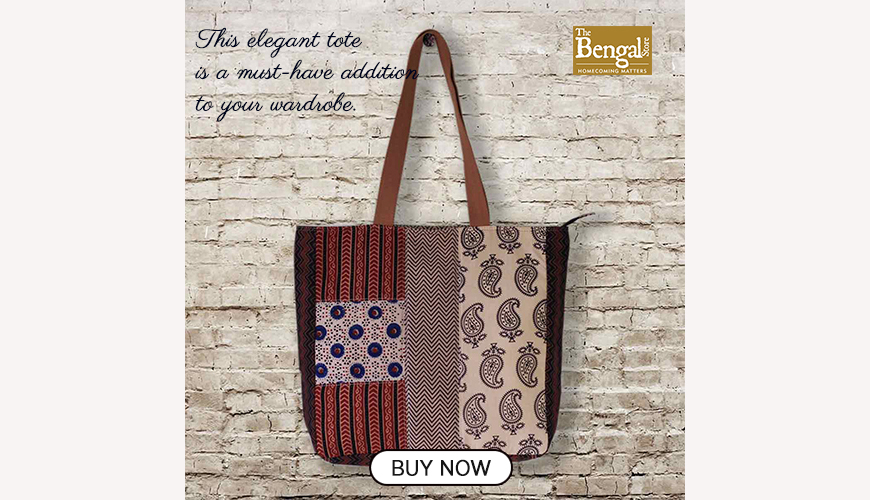 So I called him. Very gently, he asked me, "Have you thought of something? Would you like to come over? Have lunch with me." Another thing about Rituparno Ghosh was that he loved feeding people, though he hardly ate anything himself. So I picked up my guitar and went off. At his house, I asked his assistant to play a scene, and played live along with it. Ritu kept asking me to repeat, and began fitting the music on to other scenes too. Finally he said, "Ok, locked." To which I responded, "For today." To which he instantly replied, "No need to be a smart mouth!"

Then he said, "What kind of music director are you? Are you a professional at all? I ask you to junk a piece of music, and you don't want to know why? I would have explained, but you just said okay and hung up. Now you've brought me a new tune, which is locked, but don't you want to know why?" So I asked why, and he said, "You know what the problem is? Yesterday, once you left, I kept listening to the music, and realised it was drawing me in. In a film about Tagore, there will be Rabindra Sangeet, which has an inherent richness to it. The film should not have a theme music so strong that it clashes with Tagore's own music, and divides the audience. Again, it shouldn't be so watered down that it has no impact either. The music that you've composed now has a definite texture and personality, but no defining melody, which makes it very flexible."
This incident really increased my respect for Ritu. Not many people will ask you not to make music which, instead of playing a complementary role, plays a competitive one.
Equally, had the subject of the film been anything or anyone other than Rabindranath, I can assure you that first theme would have been instantly approved, because Ritu was a very strong proponent of melody.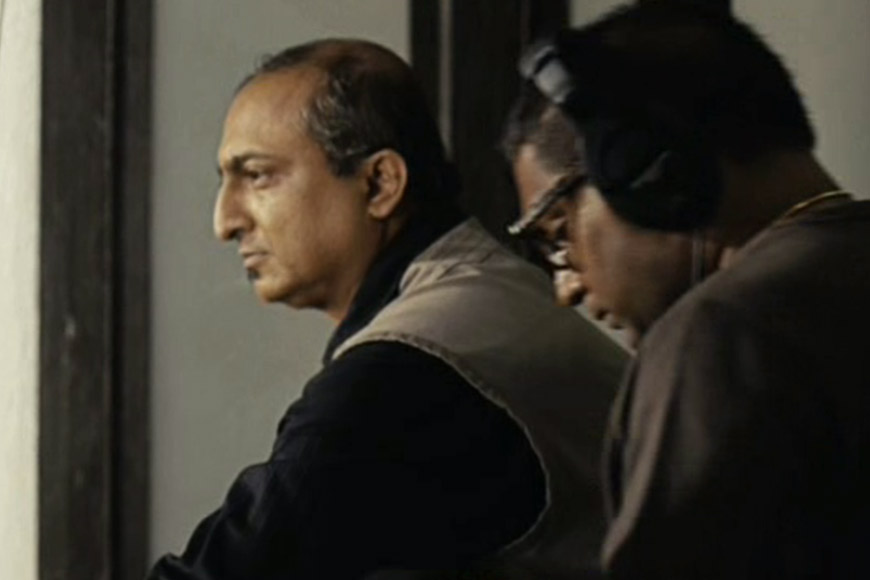 Indrajit: To round up, given your close association with a film that was so personal for Ritu, how would you remember him, personally and creatively speaking?
Prabuddha: I remember primarily his creative side. Rituparno Ghosh the person was a blend of contradictions. From what I have heard, he was fond of gathering the entire unit of whatever film he was working on, and have long 'adda' sessions with them. But that never happened with me. Our relationship was a judicious mix of artistic and professional. He never shared his personal space with me, neither did I.
But given the originality of his thoughts, and the novel perspectives he could offer on any issue, I would imagine plenty of people would take their problems to him.
What will remain with me is the fact that I began my association with Rituparno Ghosh at a time when the changes in his personal life were affecting his profession. His medications, the bouts of illness which caused work to come to a halt, the exceptional way he was looking at Tagore, the agony of the physical changes he was undergoing, all of it found expression in his work, but this being Rituparno Ghosh, those expressions were invariably artistic.
The instinct which created some truly remarkable film sequences was also responsible for a whole lot of frantic moments, such as the time when he decided he wanted the song 'Banglar Maati Banglar Jol' for a scene, even though I hadn't done the track for it. In the end, I recorded with the singers on set, took that to the studio, and set it to music with a huge effort.
But you couldn't ask Rituparno why he didn't plan these things in advance. The inevitable response would be, "Are we going to war, that we need to plan every move in advance? What if something occurs to me suddenly? If the members of my team, who are among the best in the industry, are unable to execute that idea, then why are they here? I don't care how you do it, but you have to." He just never took no for an answer.