Sabai Grass turns into exquisite art in the hands of Bengal's tribal women and travels abroad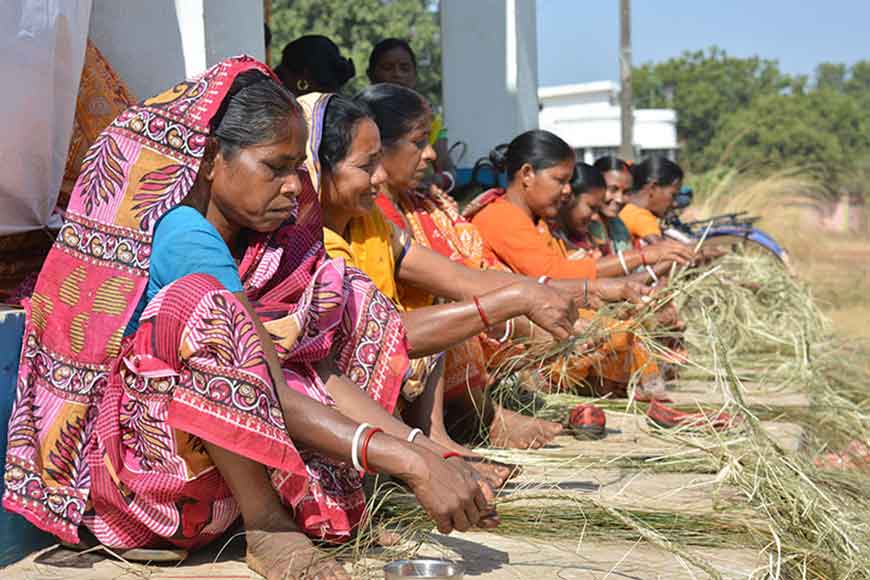 The humble grass that we trample every day can be turned into exclusive and exquisite export items! Well at least women artisans of Bengal's tribal belt, from remote Bandwan to Jhargram, have proved so through their deft and artistic eye. From a simple grass sophisticated carpets, sofa sets, wall hangings and mats. Sabai Grass is a special type of grass found in western part of Bengal. Sabai Rope weaving has been a traditional craft in different areas of Bankura, Purulia and West Midnapore like Nayagram, Binpur, Bishnupur, Patrasayar, Bandwan and Manbazar I. Cultivation of this Sabai Grass are mainly done in Bankura and Purulia.
It was the British who centuries ago realized the utility of Sabai Grass, as it is strong and durable natural fibre and was perfect for their military use. So they hired these rural people and also artisans from Kolkata to make ropes for them. Today this Sabai Grass products add to the eco-friendly revolution and are superior to synthetic products. The dyes used for colouring are natural and hence Sabai Grass mats and carpets of Bengal have a huge demand in Western countries.
Bankura has a Sabai village called Mahishamura. It lies in the interiors of Ranibandh Block of Bankura. Nature has generously adorned these villages with trees, rivulets, water-bodies, rich forests, hills, Mango and Cashew plantations. Even the Jangal Mahal including remote locations like Bandwan have seen a ray of hope to the livelihood thanks to this cultivation. Sabai Grass is reaped during autumn. The craftsmen have a practice of dyeing the Sabai strands with natural and vegetable dyes. However, they nowadays use Azo-free dyes to add vibrant colours to the weave. The process involves cutting the strands, making appropriate bunches, mixing colours in proportion and adding to boiling water, soaking the strands in the boiling water with the dye and then drying them in the sun.
Once this is done, the grass is first-hand twisted and then a cycle ring is used to tighten the twists. The rough edges are removed by rubbing it on the tree-trunks. Some of the artisans use a twisting machine as well. The grass braids are hand-made and the process is similar to hair braiding. The rough edges are cut off and the braids are ready to use.
To the marginal population of the tribal people of Bengal, Sabai Grass has dramatically changed their livelihood landscape. The economy of the area has been boosted and thanks to the state government's various schemes promoting this craft form, the living standard of the villagers has improved substantially as they are being trained, their products are being sold in state run fairs and also showcased abroad.
It is indeed a matter of great honour for the marginalized community who could barely sign their names as they are today stepping out of their villages, participating in fairs and festivals, earning a living as well as passing on their traditional skills to the younger generation. Mostly women who knew nothing beyond their village are far more exposed and know much more about current affairs. The whole event of them contributing to the welfare of the families has made them feel a great deal of self respect and gratitude.
Cover image courtesy: http://www.naturallybengal.com/
Story Tag:
Craft, West Bengal, Purulia