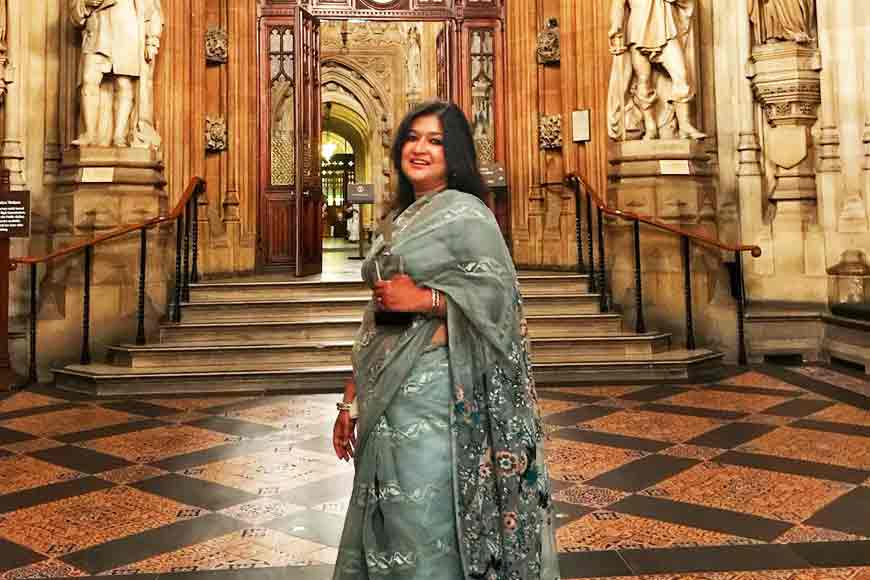 • How did it feel to get the Bengal's Pride Award at the UK House of Commons?
I feel completely humbled and quite pleasantly surprised by this recognition. Awards were never my forte. I was terrible at sports. I never put myself into music competitions that many known artists of our times have done. Funnily, the only awards (if you can call them that) I remember are all from my school in Santiniketan for music and being good in studies. This year though I had made it to Blackboard's Women Leadership awards 2018 super-list for Excellence in Music and was also awarded an AHRC (Arts and Humanities Research Council) fully funded PhD scholarship in Ethnomusicology at King's College, University of London. I consider this as an award because I have no qualms to accept that I am an incorrigible nerd!
And now this! To be honest, I am a bit overwhelmed and this has transpired into a huge responsibility on my part now!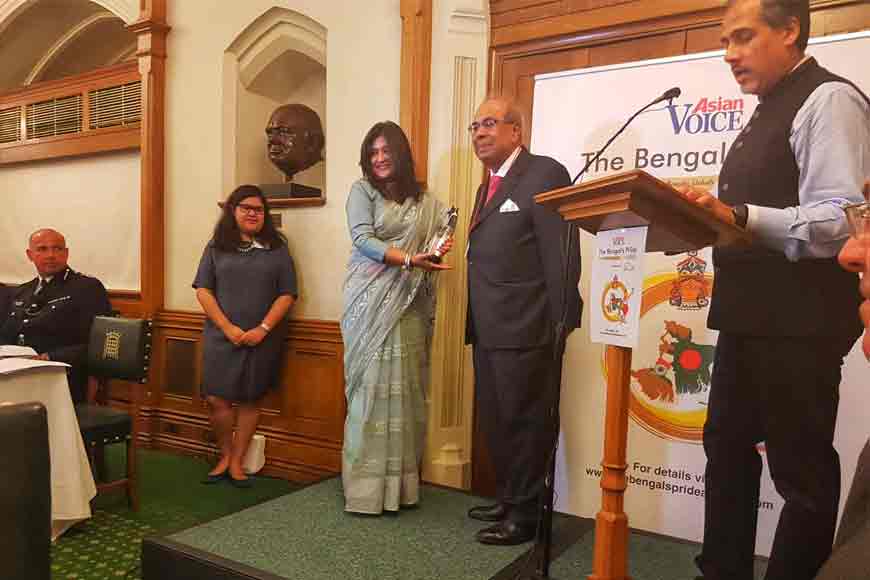 • Bengal (both West Bengal and Bangladesh) have always been close to your heart, though you live in UK. Any plans to bring Bengal more to the global arena?
Yes, I like to consider myself from both the Bengals because the lives I have lived in both have essentially made me what I am today. In West Bengal, my second Rabindrasangeet album Ja Bolo Tai Bolo (2015) published in Kolkata by Major 7th Music and Hindusthan INRECO was apparently rejected by a big Music Awards panel from being considered because I do not live in India (although I still am an Indian citizen after being in London for ten years and being married to a British Citizen).
Now the country that I live and work in, has recognised the work I do, and that is a true honour. I do not plan to do anything exceptional, and I honestly have not planned on a whole lot of things in my life. They happened in their own time and I think that's the way to go. Relentlessly planning and chasing goals is not me. I like to take my time. I like living life to its fullest and planning is a hindrance to it. I would like to keep on doing the work I do with diligence and honesty. I teach Bengali in SOAS University of London, which I will keep doing, along with my PhD in Ethnomusicology and doing music, singing songs of Bengal around the world won't stop either.
• You have been travelling across the globe this year for performances. Where have you performed this year?
I have performed in America- New York, Washington DC, at Purdue University in Indiana and just got back from a gig in Boston. I have performed in Munich- Germany, Zurich-Switzerland, in Kolkata, Delhi, and of course quite a few gigs in London and recently in Dhaka-Bangladesh where I had gone back after 10 years.
• How much of Bengal do you carry with you, when you travel on such tours?
As much as my soul allows me to. All of it.
• Which tour was your best this year?
I think that would be Dhaka, Bangladesh. I went there after 10 years. It was emotionally overwhelming to sing to an audience who had been so supportive of me and never stopped listening to my work even if I have left the country a decade ago. There was place for 300 people at Bengal Boi Dhanmondi, and almost 1500 people turned up and sang all the songs with me. The energy of the crowd was palpable and I was almost on the verge of tears on stage overwhelmed by love and positivity. It was a true homecoming for me. Nothing has ever touched me so much in my musical life.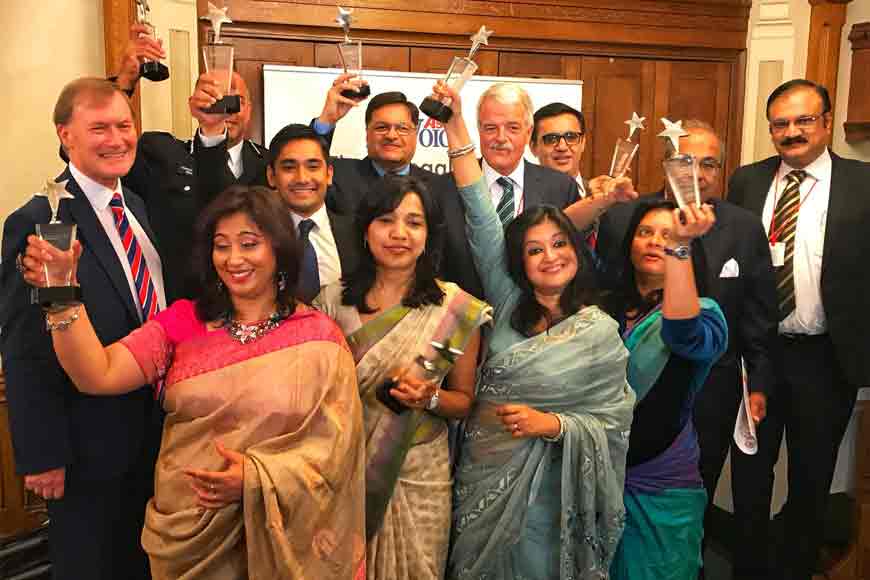 • What kind of songs are you singing in Bangladesh?
I was invited by the brilliant musician and enterpreneur Koushik Hossain Taposh of Gaan Bangla TV to record for his project Wind of Change, a Bengali version of Coke Studio. Musicians from all over the world played with me. Unforgettable experience. The genre was Rabindrasangeet.
• Do you believe Bangladesh can keep the folk Bangla songs alive better than Kolkata? If so why and how?
I believe both the Bengals can. Ofcourse Bangladesh's love for their music, that stems from the love for the Bengali Language is far more than in West Bengal- which is highly influenced by film music and Bollywood music. But many musicians are trying to keep Bengali Folk going in their own ways in both the Bengals. And that is good.
• Some music directors of Bengal you worked with recently and those you believe are doing incredible work.
I have just worked with Koushik Hossain Taposh, like I have just mentioned, in Dhaka and it was very satisfying. He is doing incredible things with Bengali music and really trying to make it global by involving exceptional musicians from all over the world. Other than that I have not worked with anyone else recently.
In Kolkata I have been working with my friend and Bandmate Samantak Sinha for quite a few years now and we are consistently working on new material. His sensitivity as a musician, his music-production education in London, and working with musicians there from the World Music genre has worked perfectly for the kind of sound I hear with my singing. His arrangements are intuitive and minimalist. I find him to be quite ahead of his times as a musician and I am fortunate to work together with him.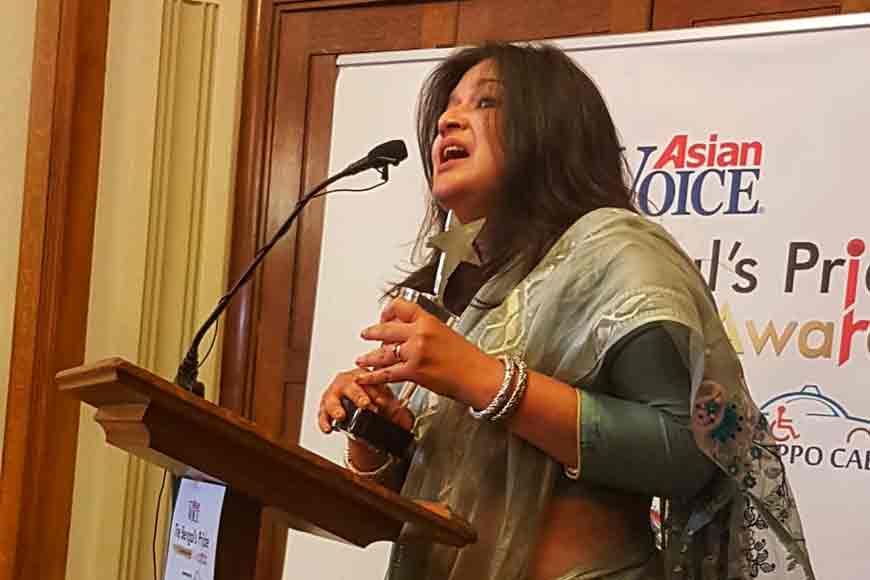 • How was your Tollywood experience?
I have not had much of a Tollywood experience in my musical life. Playback singing is something I had never planned on, or even thought about. I am really a live music artist- not a studio one, and this I have known all my life. Whatever little experience I have had with Tollywood, was accidental and very satisfying. Two songs are coming out in Pujo 2018 for Srijit Mukherjee's Ek Je Chilo Raja and Shiboprasad-Nandita's Kontho and I am very happy to have been a part of these movies. Also SVF, has brought out three singles of mine, arranged by Samantak Sinha- a Tagore number, a D.L Roy number and an Atulprasad number. I just want to keep on doing good music (or what I perceive to be "good music") as long as my time and life permits me to. It does not matter for which medium I do it. I just want to do music. Good music. Tasteful music. That is all.