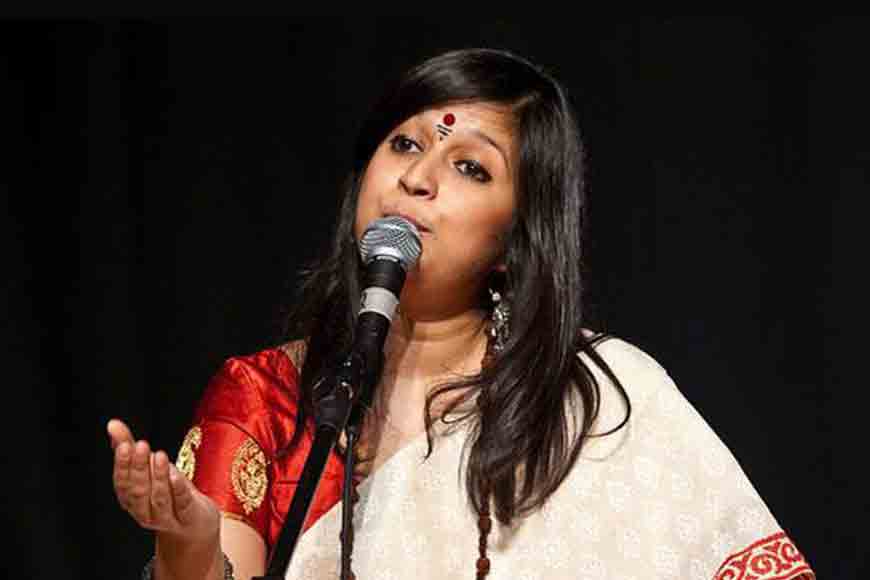 In an exclusive GB interview to author and poet Saheli Mitra, renowned singer Sahana Bajpaie speaks of her journey as a musician, her love for her homeland and her last show of the year at Poland, where she will sing Rabindrasangeet with Polish subtitles
• What do you prefer these days? Rabindrasangeet or Folk?
I like to perform both the genres nowadays. Along with songs by Pratul Mukhopadhyay, Moushumi Bhowmik, Sachin Dev Burman and other stalwarts of Bengali music. I am comfortable in singing all. And I try not to infuse the 'gayaki' that are popularly associated with these genres. I sing the songs the way I relate to them emotionally and musically.
• Do you miss Santiniketan?
I have left Santiniketan, my hometown, 17 years ago. First, I lived in Bangladesh for 8 years and I have been living in London for the past 9 years. I miss Santiniketan very much. But I go back home once or twice every year. So, I have come to terms with it. I meet my family and friends there, and my teachers, visit my favourite tea and phuchka stalls, cycle around on my 25-year-old ladybird-cycle, go on bike-rides with my friends to the Kopai river and watch fireflies gather on trees, just like we did decades ago.
• What is your relationship with Dhaka?
Dhaka, Bangladesh, is the city, I chose to make my home and I haven't been back since I had left it 9 years ago. I practically spent almost the whole of my twenties there. Made solid friendships without which I wouldn't have been where I am today. I miss everything about Dhaka. My colleagues at Brac University, my students, people I did music with, the boat-rides on the endless rivers, places I went to eat in- the food is I think what I miss every day, especially Kachchi Biriyani. My first album of Tagore songs, 'Notun Korey Pabo Boley,' was launched from Bengal Music, Bangladesh. And the appreciation and love I have received from my fans there, even after I had left the country, kept me going. My fans didn't give up on me when I almost gave up on myself. And it is utterly humbling as a musician to be remembered for years, even when one is physically not present there. I intend to go back to perform next year in 2018, my 10th year of leaving Dhaka behind, leaving all that one cannot possibly leave behind.
• How is Bangla folk doing today? Do you think it has a bigger audience worldwide than before?
Well, Bengali folk has come a long way from the spaces of its origins.
Once upon a time Kali Dasgupta travelled around collecting songs and singing them. When we were growing up we listened to Nirmalendu Chowdhury, Swapan Basu, Purnadas Baul on record player. And living in Santiniketan made it easier for me to grow up listening to and learning from the Bauls in our neighbourhood.
In 1996-7 my classmate in Patha Bhavana, Santiniketan, who was from Bangladesh, now a popular musician, Arnob, and me and a few of our friends formed a band called Bangla, where we performed baul/fakiri/other kinds of folk songs using not folk instruments but the Electric, Acoustic and Bass guitars and drums. The younger generation took to it very enthusiastically, especially the crowd that followed and listened to 'band' music. The band later produced albums from Bangladesh with Anusheh Anadil as the lead vocalist. This was 20 years ago! The same sort of sound is being produced for all these years and nothing new is coming up as far experimenting with the genre is concerned.
In last two decades, Bengali audience, I suppose, did not take to Bengali folk as much as they do nowadays, thanks to popular TV shows. Late Kalikaprasad Bhattacharya was instrumental in doing so. But unfortunately, performance of Bengali folk is still largely stuck to the audience requests in the lines of 'ektu folk hoye jak,' 'ektu folk'er shathey nach hoye jak.' This is so unfortunate! It is disconcerting to witness that artists are giving in and literally dancing along with questionable gestures to mystically potent or politically charged folk songs like Pawrer Jaga Pawrer Jomi or Chawl Mini Assam Jabo! As artists, first and foremost, we must be aware of what we sing about and be responsible about how we present a particular song to the world. In my humble opinion and experience of performing for 20 years, the audience makes an artist as much as an artist makes the audience.
• Where do you live now? A brief about your current family and place of stay and how that impacts your music?
I have been living in London for the last 9 years. I finished my Mphil in South Asian Studies with a major on Cultural Evolution of Modern Bengal at SOAS University of London and teach Bengali Language and Literature there. My husband Richard is from Cambridge. We have a 5-year-old daughter Rohini Elizabeth Herrett. I perform across England, Europe and America, largely for the Bengali diaspora.
• Are you trying to popularise Rabindrasangeet or folk in the part of the world where you reside?
All I try to do is, perform Bengali songs and let the people of the world know about our music. I am singing in Krakow, Poland on the 16th of December where the audience will mostly be Polish people. It is always a challenge, especially with Rabindrasangeet, because it is so deeply intrinsic with the Bengali language. So, there will be a projector that will project the translations of the songs I sing on stage in Polish. I find this to be a good idea for the people who do not understand Bengali. It is almost like subtitles in a film. Yes, it is hard work, but shouldn't art be a bit of hard work at times? Go beyond easy accessibility and numb-headed, ritualistic entertainment?
• Any new upcoming album? Any new events?
This year I have performed in London, Delhi, Copenhagen, Scotland, Zurich, Munich, New York, Washington DC and my last gig this year will be in Poland.
I am not doing albums anymore as musically 'singles' are the order of the day. I have recorded three singles, one by Tagore, another by Dwijendralal Roy and the last one by Fakir Lalon Sai. These have been produced by SVF music and Sangeet Bangla. The DL Roy song "Moloyo Batashe" had been released as a video during Pujo this year and has done very well, which I find to be quite remarkable in a situation where most people nowadays only listen to filmi-songs and independent music has gradually taken a back seat, or no seat at all. We need to fight for independent artists, the West beautifully does it. I only hope our penchant for aping the West takes notice of this and follows suit as far as independent music is concerned.