Salute! Birbhum's small-farmer Maniruddin sells all his produce to feed poor villagers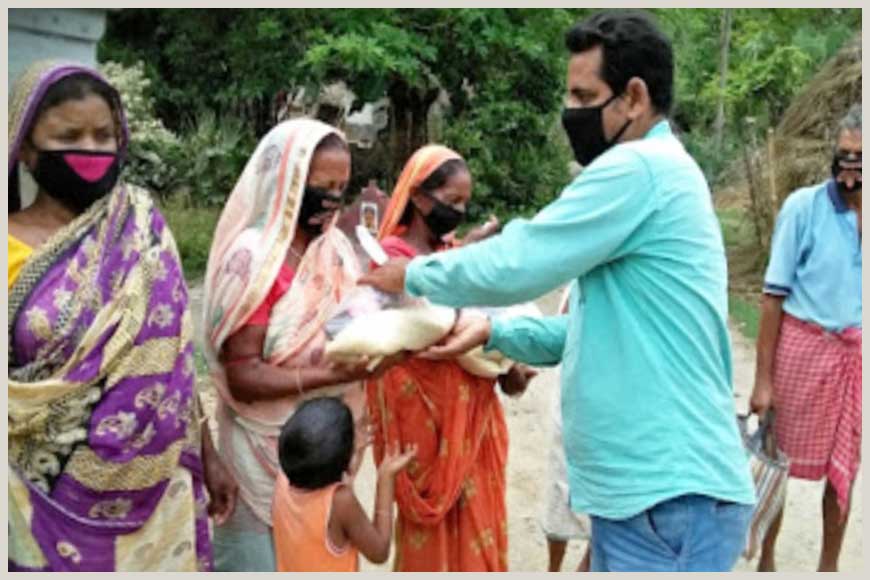 Paharpur is a small, non-descript village under Amarpur Village Panchayat in Birbhum district. And residing in this village is farmer Maniruddin Chowdhury. He is a small farmer, yet he has come to extend a helping hand to his fellow villagers who are in dire financial crisis due to COVID-19. He sold the entire produce of his farm – the result of months of back-breaking labour in the market and then with the money he earned, he bought rice and cereals and distributed them among the starving labourers of his area, completely for free!
The nation-wide lockdown has forced citizens to stay indoors. A majority of households across the nation have witnessed a drop in their income. The prolonged lockdown has made a deep dent in savings as well. The condition of daily wage workers (the urban poor and even rural farm labourers) is worse due to the lockdown and they are left with no work and hence no earnings Although the State Government has tried to provide some relief and have been providing free food grains, but even this measure is inadequate for the huge workforce in the unorganized sector.
The essential commodity market has taken a severe beating and prices of basic goods including vegetables and poultry are sky-rocketing. Cash-strapped masses are in a state of despair. Amid such gloom, good samaritans like Manir have come forward to share the financial burden of their fellow countrymen. These new-age messiahs are working tirelessly to provide help and give them hope for a better tomorrow.
Manir has single-handedly procured and distributed food packets among 555 families, irrespective of their religious identities. Each of these packets had five kilograms of rice, 500 grams pulses, mustard oil, a packet of soyabean chunk, one cake of soap and a face mask.
In his own words: 'Lockdown has impacted daily lives in a way we have never encountered before. Villagers of Daspara, Malpara, Bagdipara, Bauripara live in abject poverty. There are many lower middle-class families who are too shy to seek help or express their needs and their inability to procure them due to financial duress. I thought of helping them as much as I could.'
He has become their pillar of strength now. Chowdhury insists he wants to extend a helping hand to all those in need and wishes to include the entire village in his endeavour. He has sold the produce of his agricultural land to help the needy and in future, he says, he will not hesitate to sell even his land to be with his fellowmen. He wishes to extend his area of social work in the future and include the block areas as well where he can help.