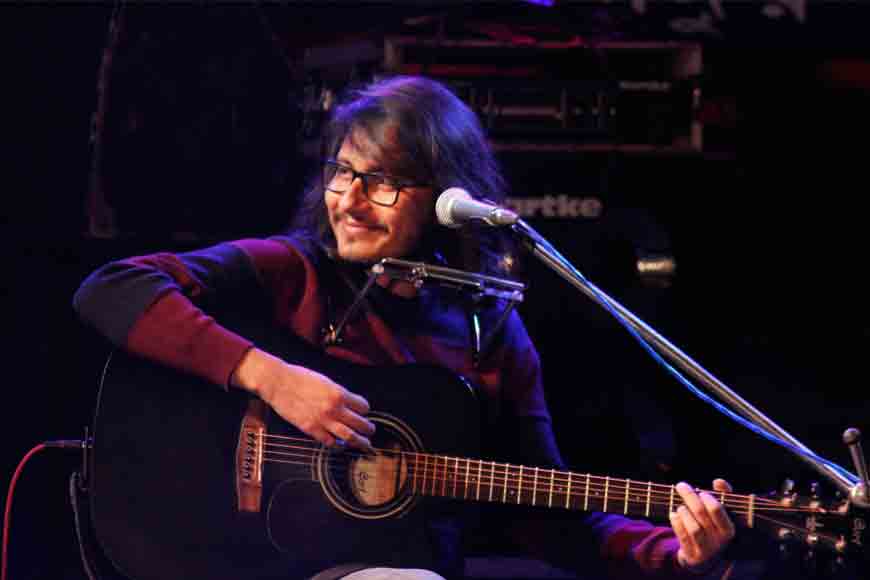 • How were you inspired to come to the singing frame?
I was drawn towards music since childhood. Bryan Adams, Pink Floyd, Bob Dylan, old Bengali songs, almost anything and everything musical attracted me. Then I started writing my own songs and performing them before college and school audience. While in college, I even formed a band called Empty Spaces. It was a popular Bangla Rock Band between 2001-2009.Then came the break for popular serial Gaaner Opare.
• What about music arrangement? You are now a music arranger with leading singers
After playback singing for Gaaner Opare and then for movies like Uro Chhithi, Goynar Baksho, I felt I needed to pursue my dreams of creating my own music and not just songs. I always wanted to arrange music, so I applied for Charles Wallace Scholarship from British Council and went to UK. There I studied at a private music school called The Recording Workshop.
• What kind of music do you think works these days?
I believe only film music only works these days, as people wish to watch audio visual more than only listening to audio songs. Even original songs in movies, not even videos get a better response. My current band Samantak & Mates perform all over India and I have seen the audience loves old adhunik songs rearranged in a new avatar, along with Rabindrasangeet and even Atulprasad. Unfortunately,the audience at times demands: 'Nachergaan chai'… but after a few such songs, if I drop in a Toppa or even Atulprasad, I have seen the audience listening to it seriously.
• How far is Rabindrasangeet successful in the West or other countries?
For a Bengali NRI community, Rabindrasangeet works. But for a mixed audience where others are also part of the audience, folk songsare more popular.
• What you like best: Singing or music arranging?
Music as a whole appeals to me, but definitely I love singing.
• Tell us a little about your collaborations with foreign musicians
I have been collaborating with London based violin player Natasha and jazz clarinet player of Europe, Idrish Rehman. I have belted out a few folk songs with them and also written songs for them.
• How did you get associated with Rituporno Ghosh during GaanerOpare?
Debojyoti Misra called me while I was working with Empty Spaces. Debu da was then working for Rituporno Ghosh's movie Raincoat. He just asked me to sing, I had no clue why. And then I found I landed up at Gaaner Opare and got a huge boost to my early singing career.
• How has your Western education helped you?
My music days at UK changed my vision about gayaki and music arrangement. After 90s no one seems to be much interested in listening to music. We hardly get Western Songs reaching the Indian shores, let alone Bengal. I thus got exposed to Western music while in UK and learnt the ideal blending process and music arrangement can be taken to new heights.
• You are recently working with Sahana Bajpaie. What are the songs you arranged?
Dwijendrageeti: Moloy Batashey
Lalon: Manush Bhojley
Rabindrasangeet: Ami maar er sagar pari debo