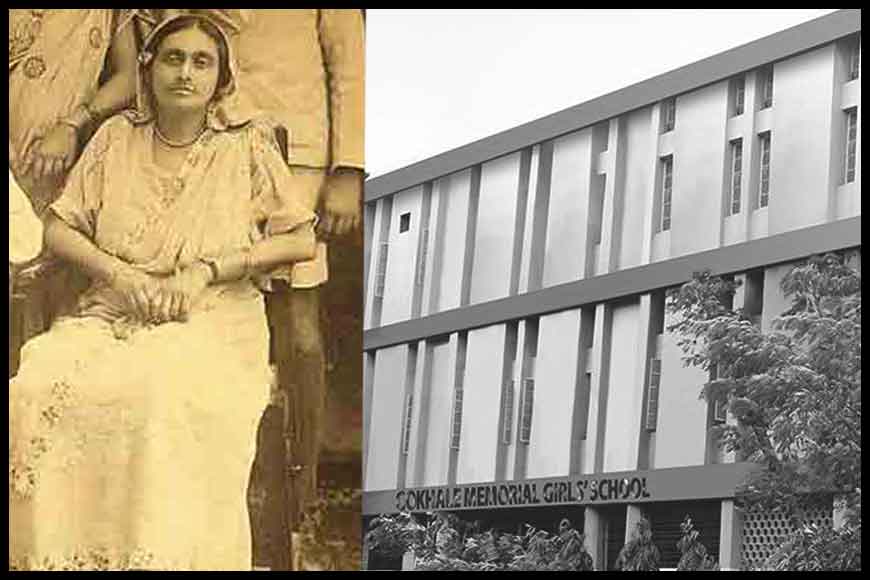 My grandmother-in-law was Kanaklata Ray. I met her when she was old and frail, but not weak at heart. Very seldom one comes across a person of such a stature. Gods in heaven must have put all the good qualities of a good human being in her. Yes, today I remember her not as a daughter of two famous persons, father Dr. P. K. Ray, the first Indian Principal of Presidency College, mother Sarala Ray, founder of Gokhale Memorial School, but also Lady Abala Bose, founder of Brahmo Girls School and wife of the great scientist Sir Jagadish Chandra Bose was her aunt. Her uncle was S. R. Das, founder of Doon School and of course, she was grand-daughter of famous Brahmo, Durgamohan Das of Barisal, who fought against all social evils with great temerity.
Kanaklata Ray welcomed me with open arms right from day one, may be because my mother studied in Gokhale Memorial and my mother's uncle was Jagadish Bose, who died in our house, or may be none of these reasons. She just liked me. I was a bit uncomfortable in that house as a bride, too anglicized for my liking. Everybody spoke in English, used fork, knife etc. when they ate, there were servants galore, from cook, bearer, ayah, sweeper, driver etc. There was somebody very special, called Masalchi, whose work was to bring food from the kitchen to the dining table. Though my father was a magistrate, we had a simple lifestyle, very middle class and had to do most of the work such as washing our own clothes. I am grateful to my parents for this, because my brother and I can do a lot of work even in our old age with a lot of dignity.
There was smoking and drinking in the house where I was married to. Every Saturday there would be dancing, ballroom dancing, Waltz, Fox trot, Tango and I scored zero. My husband taught me each step, each hold with great patience. He was a great dancer and I enjoyed going to famous Princess (Grand Hotel) every Saturday. But soon I got tired of all that glitter and glamour and never indulged in smoking or drinking.
My refuge became my grandmother- in-law. Her simplicity, her implicit faith in God made my life beautiful. She would get up early in the morning. We heard her singing Brohmo Sangeet, though her Bengali was not perfect as she had her education abroad, or may be for being in that anglicised milieu. Still, she would never come out of her room in a housecoat, she would wear her sari beautifully draped, a unique way which later I saw my headmistress Miss Charu Das of Diocesan doing too. She would have her meals with us but her elbows would never touch the table. She had impeccable table manners, my father -in-law, studied in Cambridge and used fork and knife even to have Bengali food. At night there would be English food without fail.
She would make her own tea in spite of all the servants, not even taking help from me. At 4pm sharp her sister- in- law, mother of Ranjit Gupta, Chief Secretary, and Indrajit Gupta, famous Commusnist leader, would come in a car. The two grand old ladies would go out. They would go to Victoria Memorial or some other place but this was their daily routine. Mrs Gupta was fiesty, spoke in a loud voice, whereas Thakurma was gentle, soft spoken. They remained the best of friends till death separated them. May be, they are together in heaven having peanuts or an ice-cream at 4pm.
Thakurma's dinner was simple. She would take it in a tray, the tray cloth was done by her. Yes. She taught me that fine embroidery should be done in the morning. And knitting or something simple should be done at night. So, no strain on one's eyes. Needle-work, brought us close, it was our passion. We did so many things together. She remembered everybody's birthday and her gift would be a guest towel with cross stitch. Or a glass cover with crochet work and beads.
Now, when I think about it, I feel she hardly had any money and was forced to stay with a domineering daughter-in-law. I was too naive to realise that then, else I would have helped her. But in later years when I started working, I saved money. Because there is nothing like being financially independent for a woman. I loved listening to Thakurma talking about her mother Sarala Ray, Gokhale and other famous people who would be at their Ballygunge Circular Road house, discussing India's future, education policy etc. How she fulfilled her dream of having a school for girls, how she made Tagore write the dance drama, Mayar Khela, which Tagore dedicated to Sarala Ray. Thakurma loved her mother's school with a passion and was in the governing body and worked very hard even when she was old and feeble.
Thakurma, I miss you. This world needs more people like you.