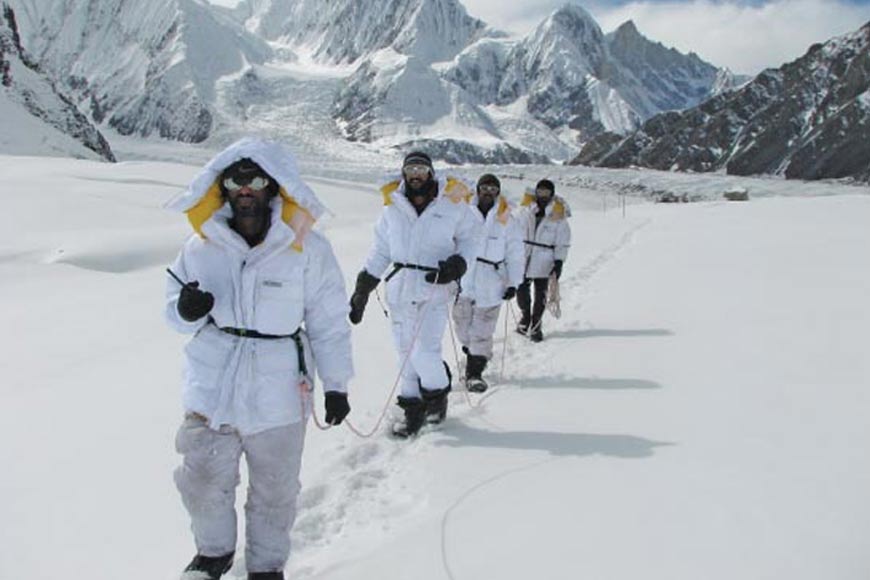 Representative Image
Siachen Glacier, located near the Indo-Pak Line of Control, is known to be the highest battlefield in the world. It is the longest glacier in the Karakoram Range, running 78 km long and the second largest in the world. Can you imagine how the soldiers stationed here manage to survive? A -60-degree temperature reading at 5700 metres above sea level, is not designed for mortals like us to survive. At times, soldiers are required to trek for almost 28 days to reach some of the farthest places, that is, covering a stretch of 128 kilometres. Indian soldiers deployed in the Siachen sector require special personal kits and equipment to keep them warm.
Recently scientist and researcher Anirban Das of Haldia developed special boots for the soldiers deployed at Siachen. Five of his students, currently pursuing engineering degree, pitched in with their 37-year-old researcher/ teacher to create special snow boots for the jawans to enable them brave temperatures up to minus -59 degree Celsius. They used robotics sensor technology to manufacture the 'Carefree sole' boots at an incredibly low cost.
The soles have been made keeping in mind the comfort factor of the soldiers in that extreme climatic condition when they will wear the boots for days and months at a stretch. The researcher team that has manufactured the product claims the shoes will be effective in temperatures ranging anywhere near -60 degree Celsius and above. The low-intensity vibration will aid blood circulation and heat emanating from the sole will keep the soldiers warm and comfortable.

This invention by a group of young scientists has been highly commended. The Institute of Electronics and Telecommunication Engineering (IETE), a wing of the Indian Government's Department of Scientific and Industrial Research has accorded the 'Best Innovator Award' to Das for his invention. General Bipin Rawat, former Chief of Defence Staff (CDS) of the Indian Armed Forces handed over the award to Das in a function held at New Delhi.
Das is currently a Professor at the Institute of Engineering and Management, Kolkata and vice-president of the Innovation Council. Das, a resident of Chaitanyapur, Haldia, did his B.Tech and M.Tech in software engineering and then started researching on Gross Enrollment Index (GEI). This is a statistical measure used in the education sector. After completing his research in 2008, Das wrote a letter to the then President of India, Ms Pratibha Patil, outlining the current national education policy and proposed changes that could be brought about to make the system more efficient. The President was highly impressed by the letter and Das was invited to the Rashtrapati Bhavan to discuss his take on national policy on education. She appreciated the young researcher's clear perception.
Das was inspired to work on his latest innovation when he realized the amount of physical prowess and mental strength required by soldiers who have to work under severe cold climes of the Siachen sector. This highest combat region in the world demands soldiers, who are not just physically but mentally strong as well. It is not just the harsh weather, but the non-availability of many basic amenities that makes life tougher up there. One cannot survive for long there, while soldiers fight to survive the harshest climatic conditions in the world; staying for long at this altitude might eventually lead to numerous health issues. While on duty, they cannot relax because if they ease up on their feet for a brake, a sudden attack by the army will render them helpless as they will not be able to move their feet in the cold. This will make them vulnerable and easy targets for the enemies. That's why Das and his teammates zeroed in on the idea of putting special devices in the soles under the boots. Vibration and energy will be generated simultaneously from the tiny battery-powered device which will keep the jawans warm and energized. A pair of soles with the special attachment will cost approximately Rs 1,000 only, but as Das insists, if it is produced in mass scale, prices will come down to as low as Rs 150 per pair!
Das is enthusiastic to spread this spirit of scientific innovations in everyday life and to popularize social innovations, he has taken the initiative to visit villages and encourage young inventors. He has already filed 63 inventions for patent. At present he is busy using sensor to make different types of drones for specific fields. He has already made hexacopter unmanned aerial vehicle with latest CCTV camera attachments designed to adapt to specific commercial or industrial requirements.