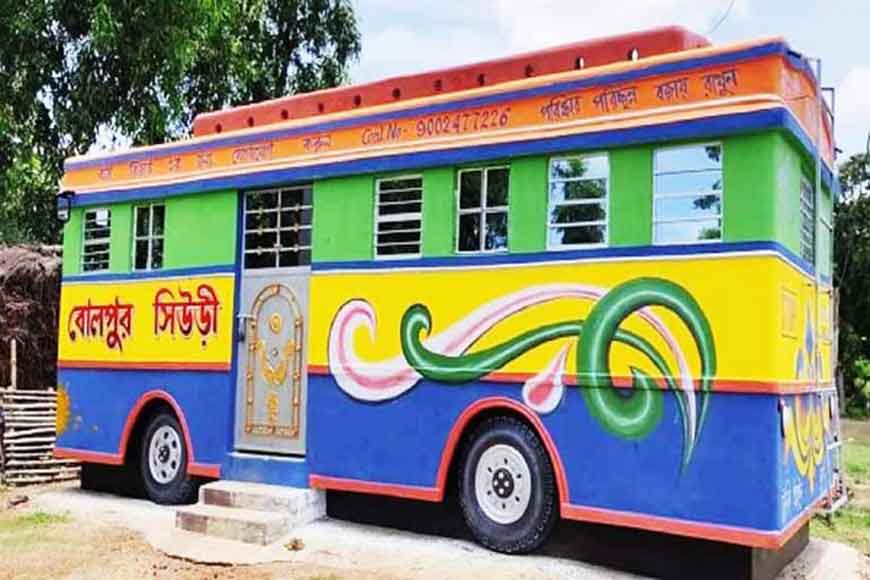 A bus operating on Bolpur-Siuri route in Birbhum district stands next to vast expanse of open paddy fields. As you proceed to board the bus, you suddenly realize it is not a bus but a house! A private residence! Potter Uday Das, a resident of Dhanaimore village under Parui police station in Birbhum district fulfilled his dream project only a couple of weeks ago. He fell in love with the vehicle in his childhood when he first boarded and travelled in a bus. Even since then, he wanted to make a house that would resemble a bus. His 'bus-residence' is an exact replica of an actual bus with the usual banner on the body of the bus like 'For reservations contact….' Or 'Stop' and 'Traffic aain mene cholun' (Follow the traffic rules) at the back and bold graffiti on the light blue-yellow body. He has even named his residence akin to a bus, 'Ma Lakshmi Travels.'
Das' unique concept is already a hit and people from far and near throng at the site to admire the sculpture and pose for selfies in front of the bus-house. Das is a professional sculptor who has been making statuettes of clay and cement for decades. The 45-year-old carver has a large family comprising seven members who live in a crammed mud house. His wife Chandana is very accommodating, but it is difficult to allot a private space for his aged parents, both of who are ailing. He has two sons, a daughter and a grandchild as well.

Das hails from a traditional family of potters and clay modeling comes naturally to him. But since adolescence, he assisted masons and gradually learnt the tricks of the trade. His Bus-house is a fine specimen of the two art forms. He had been planning to build this Bus-house for a long time, but he did not have the time to dedicate for this personal project. The nation-wide lockdown last year presented him with an opportunity to dedicate all his time and efforts towards this project. When he discussed his project with his wife Chandana, she was doubtful. The family's earnings had reduced substantially, and it was becoming difficult to run the family on a shoestring budget. But Das did not lose hope or let the pandemic dampen his spirits. Drawing a loan of Rs 80,000 from Bandhan Bank, he began construction of the unique Bus-house. His family members also chipped in the construction work. The entire project cost him approximately Rs 3 lakhs.
Das has made this house quite spacious for guests who come to him to place orders for his sculptures and clay models before the annual autumn festivals, Durga Puja, Lakshmi Puja, Kali Puja and other pujas round the year. His previous house was so tiny that he could not let visitors inside his house. There was no space for any other person in that house except for his family members. Hence, he decided to make something creative, something new, something different and his concept metamorphosed into this Bus-house with spacious sitting arrangements for his guests. He says the Bus-house looks attractive from the outside and due to cross-ventilation facility, makes it comfortable for people to sit inside.
Das and family are busy fixing up an auspicious day when they can shift to their new abode. Das is upbeat despite the fact that the Covid menace has made a deep dent in his income and he is smarting under the stress. Like others, he is also in the dark and has no idea when his business will look up again. But he is optimist and believes things will change for the better soon. Till then, he is basking in the glory of his creation and happy to fulfill his life-long dream.