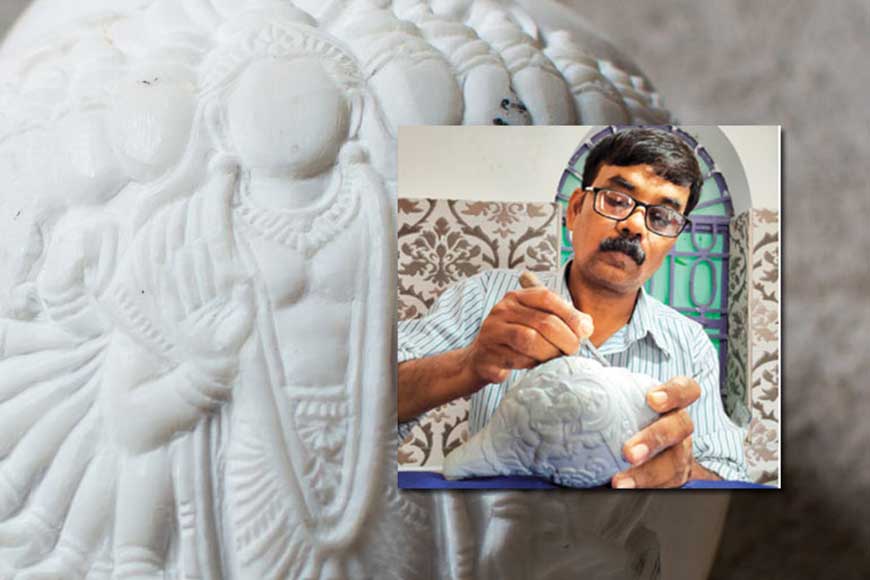 The total area of the conch shell is not more than 11 inches but the detailed miniature art carved on its surface is bound to startle any onlooker. An entire episode from the ancient Indian epic, 'Mahabharata' comes alive on the surface of a conch shell. Detailed episodes from the epic including Arjuna sitting on a 'Rath' (chariot) with Krishna as his charioteer, Karna's struggle to pull out the wheels of his chariot that gets stuck on the ground at Kurukshetra's battle field, Krishna depicting Vishwa-roopa (Vishwa-roopa is complete universal form of Lord Krishna), execution of Aswatthama or the mace fight between Bheem and Duryodhan – everything gets chiseled intricately by the artist.
And this brilliant artwork comes from Bablu Nandi of Bankura. There is no dearth of talent in this tribal district of West Bengal. Bablu Nandi has recently received a National Award for his Conch Shell carvings. Nandi is not new to awards and recognitions. None the less, the National Award bestowed on him this year his brilliant work adds a feather to his cap. Nandi is a renowned conch shell engraver from Indpur Block's Haatgram village.

His family has been traditionally involved in conch shell carving and engraving and his ancestors made conch shell bangles. Since childhood, Bablu observed his parents working with conch shells and he too, started tinkering with the shell and the instruments his parents used for carving. He subconsciously picked up some of the finer elements of the craft then. He completed his graduation from Mahatma Gandhi University at Purulia and then decided to join in his family's traditional calling. But he did not join the business per se. Instead, he decided to expand the horizon of the craftsmanship and started engraving exquisite miniature artwork on the conch shell's surface. He even took formal training from famous conch shell engraver and National Award winner Subodh Dutta, before taking the first step in his chosen sphere of work.
Bablu's work is completely different from the type of work other conch shell artisans of Bankura do. He uses the shell surface as canvas where he deftly depicts stories from the Puranas and epics. He has received many State wards for his brilliant craftsmanship. In 2019, he carved out different episodes from the Mahabharata on different panels on a single conch shell surface. But instead of selling it, he sent it to the Union Textile Ministry. After prolonged waiting, the results were declared recently and Nandi's brilliant craftsmanship fetched him the coveted National Award. The art and craft fraternity of Bankura is upbeat about Nandi's success and determined to keep the district's winning streak continue.