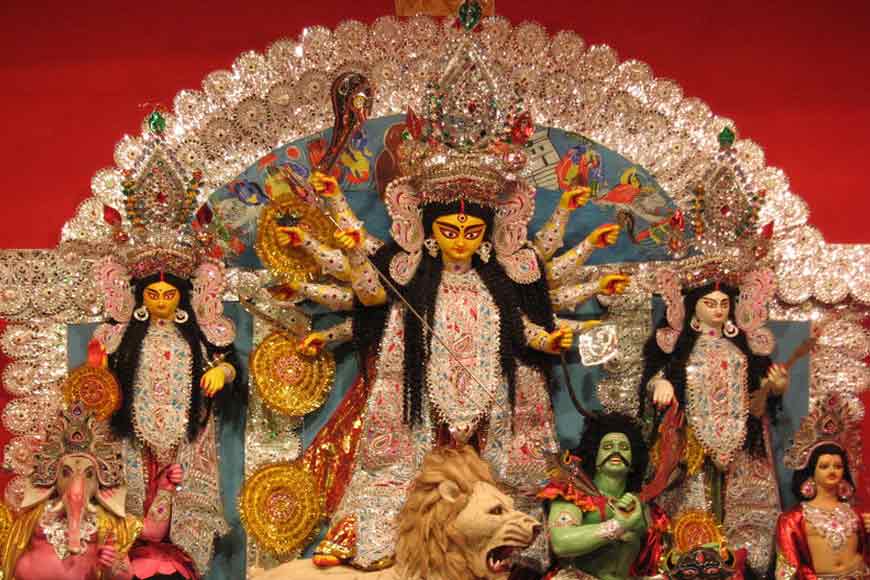 Representative image
Bengal's biggest annual festival, Durga Puja is almost knocking at the door but a majority of idol makers in Kumartuli are still uncertain of the future. With doctors crying hoarse over an "impending" Covid-19 third wave, a majority of puja organisers are either holding back or cancelling pre-booked orders. Despite the gloomy scenario, artisans are hopeful of a turnaround following a dip in Covid cases in the US and European nations. They are waiting for government relaxations of Covid protocol so that overseas business can pick up. Meanwhile, a couple of Durga idols have already set sail for different destinations abroad.
Artist and clay modeller Kaushik Basu has carved out a 10-feet tall idol of Goddess Durga which has been shipped to the United States. The idol, purportedly the tallest one in the expatriate Indian community, has been created for the Indian puja organizers at San Francisco. Basu has sculpted another equally huge Durga idol for the puja organizers at Berlin, Germany. Basu's family is the largest exporter of Durga idols from Kumartuli.

The puja organizers of San Francisco had requested Basu to make the fiberglass idol a bit taller than the standard size (usually between 6 to 8 feet). The 10 feet tall and 20 feet broad fiberglass Durga idol resembles a clay model. Basu is making 15 idols this year, all ordered by members of Indian communities abroad. He said due to the possibility of damage to a taller idol, both artists and organisers usually prefer idols within 6 feet height. His mammoth Durga model sold for a whooping Rs 4.5 lakhs.
Overseas sales picked up this year after partially lifting Covid-19 restrictions. The clay modeller said 40-50 idols were made for overseas pujas in Kumartuli this year, unlike half of that figure last year. Kaushik and his team members followed all Covid protocol right from the time he began work on the idols. After completion, respective courier companies sent their representatives who fumigated the idols before packing them carefully in large wooden chests. And then it was time for the artist to bid goodbye to his labour of love. His sales have inspired other artisans as well who are trying to erase the horrifying days of lockdown from memory and get down to work sincerely dreaming of a better future. Meanwhile, sales are picking up slowly.