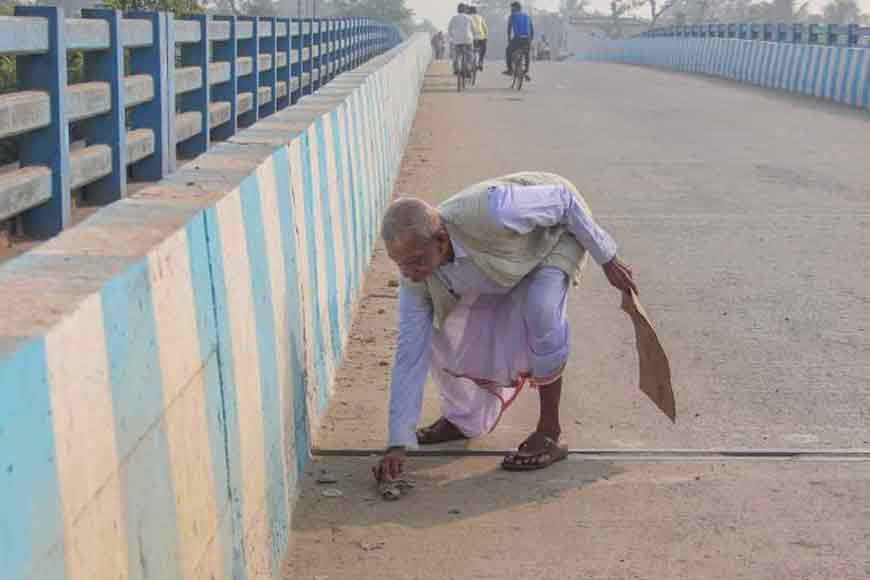 If we look around carefully, there still exist many who reside far away from the arena of limelight and recognition and yet devote their entire life for the welfare and development of mankind and the greater good of the society without an iota of any form of vested interest, agenda or purpose. Much to our oblivion, Rajkumar Pal of Anandanagar has been setting an example by working relentlessly and silently for the betterment of a particular establishment he is extremely protective about. It is Yugal Kishor Setu above Churni river of Nadia that connects Anandanagar and Aranghata. While pass down the bridge, you find people dirtying the place without a second thought, either by spitting, or by throwing dirt. But then again, you will also find an old man in non-discreet attire, working diligently and singlehandedly every day to keep the bridge clean.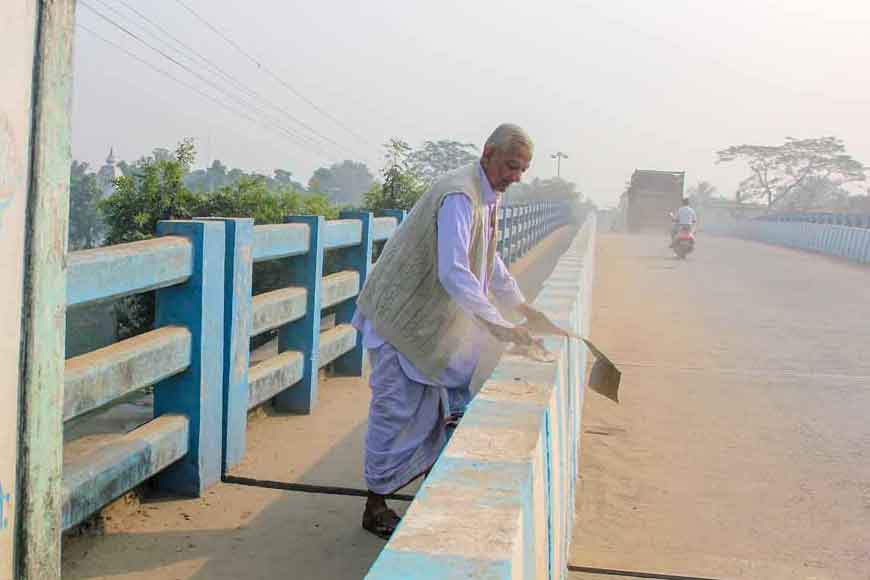 Rajkumar Pal, has not been appointed by the government but does this cleaning drive voluntarily out of his love for his town. A retired headmaster of a school, he will be in his seventies. He has been doing this meticulously for last 23 years singlehandedly without any help. Without having to say a word against the administration or people, Pal says, "This is my work. Everyone must take up this responsibility to keep their own territories clean in the same way."
He had a strong association with this bridge since its inception, 23 years back, when the state government had taken up the project of constructing it after repeated requests from Pal and other residents. Therefore, he feels that he shares an indescribable cosmic connection with this bridge which is difficult to put in words. His utmost affection for the bridge keeps him going as its eternal protector. Be it any kind of gruesome grime, he has never been reluctant about cleaning them with his own hands.
Incidentally Pal has received an award from the late President of India, Dr Abdul Kalam for his disciplinarian attributes and for his commitment towards the society. But it is not for awards that this old man keeps the bridge free from all grime and spit. Rather, he feels it is his duty to do so. Only if, all of us thought the same way, our surroundings would have been a better place to live in.
Pix Credit - News from Nadia