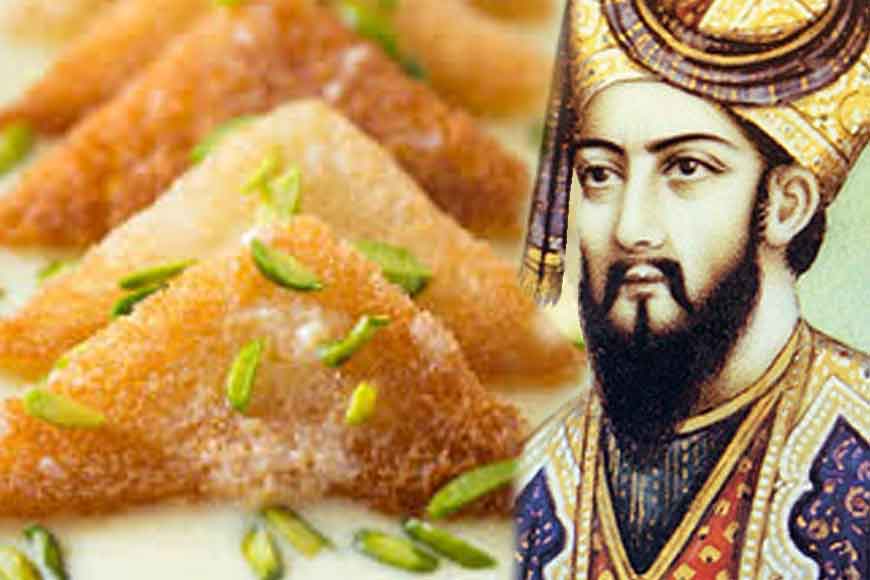 The Mughals, during the 400 years of reign, offered a diverse range of literary, architectural, cultural and various culinary delights to India. The delights from the Royal Mughal kitchen are worth celebrating. While talking about Mughal delicacies in Kolkata, we tend to associate with biriyani, kababs and korma. But Mughal cooking is way beyond lavish meaty affairs. There are many mouth-watering desserts that were crafted too. One among them was Shahi Tukda, which means royal bite. This is a royal sweet delicacy, which you simply cannot afford to miss out.
There are many theories about the origin of Shahi Tukda. Some say it was an indigenous adaptation of bread pudding that was highly popular in Africa and central Asia that was brought to India by Babur and his soldiers. The Mughal Khansamas added an Indian touch to it and it turned out to be one of the favourites of the royal family. Since then, Shahi Tukda became a staple delicacy during Eid and Iftar parties. People who observe roja, during the holy month of Ramzan, often break their fast with Shahi Tukda.
However, making this bread and milk based delicacy is very easy. And this Eid you can try it out.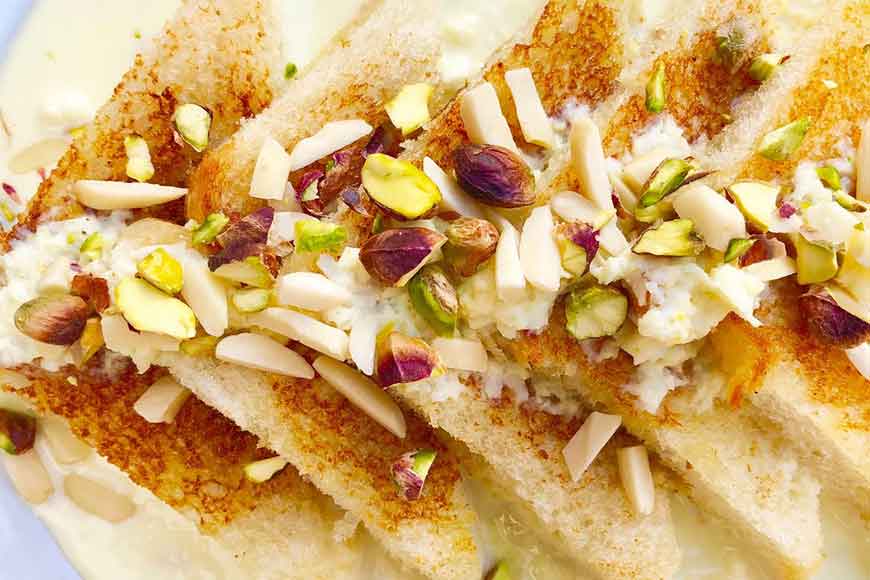 Ingredients:
• white bread (edges trimmed off)
• milk
• Ghee
• Rabri made up of ½ litre milk
• Malai(clotted cream or thick cream,
• Rose water
• Two tablespoons of sugar
• Vark (silver leaves)
• Almonds(silvered)
• pistachios (slivered)
• Few rose petals
• Few strands of saffron
How to Make Shahi Tukda:
• Cut the bread slices into half (lengthwise).
• Deep fry the slices in hot until they become crispy.
• Make sure that you dissolve the sugar in the milk till it reaches the boiling point.
• After it has reached a boiling point, keep it aside to cool down.
• Dip the bread in the solution of milk and sugar.
• Arrange the pieces in one layer in a particular serving dish.
• Mix rose water and the rabri and spread it over the slices of bread.
• Cover each slice with malai or cream
• Garnish it with vark, pistachios, rose petals, almonds and rose petals.
• Sahi Tukda is ready to be served.
• Serve it hot or chilled as per your liking.