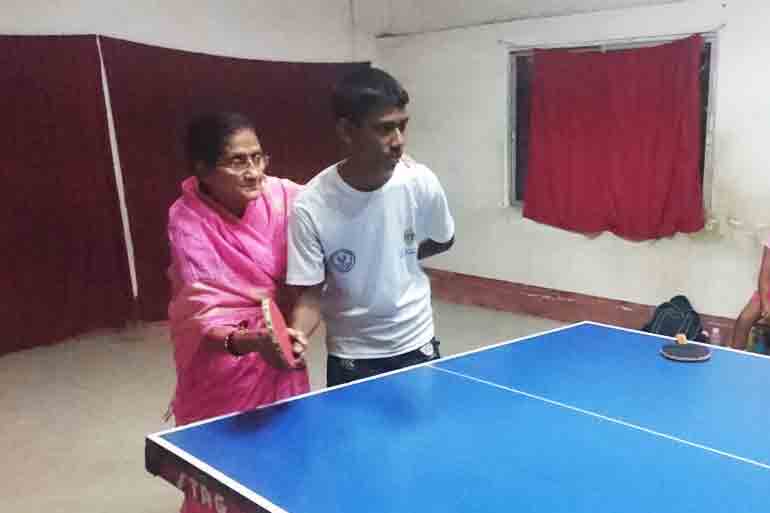 As India celebrates its Table Tennis victory in the Commonwealth Games both in the women's and men's sections, here is one woman who plays the game even at the age of 75! She even climbs five stories everyday and is completely unperturbed. She can take up any hardship for the love of Table Tennis and is so passionate about the game, that she did not even marry. Marriage would have brought in several responsibilities and that would have meant leaving the game. So, she kept away from marriage too. Her incredible passion for Table Tennis makes her run around with bats and ping-pong balls at the age of 75!
Meet Bharati Ghosh, the woman who has single handedly popularized the sports of Table Tennis in North Bengal. Locals call her Babli di. Table Tennis has been a popular sports in North Bengal, specially in Siliguri for quite some time. This region has produced many renowned TT players at the national level, such as Arjun Award winner, Mantu Ghosh and Subhajit Saha. International players like Poly Saha and Surabhi Ghosh are also from North Bengal.
Bharati Ghosh started playing table tennis since 1970s at the Saigal Institute. In the beginning, she used to wait at the sidelines to watch the game. Then one day, she was called in to play with a bat. She was called to a tournament in Assam and played so well, that she made a name for herself in a sports that few knew. Bharati Ghosh even got a job in the Railways for her expertise in Table Tennis. As she made her dream of being a table tennis player successful, she also realized there are many out there whose dreams can also come true if she started coaching them.
She even excelled as a coach. Ganesh Kundu, the first table tennis player to go to the national level was her student. Even she taught Mantu Saha the tricks of the sport. Though she has received several honours and awards till date, Bharati di has hardly got any help from the government and authorities. However, she is undaunted. For her, love for the game reigns supreme. And may be that passion drives her to coach young kids even at the age of 75. She can be seen five days a week at Siliguri's Amit Agarwala Foundation teaching table tennis to around 50 children. She has specially-abled kids in her camp and those who have no money to pay. Poly Saha and Surabhi Ghosh are two such players who cannot speak and are deaf. Yet, she turned them to national level TT players and fought for their recognition, specially for their jobs. Bharati Ghosh is indeed a pride of Bengal, who has dedicated her whole life for table tennis.