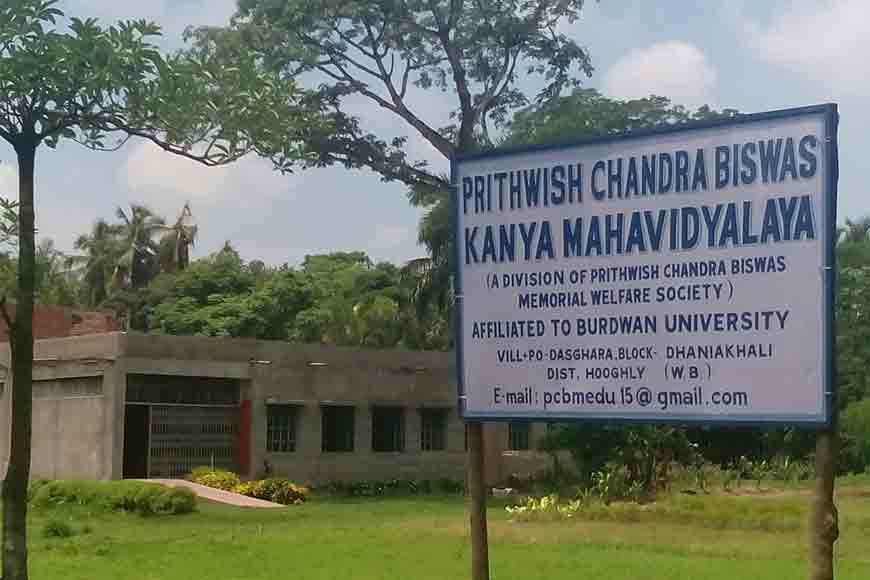 Dasghara is a village between Dhanekhali and Tarakeshwar. Educationist Paramita Biswas whose family had a major contribution in the education movement in the village, has recently set up Dasghara Girls' College to support higher education of local girls. She speaks to Saheli Mitra in an exclusive interview for GB
• What was the inspiration behind starting Dasghara Girls' College?
My family had set up Dasghara Boys' High School which is almost 160 years old and my father Sri PC Biswas was instrumental in setting it to high standards along with opening Dasghara Girls' School, almost 70 years ago. After high school, the girls discontinued their education, as parents refused to let unmarried girls go to either Tarakeswar or Dhanekhali College for security and social reasons, and also they being co-ed colleges. Further, girls were not allowed to travel to Burdwan or Kolkata or other nearby cities and stay on their own. For boys it was not a problem and they continued with their education. As an educationist who passionately believes in equal opportunities, I wanted to address this gender discrimination by setting up Dasghara Girls' College in the village of my forefathers.
• How has your family been involved in uplifting educational standards at Dasghara?
Not just my father, but even my grandfather and great great grandfather had been active in the field of education in Dasghara village for over 160 years. My father expanded the schools with improved grounds, buildings and had them absorbed into the government system so that they are now mainstream schools with over 350 students passing out each year. As a trained and passionate early educationist, I filled a gap in the early education years by starting Dasghara KG School in 1979, aimed at pre-primary and primary children aged 4-11. In my opinion, the educational foundation laid in the early years are critical for future success. Starting with 7 children in 1979, Dasghara KG School is now a fully sustainable, English medium co-educational school with over 350 children successfully moving onto the high school every year. My father and I donated our family land and constructed buildings for the KG School and I have been providing the intellectual leadership.
• A brief about Dasghara College and your vision about it?
The Dasghara Girls' College is a continuum of the educational facilities spearheaded by the Biswas family in the village of Dasghara, for over 100 years. We opened our doors in August 2017, following a No Objection Certificate from the Ministry of Education, Govt of West Bengal. I personally donated all the necessary land and constructed the required buildings in order to get the NOC. We have received our affiliation from the University of Burdwan and currently have 40 enrolled students. Our goal is to reach our breakeven point of 100 students by the next academic year.
• What kind of response you got from the locals and administration?
Our family has always worked in collaboration with the local community in Dasghara. So, even in the case of the Dasghara Girls' College, I have had several consultations with community elders and members in Dasghara and they feel as much ownership in this college as the Biswas family does. It is the community that motivated me to continue with setting up this college even when permissions were slow to come by and it seemed like an uphill battle. Again, it was the community that publicised the college once it received approval to start and facilitated so many enrolments, even though the academic year had already begun. There is no way that the college would have got off the ground without the deep, continuing support of the local community in Dasghara.
The administration was equally supportive in principle but of course they have quite stringent requirements and rightly so, so it took some time to get all the necessary approvals as I had to make all the initial investment to build the college buildings from my own funds, which took some time to organise. I hope that in future, donors and well-wishers will come forward to support this cause, so that it turns into a financially sustainable model.
• What are your future plans?
I will be working hard to persuade the Government of West Bengal to eventually takeover the management and running of the college as it will ensure long term sustainability. For that, I am willing to donate all the land and buildings and build up a strong, academic track record over the next few years. On a personal level, I plan to continue doing what I have done through my professional career - reach good quality education to students, especially girls, as I believe that is the greatest gift one can receive in order to have an independent and fulfilling life.