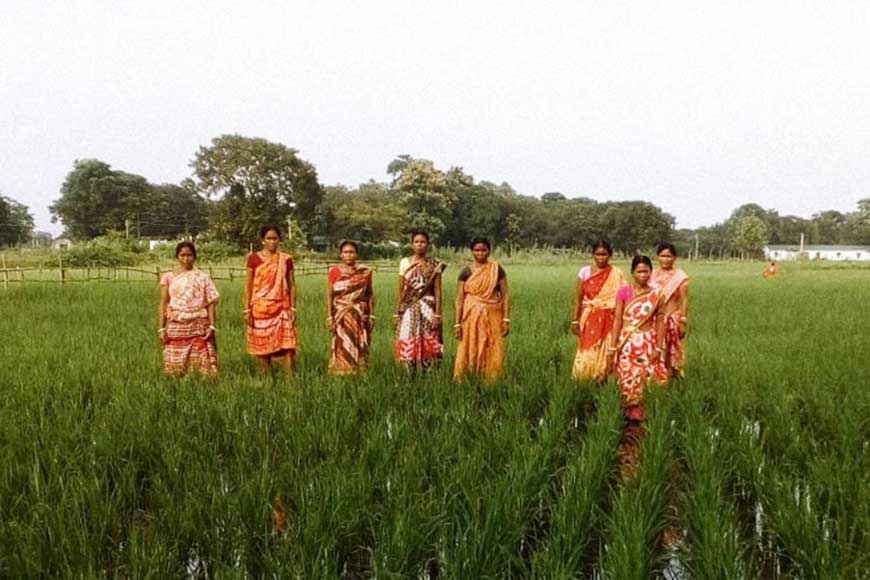 October 15 is the UN International Day of Rural Women. This day, which was first established in 2008, recognizes "the critical role and contribution of rural women, including indigenous women, in enhancing agricultural and rural development, improving food security and eradicating rural poverty." Women farmers typically achieve yields 20-30 per cent lower than men due to unequal access to productive resources and services, yet closing this gender gap could reduce the number of malnourished people by 12-17 per cent.
Gender inequity plays a special role within agriculture, as women are often pivotal to ensure household food security. Yet they are often not given access to resources or have little decision-making power. But the story is definitely different in the case of a group of rural women from Siliguri who are into organic farming. They are cultivating paddy and all the phases of farming -- from procuring seeds to farming, to spraying insecticides --- are being done by these women.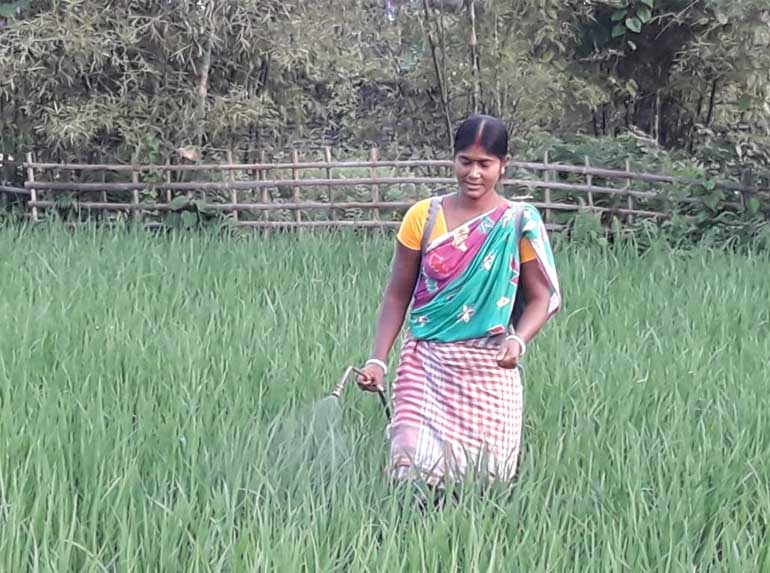 Males are prohibited from entering or interfering with their work. The state government's agriculture department has come forward to support this one-of-a-kind all female venture. A group of rural women from Siliguri sub-division's Shibmandir's neighbouring Rangiya- Batlabari area under Atharkhai village panchayat have formed two self-help groups named Sathi and Bijoya. These women have resorted to a unique independent collectivized farming wherein the entire farming process from preparation of fields before the rainy season, preparing the seedlings in nursery then transplanting them, field maintenance, harvesting, threshing, winnowing and milling are all done by members of the cooperative groups. The state agriculture department has been consistently encouraging these groups to work independently.
One of the groups initially starts with Kadaknath (black chicken) poultry farming. The Kadaknath is popular for its adaptability and its grey-black meat. The fowl is in great demand in the city and is sold for as high as Rs 700 to Rs 800 a kilogram. While making a profit from the sale, the group starts cultivating paddy. Mukti Burman, a member of Sathi self-help group says, they started cultivating paddy six years ago. Men have no right to enter the plot. They have been cultivating six types of paddy in the 18 bighas of land including Bahurupi, Kalo Dhan, Chhoto Nuniya also known as Khichuridhan and Bahubali. The agriculture department provides them with seeds. They receive irrigation water from Balasan Water Supply. From driving tractors on the field to plough the land to thrashing (after the paddy stalks have been gathered and dried for a brief spell, their threshing is usually done. By beating the sheaves against the bars, the grains are separated from the stalks), everything is done by the female brigade. It is sheer hard work for these women from 10 am in the morning till 7 pm.
The other members of Sathi include Savitri, Ranjeeta, Tulsi, Renuka, Deepika, Yashomati and others. The group comprises 11 members now. Their husbands are mostly engaged in menial labour. They are either masons or rickshaw pullers or auto drivers. Since the women cultivate on private landowner's plot, they have to pay three mounds of paddy per bigha land. But despite that, what they cultivate annually is adequate for the group members to see them through the year. Mukti Burman says they are happy to form a cooperative and work together. She also mentions the help extended by the agriculture department goes a long way to continue the project run smoothly. They are gradually making profit from their farming as well.
Bijoya Singha, the leader of the other self-help group, Bijoya, says they begin with mushroom farming along with Kadaknath (black chicken) poultry farming and raising ducks. When the group starts making profit from these ventures the members start paddy cultivation on 15 bighas of plot. They cultivate Kerala Sundari paddy. Organic farming is practiced by her group that includes Rekha Burman Singha, Swapna Singha and others. Bijoya says her group is planning to manufacture organic manure on a larger scale. The group comprises 10 members. They plan to increase their business with the profits they make.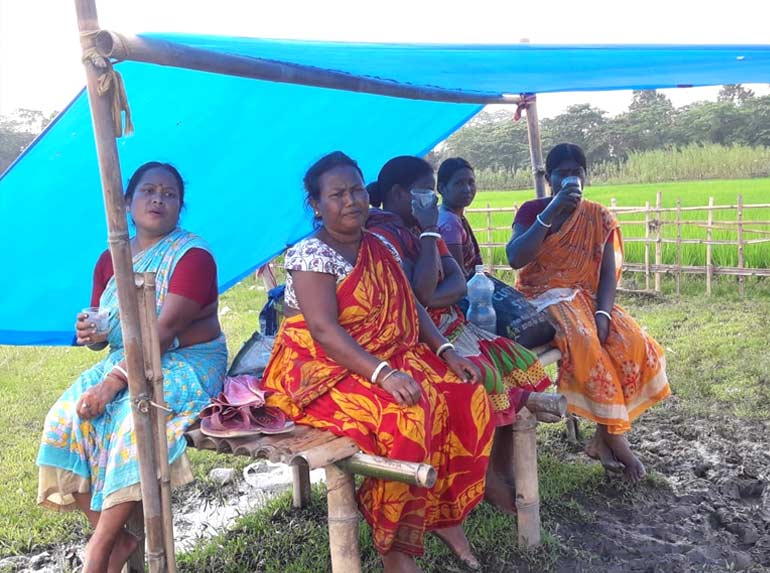 Somnath Seal, a senior official at Siliguri state agriculture department says, they have been supportive of the all-women self-help groups at Atharkhai who are engaged in organic cultivation of paddy. In case of male farmers, he says, agriculture scientists educate them on scientific methods but they do not pay heed to these time-tested training methods. Instead, they incorporate what they think is right. This often leads to major problems and affects cultivation and yield. But women don't pose this problem. They religiously follow all the scientific know-how and instructions given to them by agriculture officials.
All said and done, female farmers forming cooperatives and working diligently has made quite a stir not only in the agriculture department but also in the locality as well. This is an instance of female 'Shakti' at its best.
Translated by Tales, Talks and Walks (TTW)
Story Tag:
Farming in Bengal, Female farmers