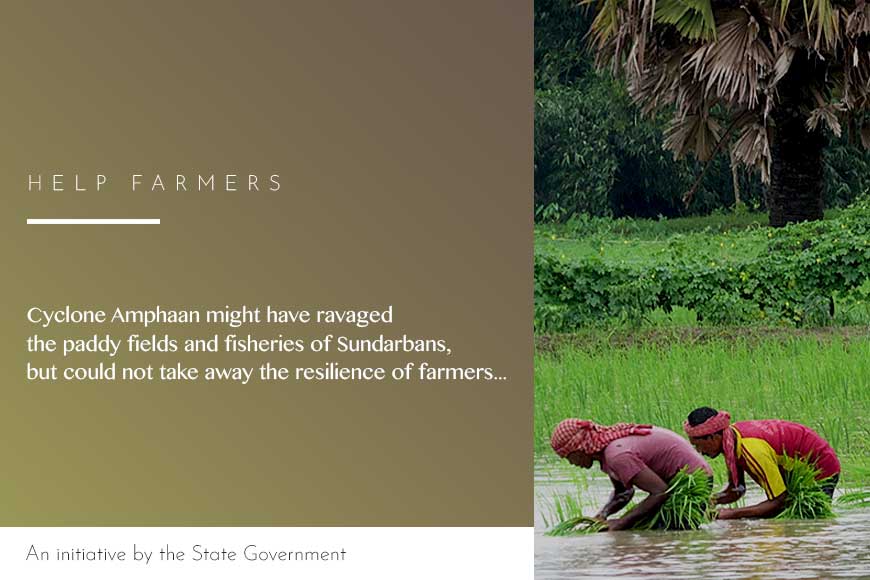 One of the biggest cyclones of the century --- Cyclone Amphaan might have ravaged the paddy fields and fisheries of Sundarbans, but could not take away the resilience of farmers and the scientific know-how of Bengal's agriculturists who have decided to grow salt resistant paddy this monsoon. Due to the cyclone, the huge waves of the Bay of Bengal had broken embankments and flooded the fields of Sundarbans. Just before the sowing season during monsoon, the farmers were staring at a bleak future, considering their paddy fields had turned fallow.
But the Honourable Chief Minister of West Bengal, Mamata Banerjee, in a recent press conference directed the agriculture department to distribute seeds of paddy that will grow even in salty soil. Accordingly seeds of salt resistant paddy varieties like Lunaswarna, Lunishri and Gosaba 5 will be distributed this monsoon by administration of South 24 Parganas and state agricultural department. This is the Amaan season of the year and hence paddy cultivation is the only source of income for local farmers. The seeds suggested are not just salt resistant, but are also very fast growing, unlike the previous varieties like Hogla, Hamai, Dushemota, Kaalomota, Rupshaal or Balan varieties. Around 500 quintals of seeds are already in store. Also mild salt-resistant varieties which are common in Kolkata markets like Dudheshwar and Dadshaal will also be cultivated.
Infact over the years, the salt-resistant varieties were not being used to a large extent as was done before. But post Aila, Sundarbans' farmers realized they have to switch to such varieties, else their fields will turn useless and fallow. Hence the state agriculture department through panchayats have decided to distribute these seeds and work on a wartime footing to help farmers!
Story Tag:
salt-resistant paddy, Sundarbans