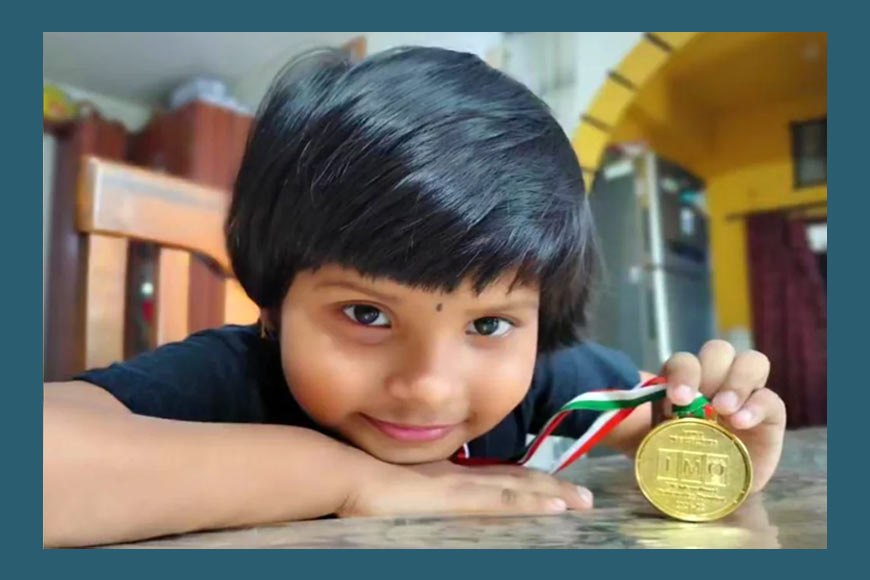 Residents of Khardah, a town in North 24 Parganas, are jubilant. A teensy-weensy girl from their township has brought glory to this once-thriving industrial hub on the outskirts of Kolkata. The six-year-old girl has stunned everyone with her brilliant performance at the Science Olympiad Foundation (SOF), clenching the gold medal in the Mathematics Olympiad examination. Arushi Dey is the new kid on the block who has not only made her parents happy but has also brought laurels for the state. Earlier, the little girl had participated in seven subjects in the Olympiad, winning gold medals in six and a silver in one.
Science Olympiad Foundation was launched to promote scientific attitude through innovative activities and use of IT in learning process that involve school students across the country. The organization is mentored by leading academicians, scientists and media personalities. Over 33,175+ schools across India register for the Olympiad exams. Millions of students take part in these exams. In such huge competition, approximately 7000+ students win prizes and awards every year. Olympiad participants are winners in themselves. It takes a lot of courage and confidence to participate in the prestigious Olympiad exams.
A resident of Rabindrapalli Kalpanalaya Housing complex, Arushi is a class II student in Rahara. Last year in December, when she was studying in the first grade, her parents noticed her extraordinary academic brilliance and thought of preparing her for participating in the Olympiad. This was a very big decision indeed. More than 10 lakh students from 12 countries participated in the mega on-line event. Pupils from Japan, Russia, Singapore, England and many other countries participated. Only nine thousand school students from India sat for the exam. It is an understatement to say that the exam is tough. In fact, only the very best can crack the papers. The participants have to take the test in seven subjects and each subject carries 100 marks. The time allotted for each test is 45 minutes. The on-line exam is done under strict surveillance through web cameras and the rules are also rigid. But unfazed by these, Arushi breezed through the hurdles. Nothing could stop her trailblazing journey. She bagged six gold medals, acing the top slot by defeating all the contestants from the participant countries and received a silver medal in social studies by securing the first position in the state.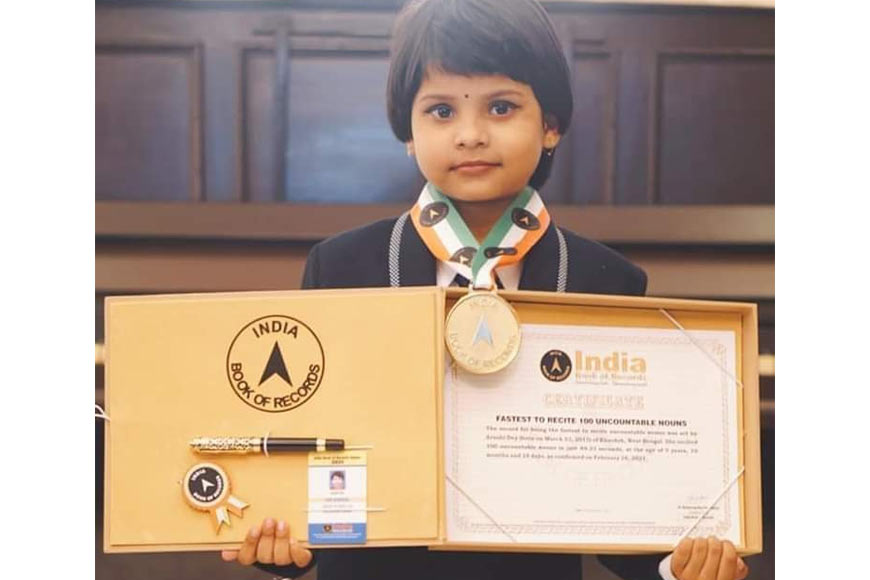 But we all know Olympiad winners are not made in a day. It takes several months of practice, dedication and a lot of perseverance to win the Olympiads. Students have to dedicate certain amount of time every day to become a master in Olympiads. Arushi's father Debajyoti Dey is a state government employee who always encourages and inspires his "little bundle of joy" to do better and surpass her previous records. She has not let him down. Her mother, Preeti Saha Chowdhury is a homemaker and she is equally proud of her daughter's success.

As soon as the news of Arushi's impressive success story reached her home at Khardah, it was celebration time for not only her family and friends but all her neighbours, nee, the entire town was jubilant. People spontaneously joined in the festivity. She has already joined the premier league of young achievers who have their names in the prestigious India Book of Records by sheer dent of their extraordinary prowess. Last year in May, Arushi set the record for being the fastest to recite uncountable nouns in just 49.23 seconds. She was barely five years, 10 months and 24 days (born on March 23, 2015) at that time. She loves her school and her studies. But Arushi is like any other six-year-old kid, prancing around happily, unaffected by her fame. A curious and attentive child, she has magnum plans and aspires to be an astrophysicist when she grows up.