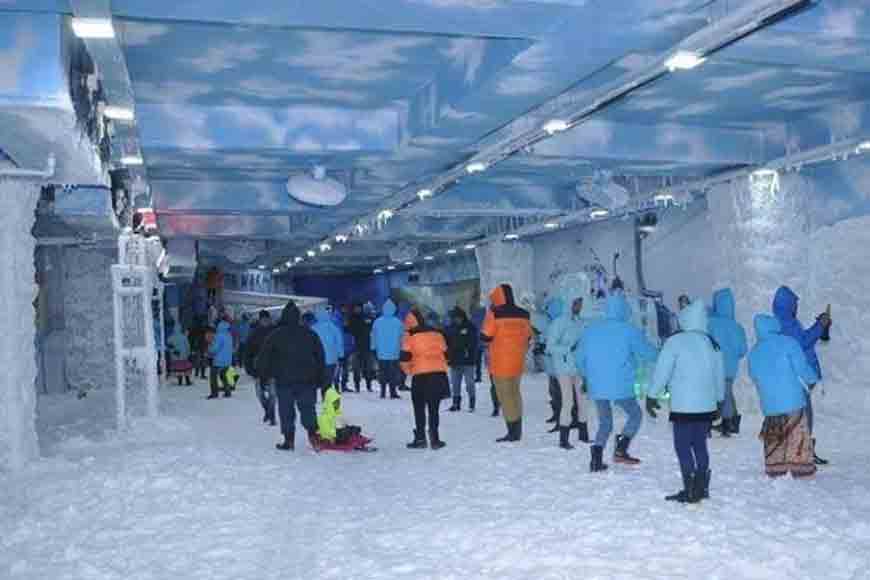 Snow in Kolkata? kidding? No.You read it right. A frigid zone in the midst of the city – that's the latest addition to the city's burgeoning family entertainment spots. Located on the top floor of Axis Mall, New Town, this is an ideal place for outing with friends and family. Visitors to the park can even experience sudden snowfall.
The temperature within the enclosed park is somewhere near -6 degree. There are provisions for playing winter games in the park. It is trulyamazing to watch how little children are adept at playing basketball andfootball or skiing and snow-boarding on the snow like a pro. A small replica of the Eifel Tower shares space with a sleigh and models of life-sized Arctic wolves which create the perfect ambiance of any European country during the height of winter. Replicas of tall pine trees line the park. Kids shriek in sheer joy as they throw snow balls at each other. Adults, too, get drawn to the myriad activities and enjoy the fun to the hilt. Often you will come across a family building a snow castle intently or making a snowman. The focal point of the park is, however, the igloos! Children go berserk and drag their parents to crawl and enter the igloos.
The normal package offered by the park gives an hour of unlimited fun and access to every ride in the place. They also include jackets, shoes and gloves in the package as complimentary items. Lockers are also available for visitors. There is a cozy tea/coffee shop just outside the park and that seems like God-sent after emerging from the bitter cold.
The family park is totally safe for kids. A first-aid team is always on duty when the park remains open, always on their toesin case of anyassistance. The staffis extremely helpful. Once you visit the snow park, you are bound to fall in love with the place and would want to come back again. So, with the onset of winter, look forward to the city's latest entertainment zone. That's the charm of Snow Park, Kolkata.
Address: Snow Park, AXIS Mall, Block No. B & C, 6th floor, Action Area – 1, New Town, CF Block(Newtown), Action Area I, Newtown, Kolkata.