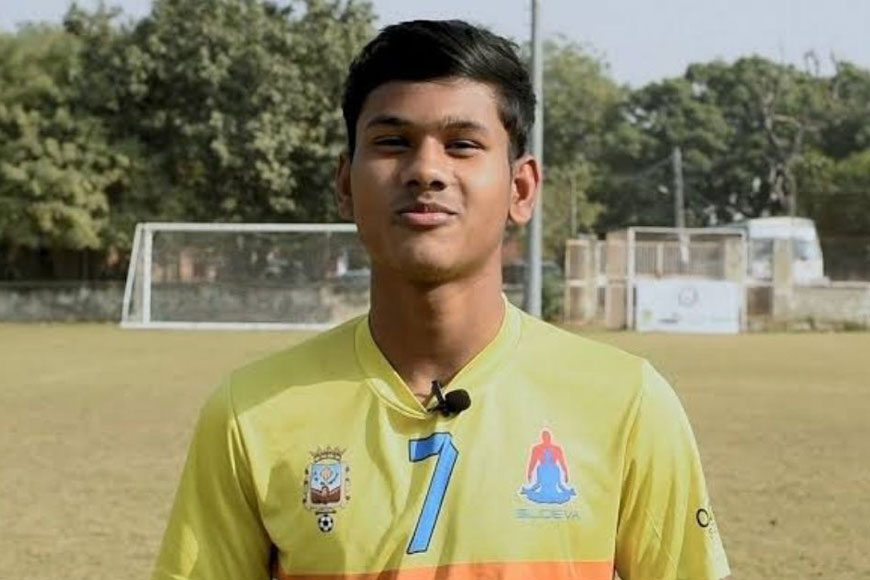 Munich-based German sports club FC Bayern Munich is a household name for football lovers across the globe and at present is the world's fourth richest club. But that's a known fact. What's not known is how a 17-year-old soccer sensation, Subho Pal is on the stepping stone to fulfilling his life-long dream. The teenager from Salkia, Howrah, is among the 15 selected young and talented footballers from around the globe for the U19 Bayern Munich world squad this year. It is a colossal feat for the left winger and he makes all Bengalis proud. After all Bengal is a state that had produced during the British rule, a club that even defeated Europeans on the field. Soccer runs through our blood.
There are 4,433 officially registered fan clubs with over 390,000 members, making the club the largest fan membership club in the world. Right from its inception in 1900, the club's main emphasis has been on picking up budding talents and then training them to become world class footballers. The long list of Bayern greats that have blessed the club over its 121 years is awe-inspiring. Football fanatics may have their preference for specific players and may root for David Alaba or Mats Julian Hummels, Bastian Schweinsteiger or Thomas Muller or Philipp Lahm – but one common strand that runs through them all is, to put it simply -- Bayern brilliance. All these international superstars are the products of FC Bayern Munich football academy.

The dream of making it big as a footballer and representing the national team or playing as a true blue professional is shared by scores of youngsters around the world. India has no dearth of talents and a number of Indian footballers like Bhaichung Bhutia, Sunil Chhetri, Gurpreet Singh Sandhu and Subrata Pal have played in European clubs. But how did Pal get a chance in the Bayern Munich team? Around 654 players from 64 nations applied for one of the coveted squad places for the Under-19 team and Bayern Munich organized an online trial. The aspirants had to show off their skills in short videos. Over 1,200 videos were posted and Bayern's technical team initially shortlisted 30 teenagers. Then coaches of the academy, the support staff of the development team further analyzed the skill, strength and stamina of each player and finally selected a team of 15 youngsters.
The selected players will practice together for the next 5-6 months. Subho will join Bayern's residential camp on June 26 in Mexico. From the 15 players shortlisted, Bayern Munich will select players to sign for the Under-19 team. Subho has been signed for Rs 62.5 lakh by Bayern Munich. Well, that's a whooping sum for a boy who hails from a lower middle-class family. His father works in a local hosiery mill. His childhood was riddled with poverty and he had no money to buy even a pair of shoes but with his natural flair for the game since childhood, he attracted the attention of former Nigerian player and coach Chima Okorie and Tapan Karmakar who taught kids at Salkia. Chima took Subho under his wings.
He joined Delhi's Sudeva Moonlight FC Academy and was selected to play for the Indian U-15 and U-16 teams. He played in the AIFF Youth League for Sudeva Academy. In the 2019–20 season he scored 14 goals in 11 games. As a result of his stunning performance for the youth team, he was called up to play for the senior team for 2021 season. On 28 February 2021, he scored his maiden goal for the senior team at 41 minutes against TRAU FC, although his team lost to the opponent by 3-2 goals. He scored the decisive goal on 20 March 2021 to defeat Indian Arrows in the 40th minute of the game.
He is also part of the Indian U-17 team. He played in the 2021 AFC U-16 Asian Cup Qualifier where he scored three goals in three matches. He has scored a total of eight goals in 11 games for the U-17 national side. Young Subho is all agog with excitement and looking forward to meet his favourite players, Cristiano Ronaldo and Robert Lewandowski someday. He is now on the threshold of fulfilling his dream and has his eyes focused on emerging as a world class professional player from the academy.