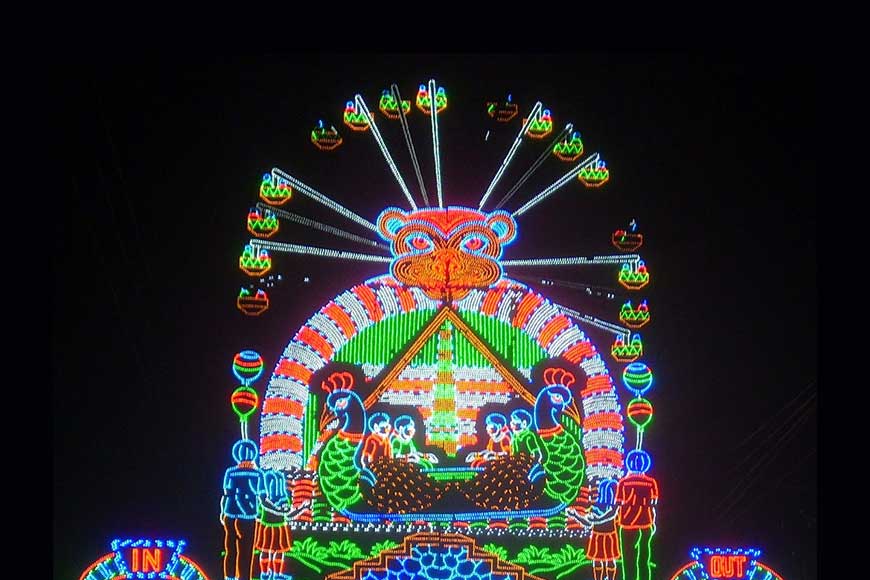 Since childhood, we have all been fed on a staple diet of folklores and fairy tales. Once upon a time…Magic slippers, dwarves, glass coffins, witches who live in the woods, evil stepmothers and princesses with swan wings, magic wand to transform everything, and so on. However, if we stretch our imagination a little more, we can see sorcerers around us who work to make the drab world that we live in look sensuous, beautiful and mesmerizing. There are wizards who transport us to an idyllic world. When it comes to magical innovations, the name Chandannagar cannot escape mention and Sridhar Das' name is synonymous with lights at Jagadhatri Puja celebration, the biggest festival in Chandannagar.
A casual look at the frail octogenarian is bound to deceive you. Look closer, watch him from close quarters, talk to him and you will discover his penetrating gaze peering from his pale wrinkled face. Age may have withered the genius' physical frame, but his contemplative mind is ever-alert and busy evolving new designs and applications of his art. It has been a long and eventful journey for this man with immense talent and dedication. He has had his shares of ups and downs – however, his honesty, tenacity and dedication have finally paid off. Das' engineering skills and his aesthetic inclination stood him in good stead at a time when everything else had abandoned him, including his family.
Light play is a common phenomenon in almost every festival now. Technological advancement has had its impact in all walks of life, including the concept of lighting – from the archaic oil lamps, candle lights, carbide gas lights to tulip lights, tube lights, chandeliers and twinkling.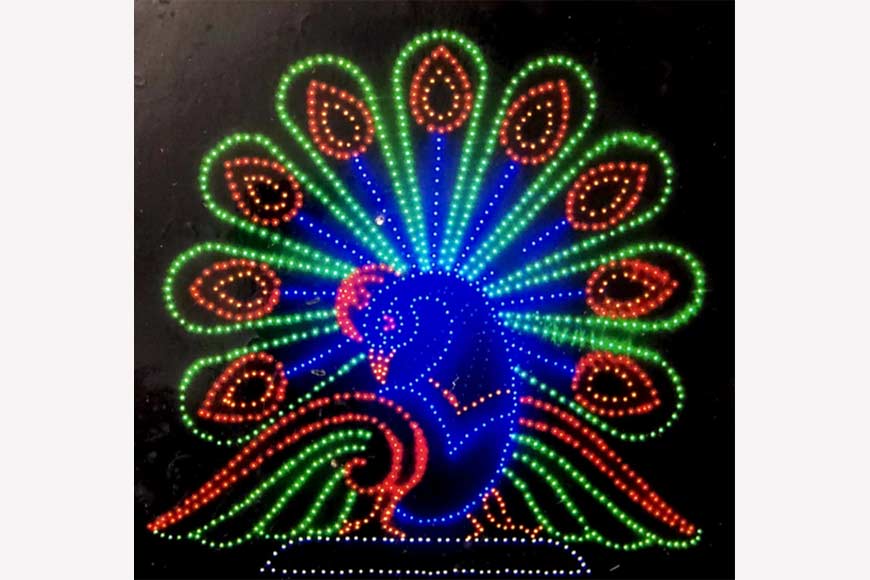 Sridhar Das' foray into the world of innovative decoration with lights began in the early part of the 1950s when he was a student of Class VII in Narua Siksha Niketan. His headmaster sanctioned Rs 10 to Sridhar to pull off a Saraswati Puja celebration. Das was elated with the responsibility and volunteered to do the lights. He was determined to do something novel and put small bulbs inside three empty barley tins and covered the opening with coloured cellophane paper. He sat behind the idol for the entire evening, adjusting the wires so that the lights in each of the tins would light up one by one to fall on the idol. This was the beginning of automated lighting in Chandannagar.
Das' family was poor and his parents were worried about his future. He was always preoccupied with wires and bulbs and duct tape scissors, screw drivers, testers and other equipment, experimenting on his own. His father forced him to start earning, but Sridhar disliked the regimental life and felt stifled. Within a couple of months, he had lost all interest in his mill job and left. Sridhar beamed as he recalled, 'My father was livid and asked me to leave the house at that very moment. My mother was getting my food but my father just grabbed the plate from her hand and the next thing I realized was my plate transform into a flying disc!' He was denied food for days and turned out of the house.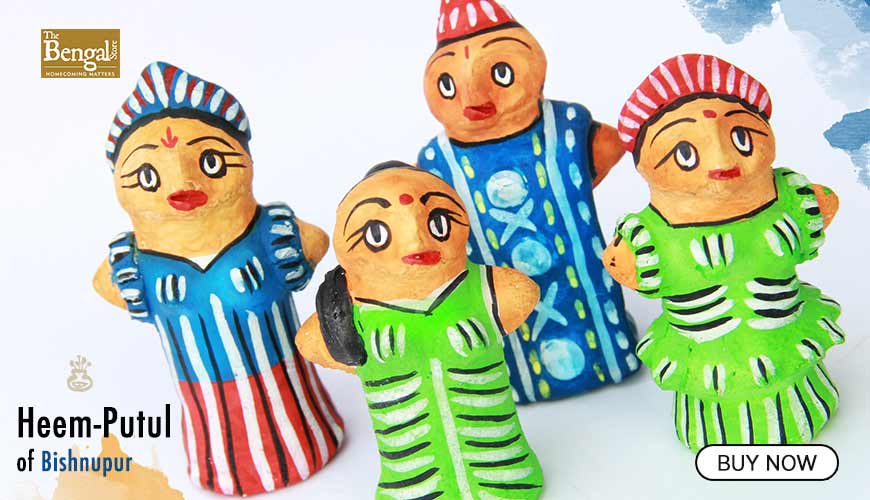 During those early days of struggle, Sridhar's childhood friend, Bikash Ghosh and his parents stood by him and gave him rock-solid support in all his endeavors. The family not only provided him food and shelter but also encouraged him to fulfill his creative ambitions. In fact, Das' granddaughter Samragngi Roy fondly reminisces about their 'Biku Kaku' (that is how he was addressed by old and young alike) who was nothing less than family to them. "Every day he would drop in at our house from Pal Para to see if everything was okay. In fact, when Dadu became terribly busy with his assignments and would be away from home for months at a stretch, Biku Kaku would come every day to ask Dida if she needed anything from the market and would get it for the family. A couple of years ago, he met with a freak road accident while coming to our house and died. Dadu has still not recovered from that trauma," says Samragngi, who is writing a book on her legendary 'Dadu.'
Das had no mentor and everything that he learnt and mastered was on his own. When he had enough confidence, he approached Narua's Jagaddhatri Puja committee members and offered to do the illumination in 1965. "Using a flat wooden board, running lights were first created for Narua's Jagadhatri Puja. Dadu single-handedly created a couple of 10 feet high arches at the entrance. But unfortunately, they were removed because people thought they weren't bright enough!"
The following year, he caused quite a stir with his lights for the Vidyalanka Jagaddhatri Puja. Samragngi recounts the incident and says, "There was only one shop in our locality selling electrical goods and people frequented the shop to buy knick-knack stuff like a bulb or electrical wire etc. from Bhar Electric Company. Dadu procured the material from the shop and created magic. People were mesmerized by the stunning light displays Dadu had engineered. Long queues formed in front of the pandal. This proved to be a career milestone for Dadu who now had the confidence to venture into newer experiments. In 1968-69, he was experimenting with running naked lights through the middle of a pond for another Jagadhatri Puja celebration — while ensuring the water wasn't electrified. The electric company actually sent officers to verify if the pond indeed had been lit up. From the day of Panchami, people from neighbouring areas came in hordes to watch Dadu's amazing creation. He stood waist deep in water and demonstrated his art. Suddenly a surge of spectators lunged forward and the fence in front of the pond crashed. Dadu lost concentration and his hand touched a high-tension live wire and was electrocuted. People rushed to rescue him. His condition was critical but by the grace of God he was saved."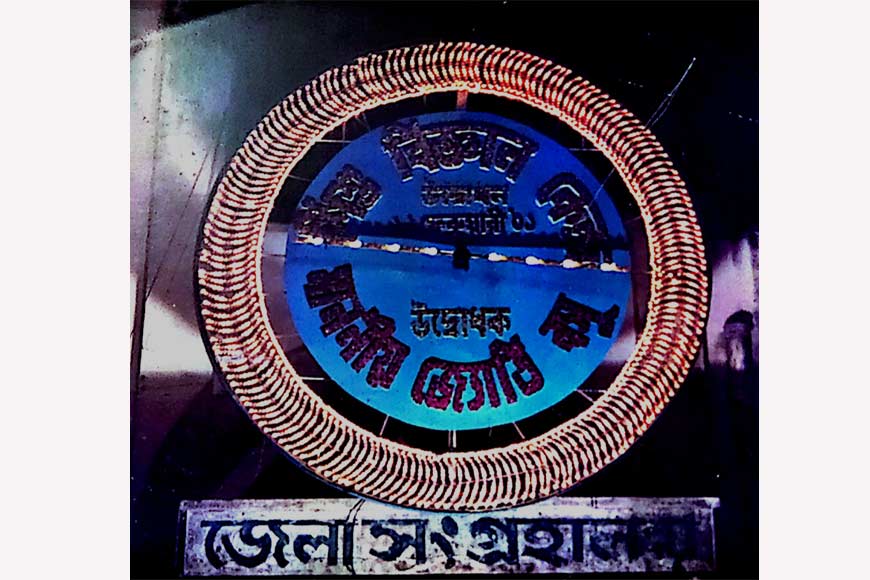 While Das happily tried out his lighting experiments, his family was quite upset by his decision to devote himself to the practice full-time. By the late '60s, his popularity soared and he began to move out of Calcutta to Bombay, Jamshedpur and even to Delhi. In 1970, he got a commission for the Chief Minister of West Bengal, Siddhartha Shankar Roy's puja. Samragngi relates: "Dadu suffered a severe burn injury that year while illuminating the Durga Puja pandal at College Square. Just two days before the Pujas, a molten chemical solution fell on his hands. In seconds, both his hands burnt to the extent that bones could be seen. He was rushed to Medical College for treatment. But for him, a commitment came before everything else. He left the hospital soon after his wound was dressed, and reached the venue of the Puja, completed his work, and only then took rest. No one could stop him," she narrates, proudly.
On a lighter note, Samragngi relates her 'Dadu's wedding with her Dida, Sumitra. Her Dida hails from an erudite and intellectual Brahmin family of north Kolkata. Her grandmother had done her graduation from Lady Brabourne College and later did her Masters from Calcutta University. Her family had to move to Chandannagar following property feud. They rented a house next to Das' house. Sumitra's parents were very fond of Sridhar and she fell in love with Sridhar. When the two lovebirds decided to tie the knot, after initial reservations, Sumitra's family agreed but Das' family staunchly opposed the alliance. However, Das was determined and so the couple ran away from home and tied the knot. Finally, they were both accepted by the Das family.
In 1985, renowned light designer Tapas Sen asked Das to go with him as part of the Indian contingent at Russia's 'Festival of India'. There he created a set of 10 panels of 20- feet-by- 12- feet each for the festival. The Soviets were highly impressed by the panels and asked to see the computer on which the complete lighting harmonics were controlled. "They did not believe Das when he showed them his mechanism made out of a motor, a wooden cylinder and strips of copper. The organisers were stunned to realise that all of his running lights were done on a wooden roller. They requested him to donate a roller for displaying in their museum. "Then festivals in Ireland, London happened. He floated a multi-coloured 'Mayurpankhhi' on the Thames River. Dadu also created 'Bula Di' — an AIDS awareness mascot made with lights, in Los Angeles."
He went to Malaysia with his pioneering work and was given a lucrative offer by a prestigious company manufacturing and selling electrical equipment. But there was a clause attached to the job – his entire work would neither carry his name nor his country's name anywhere. A proud Indian, Das did not think twice before rejecting the offer.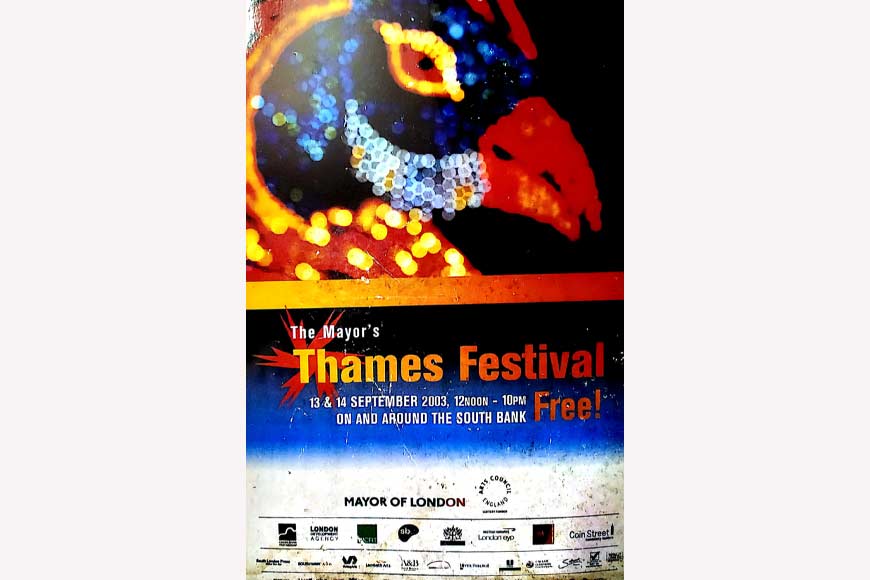 Das is a pioneer in the community of light artists, and many other bright talents would emerge from the same field. Lighting is no more an art but a business, Das says. Anyone with a basic understanding of themes, and making use of Chinese LEDs, can get a big tender. "I feel disconnected with this community," rues Das. "They mean money which I can't relate to…" that the art pioneered by Sridhar Das continues to shine brightly, providing employment to many in and around Chandannagar, lighting up India and its festivals.
Story Tag:
Lights on Thames, Sridhar Das