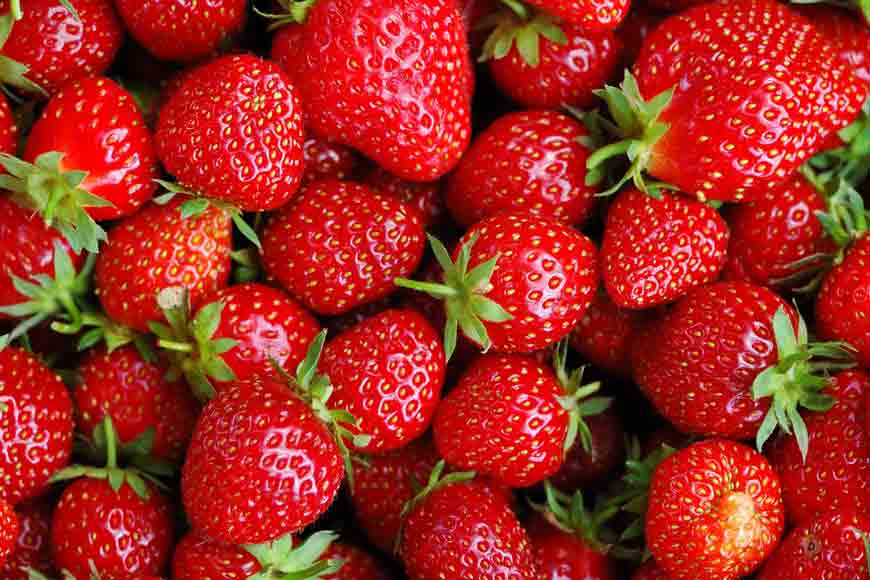 Let Me Take You Down 'Cause I'm Going to Strawberry Fields…
Whenever the melodious strain of John Lennon's cult song, Strawberry Fields
Forever permeates through the air, images of a field of strawberries comes to mind. Strawberry Fields Forever is one of the most identifiable Beatles classics. Well, now we can sing paean to strawberries and eat them too, here in Bengal! Sukumar Mallick, a farmer from Patiram Jote near Siliguri has startled all by cultivating high-quality strawberries in his farm.He started organic strawberry farming three years ago as an experiment and his effort succeeded in reaping rich dividends. Since the time he sent his first produce to the local Siliguri fruit market, there has been no looking back for him. People have been literally eating out of his hands and he supplies 10-15 kg of freshly-plucked, luscious strawberries every day.
Prior to this, strawberries were bought from Patna and sold locally but after Sukumar joined the fray, both sellers and buyers vouchsafe for the latter's product saying Sukumar's strawberries are way better, both in taste and aroma, than the ones that were imported from Bihar. Mallick was provided with the know-how and was given technical support by North Bengal University's Centre for Floriculture and Agri Management Department.
Sukumar Mallick was keen to try out his hands at strawberry farming. Noticing his enthusiasm, Amarendra Pandey, head of Co-farm, the organisation that offers agricultural options to farmersin North Bengal, suggested him to take up strawberry farming and supplied him the seeds as well. Delighted by Mallick's success, Pandey and his team plan to train other farmers who want to opt for the programme and grow strawberries in their fields. There is a very high demand for strawberries in Siliguri and the entire north Bengal.
The initial investment in the cultivation is a bit steep though: around Rs 1.5 lakh is required for cultivating strawberries in one bigha ( 1/3 acre) but the profits are also very high. Since January, Sukumar has been reaping roughly 10 to 15 kgs of strawberries daily from his one-bigha plot and this will be the average daily produce in February as well. The fragrance of the fruit increases during winter. He had treated his plot with cowdung manure before sowing the seeds and had used a special natural gum to ward off insects.He had sowed the seeds in October and started reaping the fruits from December. Initially, he reaped about two to five kgs of strawberries daily and gradually the produce increased. He sells the fruit at Rs 400 to 500 a kg. Sukumar is very happy with the result.
Enthused by the success, Sukumar now plans to expand his farm and include more land for strawberry cultivation. He aims to sow strawberry seeds in one acre and also include papaya cultivation. "The weather of north Bengal is favourable for strawberry cultivation and once this fact has been established, we can hope that many more farmers will join the league and then we will be able to savour and relish succulent strawberries grown in the state."