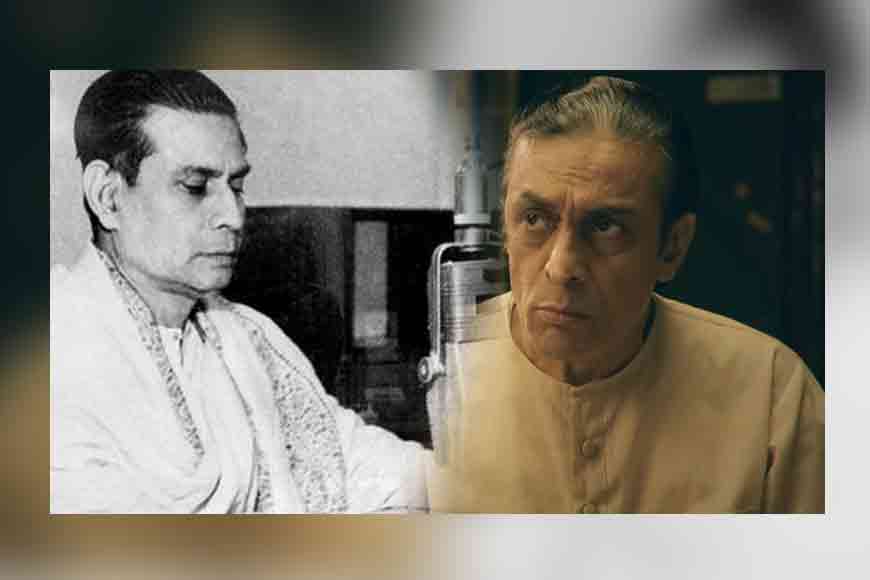 'Ashwiner sharodo praatey…Beje utheche aloko monjir' Remember that deep baritone voice that have woken up Bengalis since ages during Mahalaya? Birendra Krishna Bhadra is synonymous to Mahalaya for decades. His rendition of Mahisasura Mardini has been one memory that has been simply untarnished down generations. His voice set the beginning of Durga Puja festivities. His version is still so popular that it is still played by All India Radio every year.
However, in 1976, matinee idol Uttam Kumar was selected as the voice of Mahisasura Mardini but it failed to receive a favourable response from the audience despite Mahanayak giving his voice to the rendition. So, within a year, Birendra Krishna Bhadra was brought back. This fiasco of Mahalaya in 1976, is well reflected in the biopic of Birendra Krishna Bhadra. Mahalaya by Soumik Sen is a movie to watch out for. But Subhashish Mukherjee, known for his perfect comic timing who portrays Birendra Krishna Bhadra has surpassed all in the movie. Bengali movies have so long explored the humorous side of Subhashish Mukherjee barring the character of Herbert in Suman Mukhopaddhyay's Herbert. But Mahalaya unravels a different shade of this actor.
He has made the character of Birendra Krishna Bhadra come to life through his expertise. In his own words: 'Playing this character was no cakewalk for me. It needed a lot of research work. The intrinsic shades of the character also had to be explored to get into the skin of the character of Birendra Krishna Bhadra. Bhadra's way of walking or talking had to be adapted.' Mukherjee even went through the archives of Akashvani and listened to recorded plays and conversations of Bhadra. The journey was not easy but it became smoother with the guidance and vision of director, Soumik Sen. Mahalaya has surely invoked a sense of nostalgia. Jisshu Sengupta in the role of Uttam Kumar is also perfect.