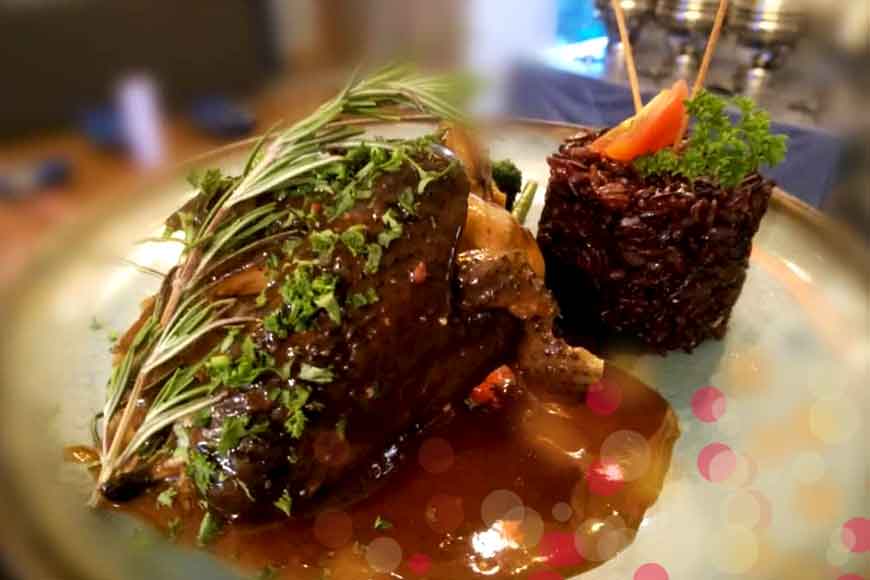 Times are changing, the city is accelerating its pace and its inhabitants are now open to constant innovation. The city is evolving and Mache Bhate Bangalis are gradually moving away from the age of cold conventions and exploring new cuisine.Since inception, humans have inculcated racism to an extent where we have even a fixation on specific colours in the food. A strong sense of resentment towards anything black has made us incline to everything white, be it white flour, white rice or even white eggs.
But some new food joints of Kolkata including Ekdalia Road is changing perceptions, breaking barriers and encouraging people to embrace the concept of black food. Ekdalia Road, which has already stood out for bringing in innovations in culinary arena has introduced the best combination of gastronomic ecstasy with one note of commonality- the forbidden colour 'black.' It is serving the much talked about Black Rice with Black Kadaknath Chicken which has already become quite a sensation in the city.
Surojit Raut of Ekdalia Road wanted to work on indigenous rice varieties and has introduced this special rice in his café. Today even the fitness enthusiasts and nutrition experts consider black rice to be a healthier alternative of white rice. It is rich in antioxidant properties, detoxes your body naturally, good source of fibres, vitamins, promotes heart health and controls obesity. The health benefits are simply countless. The boutique café has also brought in Kadaknath or locally known as Kalimasi chicken. This variety of chicken is rich in iron, has low cholesterol and thought to have anti-carcinogenic properties.
How are the people reacting to this combo meal? Surojit Raut says, "We did a little bit of research and found out that there was no other café or restaurant in Kolkata which was working on these aspects. People were initially a little skeptical about Kadaknath and black rice because of the associated colour but after they got out of their preconceived notion and tasted them, it was widely accepted by them. People who understood the value of the food, embraced it at one go. It also received a lot of appreciation from bloggers throughout India. There are bloggers who came down from Hyderabad just to taste Kadaknath chicken and black rice."
Ekdalia Road has also introduced the healthy Black Rice Pasta recently. So why not try this unconventional meal?