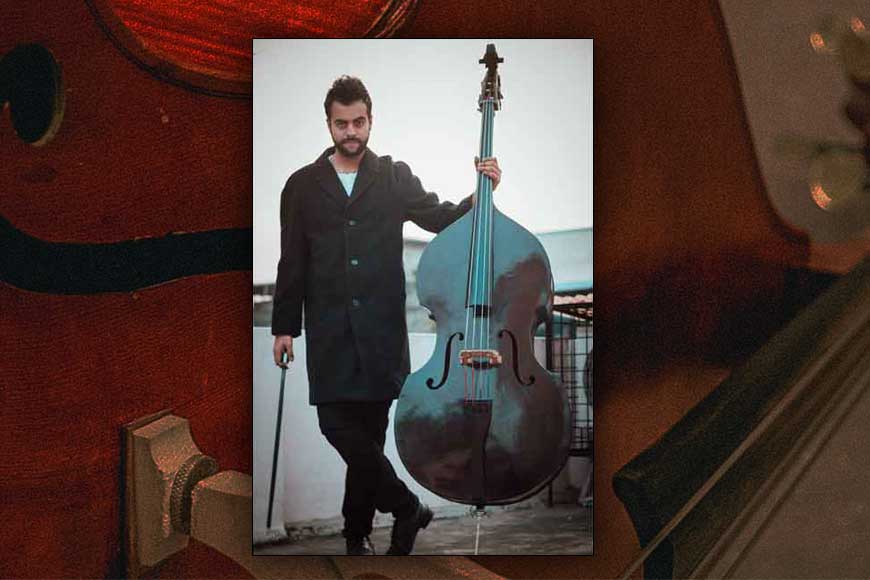 He was a physics teacher by profession. But Kolkata musician Debjit Mahalanobis dared to dream big on his Double Bass. Today he is not just a young and talented music composer, he is also experimenting with Bass and fusion music. He gives an exclusive interview to GB
• Describe your journey with Double Bass. Why did you want to play this instrument particularly?
It is rather difficult to sum up the entire journey in a few words. I was already doing music since my school days. I used to play the bass guitar from middle school, even in pubs where I was not allowed as an audience for being under age. I used to play bass guitar in rock bands, funk bands. But I really wanted to learn double bass. I went to Abraham Mazumdar and learnt western classical for the next ten years, though there was no faculty of double bass there. Then I met Maestro Hans Juergen Nagel, from Germany, while he was travelling in India. Dr. Nagel is a music professor and has conducted orchestras across the world. He saw my performance at St. Paul's Cathedral and got in touch with me for a concert. For the next couple of years, he started teaching me and sending me materials from Europe. It has been a mixed journey, considering from where I started and the place I am now. It has taken me to a different zone altogether.
• Double Bass with Sitar –this is a fusion completely unheard of. How did this experiment unfurl?
Before you say I am doing fusion music, first tell me do you think Carnatic music on violin, is fusion or classical music? The place I am in right now, I cannot tell you whether I am doing Indian classical music or fusion. Violin came from the western world and became a part of Carnatic Music. Someone had done it. When we hear Carnatic violin, does it ever occur that it is essentially a western instrument which has become a part of classical music? My aim is to play Indian classical music on the Double Bass. I do not want to be labeled in a particular category, right now.
• How was the experience of working with Q in Taranath Tantrik? Your 'dark melody' added a whole new dimension to the character of Taranath
I had uploaded tracks of my sitar with double bass on Facebook. One of them was a full track. The other one was more of a teaser. Q got back to me and asked my whereabouts and said that he was interested in working with me in his project. The concept of dark melody truly added a background to the character. There was no briefing. We started talking about spirituality and energies around us, Paanch tantra. I got inputs from the director and I got into the mood. And the music just happened spontaneously. It was not one of those happy melodies. The whole idea was to create a haunting soundsape and it did.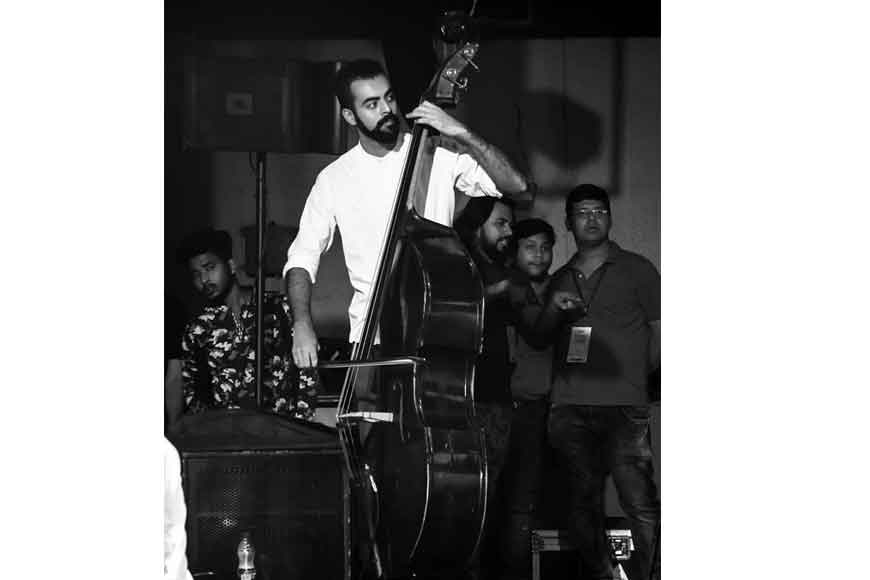 • Do you believe that audience is more open to new sound and music today?
I was watching a video where Pandit Gyanprakash Ghosh was taking an interview of Ravi Shankar on AIR where Pandit Ravi Shankar was saying that it was one's responsibility to educate and develop the taste of the audience. We would not be able to detect the changes of human taste unless we present something new to them. Same goes for cuisine that is available all around us. Sitar and Double Bass is the first kind of duo project in the world. I'm always learning and improving my sound.
• What are the challenges associated with playing Double Bass?
It is the biggest instrument in the world. It is like a giant. I had to make this instrument. It took almost three years to make it. Indian woods are different from its Europian counterparts. The moisture in the weather here made it harder. I couldn't buy it in India, beacause it was not available here and importing from other countries was a difficult idea. Making it was a big hurdle by itself.
• You have learnt orchestral music from Ibrahim Majumdar. Now, you teach Double Bass to your students. What lesson you would pass on to your students?
Many things actually. The more hurdles you face, you feel the need of taking up challenges all the more. Some often give in. I belong to the first category. That is something I have learnt. The other thing is being efficiently disciplined and one should have a fair idea of what he wants to do.
• You were a physics teacher. What made you take up music as a full time profession?
I quit the non-musical job in 2015. Then I was associated with the Bombay Chamber orchestra and Indian National Youth Orchestra and Calcutta School of Music, which I quit it last year. Right now, I am not institutionalized. I am more of a madhukori- (freelancer). I am just focusing on my performances and learning.
• Out of the kind of experimentational renditions that you have done, which one is the closest to your heart?
I would be able to answer this question better after two or three years when I am done with a considerable amount of experimentation that I intend to do. Any track which is close to my heart and I can connect with, is my favourite.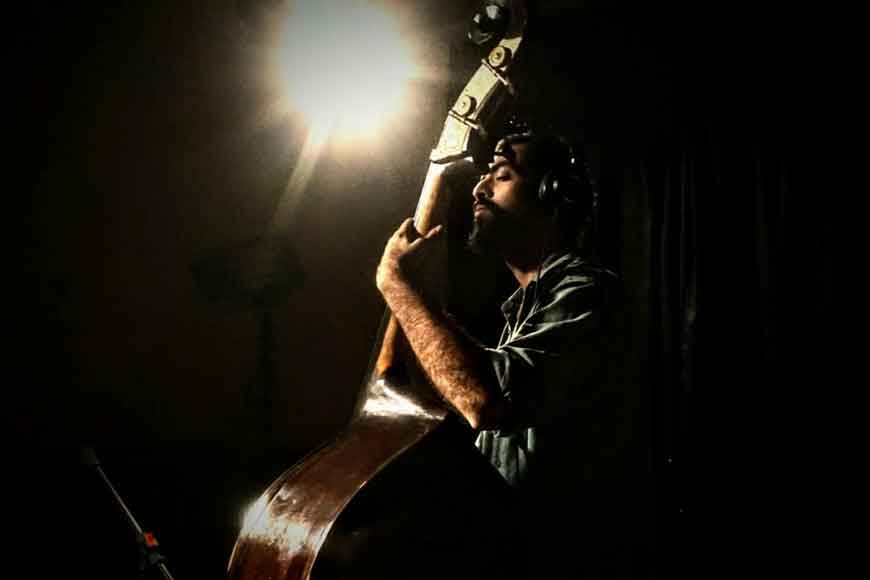 People are generally very sensitive about restructuring Rabindrasangeet. Your experience after collaborating with Rupe Tomae Bholabona?
People liked the idea because I did not go astray from the basic theory. Double Bass might not be a name familiar to people. I did not play 'non-Indian' melody in the track. Perhaps, people could connect to it primarily because of this.
• What do you have to say about the current music scenario in Kolkata?
The future is going to be better and brighter for the music scene. Most are very talented and dedicated. Unlike yesteryears, today, there are multiple platforms to present music. More people are interested. Amidst all the chaos, destruction, violence, possibilities of war, art or music is the only thing we can count on. I wish all the best to the younger generations.