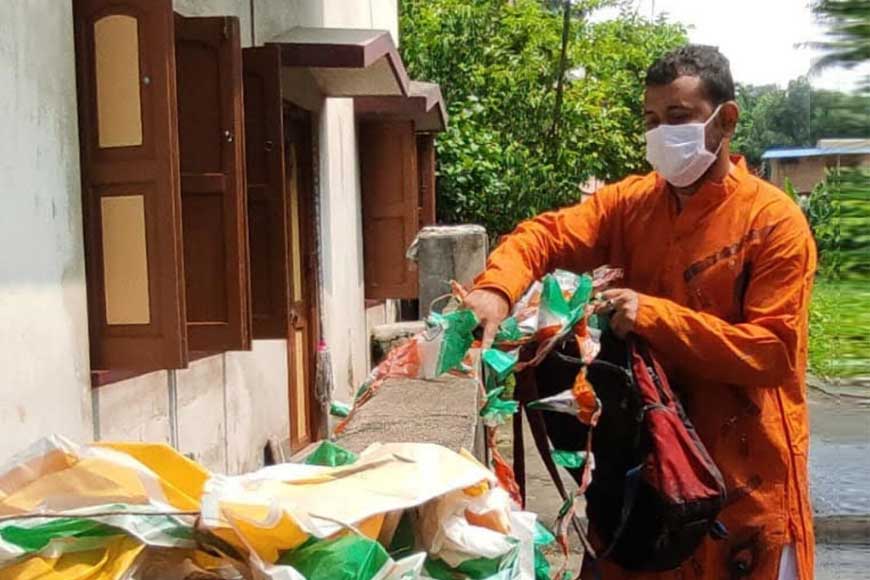 It has been close to a fortnight since Independence Day was celebrated with great enthusiasm on August 15 and now the dust is settling down. This year marked the 75th year of Independence and the Union government initiated the 'Har ghar tiranga' (Tri-colour flag from every home) campaign to encourage all citizens to bring the national flag home and hoist it on Independence Day. The campaign caught on like wildfire and people enthusiastically bought flags from vendors selling at busy intersections. On August 15, it was quite a sight to witness the flag fluttering from the parapet walls of roofs, balconies, terrace, or stairways of homes across the country. Nobody wanted to miss a chance to display patriotism. But the very next day, the flags were taken off and disposed -- either thrown away in dustbins or trampled upon on the roads. The municipal garbage collectors had loads of plastic and paper national flags dumped in their carts along with domestic refuse. "But people do not realize that by this act, they are actually insulting the national flag", says an exasperated Priyo Ranjan Sarkar aka Mona, better known as the 'Flagman of Howrah.'
For years Sarkar has been collecting discarded Indian flags from roadsides as well as programme halls after national celebrations. At present he has a vast collection of over one lakh flags that he keeps in his house carefully. He collects the flags to protect the dignity of the national symbol and is hopeful of the Government introducing strict laws for those who disrespect the emblem and discard the national flag on roadsides.
Since childhood, Sarkar's mother and grandmother inculcated in him immense pride for his country and he learnt that the National Flag is synonymous with one's identity so it is the duty of every citizen to protect the dignity of the emblem. His mother would often say disrespecting the flag amounts to the disrespect and disregard of every mother in our country. The words inspired him to such an extent that he launched his solo mission to collect discarded flags. One of his earliest memories is that of his mother Abha collecting abandoned flags from the roadside.
Sarkar began collecting flags lying on roadsides, dumped in garbage containers and frayed and sooty flags from kiosks and shops, fluttering for months, neglected and lonely. It pains him to witness the indifference of the masses. He is often ridiculed and people taunt him calling, 'The ragpicker.' But the man from Bally remains undaunted as he continues with a dogged perseverance. His speech is partially impaired but that doesn't restrict him from expressing his sense of patriotism. For the past 14 years, Sarkar has been collecting discarded flags.

After working diligently for 14 years, he has been able to partially sensitize locals. In 2008, Sarkar formed an organization named, 'Maayer Prerona (Mother's Inspiration). At present, around 50 volunteers have joined his team and work to make the initiative successful. Sarkar has been nicknamed the Flag Man of Howrah and he doesn't mind the tag. The busiest days for him are 23 January (Netaji Jayanti), 26 January (Republic Day) and 15 August (Independence Day), during which people across towns throw away hundreds of flags after the celebrations get over. He insists the flag represents our motherland, and it is a culmination of the blood and sweat of people who fought for our Independence. Hence, the tri-colour must be respected at all times and not just on Independence Day and Republic Day. He believes people can show respect to their motherland by picking at least one discarded tricolor, they don't necessarily have to pick thousands. No Indian citizen has the right to disrespect the tricolour.
If people have a problem storing the flags at home, they can call the helpline number and volunteers are sent to collect them. They have been working in different districts of south Bengal, but are yet to reach out to northern parts of the state.
The Flagman wishes to build a shrine for Mother India one day, and his day starts with a mandatory homage to our motherland every morning. Sarkar's home is a tiny national flag museum of sorts, and people from in and around Howrah visit his abode to admire his vast collection. Every year, on Independence Day, Sarkar hoists a flag in his house and pledges to protect its dignity.
National Geographic India has recently featured him in its Independence Day special docu-film, Tiranga. The film explores Sarkar's unusual hobby. Long way to go Flag Man!