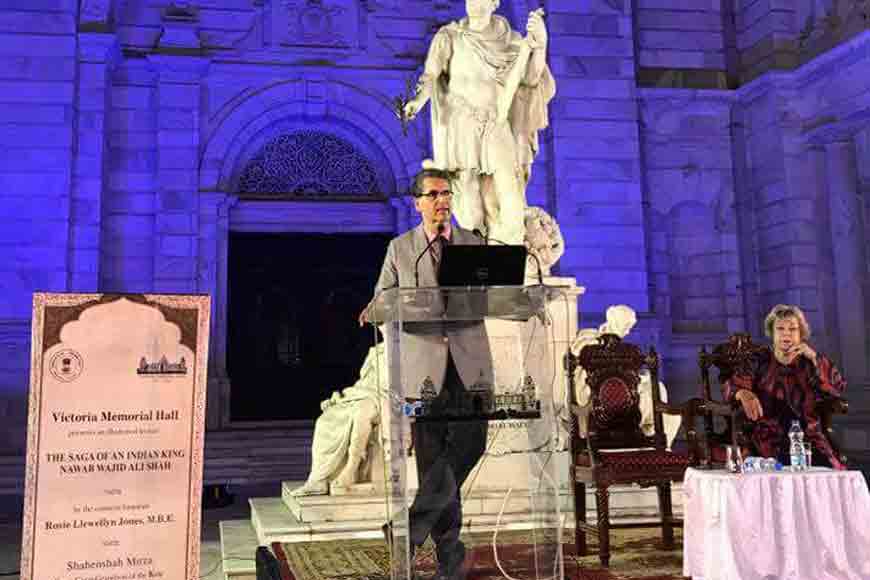 How about listening to the tale of the Last King of India sitting at the feet of a British Viceroy, within the confines of a splendid marble architecture, built in memory of a British Queen? Irony, isn't it? Well, that too from the great-great-grandson of the King himself, a king who made Kolkata his home, and who was accepted by the city with open arms.
So, when Shahanshah Mirza, the great-great-grandson of Nawab Wajid Ali Shah, spoke to an audience at the Victoria Memorial Eastern Quadrangle yesterday, about his forefather being accepted by Calcutta, more than he is remembered in Lucknow, there was a stupendous silence around. He went on to describe how Wajid Ali lost his kingdom of Awadh and the rich city of Lucknow to British and wrongfully confined after his arrest at the Fort William. The same Lord Canning who had given him gun salutes in respect, was the one to arrest the man and confine him. Incidentally, Shahanshah Mirza was successful in locating the room in the Fort William, where the king was confined with the help of an Army man who actually stumbled upon the treasure trove.
Wajid Ali was then transferred to Metiaburz, and put on a pension of Rs12lakhs per annum. The king on whose life Satyajit Ray made the famous movie Shatranj ke Khiladi, fell in love with Kolkata and tried turning Metiaburz, an overcrowded impoverished area, into mini Lucknow. He brought in musicians, Lucknow's shahi paanwalas and many others, from his kingdom that was wrongfully taken over by the British. From sports like kite flying, that was made popular by him to Calcutta Biriyani, Wajid Ali successfully stamped a tradition of Lucknow in Metiaburz, something still found in its lanes and by lanes.
The kite flying cottage industry still exists, employing more than 3,000 people even today, and is perhaps one of the only such industry to have survived in India. So is the Calcutta Biriyani, that has made a name for itself for that exotic 'aloo' or potato. Shahanshah Mirza also broke the myth of the audience stating 'there is a general idea that potato was introduced by Wajid Ali, because he did not have money to buy meat. That was completely wrong. A person who was on such a high value pension and who spent almost 25% of the same on maintaining animals, could definitely afford meat." In those days, potato was a delicacy, as it was an exotic vegetable, introduced by the Portuguese to Bengal. Hence, Wajid Ali experimented with the potato, that took an excellent form and taste in the dum-phukt biriyani. Since then, Calcutta Biriyani became a signature dish of this city.
Eminent British historian Rosie Llewellyn Jones also presented a well documented lecture on the Last King of India and the various facets of his life, including his love for music, his many wives and his love for African dark-skinned women.