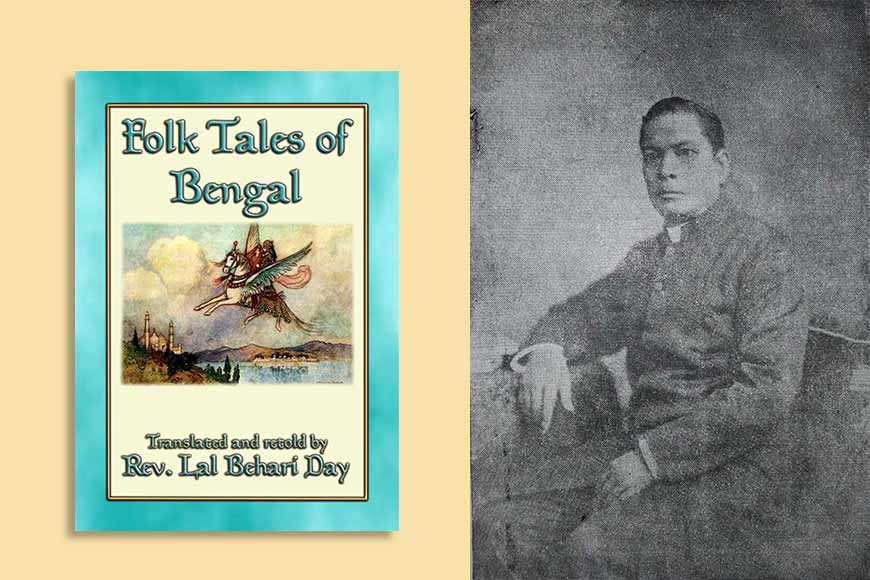 A poor Brahmin driven out of his own home by a ghost who impersonates him. Four friends who learn the art of transforming bones into living, breathing beings. A clever barber who 'bags' a ghost and makes it do his bidding. All this and much more is to be found within the pages of Folk-Tales of Bengal (1883), possibly among the earliest published anthologies of supernatural stories in Bengal's popular culture, uniquely written in English, by a Bengali.
The writer in question was, of course, Rev. Lal Behari Dey, the Bengali boy from Bardhaman who converted to Christianity under the guidance of Alexander Duff, going on to become a reverend and missionary of the Free Church of Scotland.
Obviously, however, this wasn't his only identity. Entrusted with the job of teaching English in government-run colleges in Berhampore and Hooghly, he joined Berhampore Collegiate School as Principal in 1867, and later joined Hooghly Mohsin College as a professor of English in 1872. By any standards, his knowledge of the English language was as deep as his love for English literature, and yet he never lost sight of his roots, or of the stories from rural Bengal that had so entranced him in his childhood.
Thus was born Folk-Tales of Bengal, comprising stories which had been handed down through generations, but which nobody had bothered to systematically compile until then. Uniquely, all the stories in the book, published by Macmillan and Co., belong in the realm of the supernatural, and are embellished with outstanding illustrations by noted English artist Warwick Goble, added on in 1912. If nothing else, this value addition attests to the popularity of a book published nearly three decades previously.
In the preface to Folk-Tales of Bengal, Rev. Dey mentions a certain Captain R. C. Temple, of the Bengal Staff Corps, who "wrote to me to say how interesting it would be to get a collection of those unwritten stories which old women in India recite to little children in the evenings, and to ask whether I could not make such a collection". Understandably, perhaps, the book is dedicated to Temple.
As a genre, the supernatural has long been part of Bengali popular culture, so much so that ghosts and demonic creatures were the principal influences on the oral storytelling tradition, which explains Rev. Dey's focus on them. And it has become one of the most popular segments of Bengali literature in subsequent times, too, right from Rabindranath Tagore to Sunil Ganguly.
However, Dey's work remains unique in that it was written in a language, and in an era, when most Bengalis were not at all comfortable with any language other than their own. Which would also indicate that he was probably targeting a non-Indian readership. As he himself wrote in the preface, he was looking to the Mährchen of the Brothers Grimm, Dasent's Norse Tales, Arnason's Icelandic Stories, and Campbell's Highland Stories for inspiration.
In his own words, "I believed that the collection suggested would be a contribution, however slight, to that daily increasing literature of folk-lore and comparative mythology which, like comparative philosophy, proves that the swarthy and half-naked peasant on the banks of the Ganges is a cousin, albeit of the hundredth remove, to the fair-skinned and well-dressed Englishman on the banks of the Thames..."
Whether Rev. Dey succeeded in his endeavour to establish a kinship between the half-naked peasant and the Englishman, the fascinating stories which he narrated have immeasurably enriched the documentation of Bengal's rural culture. That he achieved this while writing in English merely enhances his credit.
Such was his attention to detail that he remembered to add the age old rhyme of 'Amaar kotha ti phurolo/ Note gachh ti murolo...' to the end of each story, translating it as, 'Thus my story endeth/ The Natiya-thorn withereth...'
No better way to end!