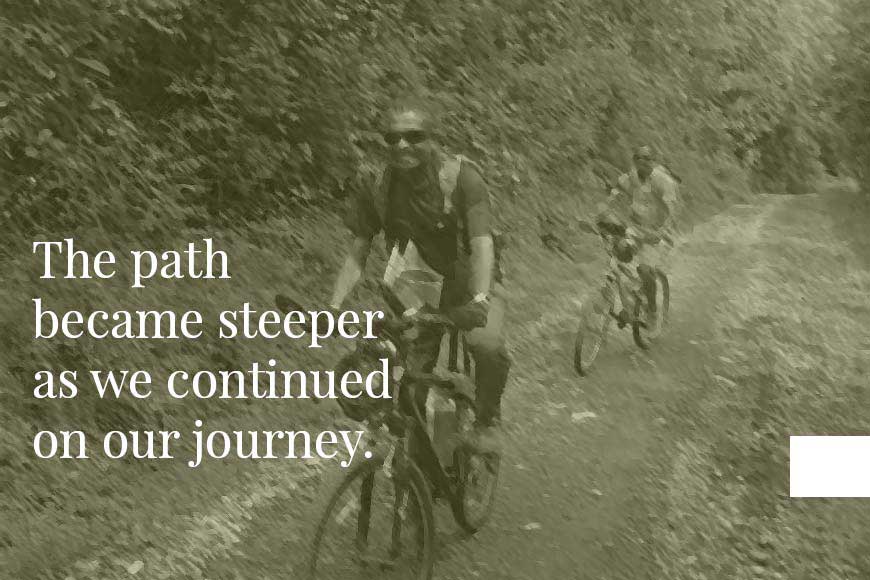 It was January 23, 2019. As I woke up at dawn, I recalled the date -- January 23, the birth anniversary of Bengal's iconic freedom fighter, Netaji Subhash Chandra Bose. I felt a surge of adrenaline within me -- what better way than to start my journey to the top of Mountain Kilimanjaro on an auspicious day like this! I had gone to bed quite early the previous night, so I felt refreshed. I had already packed my rucksack bag the previous night. I double-checked the bag to content myself.
I had been to seven mountaineering expeditions earlier with members of my club, Sonarpur Aarohi. We went to explore the various ranges of the Himalayas, sometimes in the Kumayun region and sometimes in the Garhwal. During those expeditions, we individually organised everything for the trip including tents, climbing equipment, shoes, food, medicines etc. Only during the climb, we hired professional Sherpas or high-altitude friends to guide us through the higher altitudes. But here in Africa, when I decided to climb atop Mount Kilimanajaro, the highest peak of the African continent, I had to depend on local professional guides from the word 'go.' There are no other alternatives in this case. In fact, one cannot undertake a lone journey here as is often done by mountaineers who venture to climb atop Mount Everest solo. So, I had to tie up my trip with Sote tour and travel adventure company. However, I was an exceptional mountaineer as I had insisted on taking my cycle, Chetak, with me. I had to cough a hefty amount to get the required permission.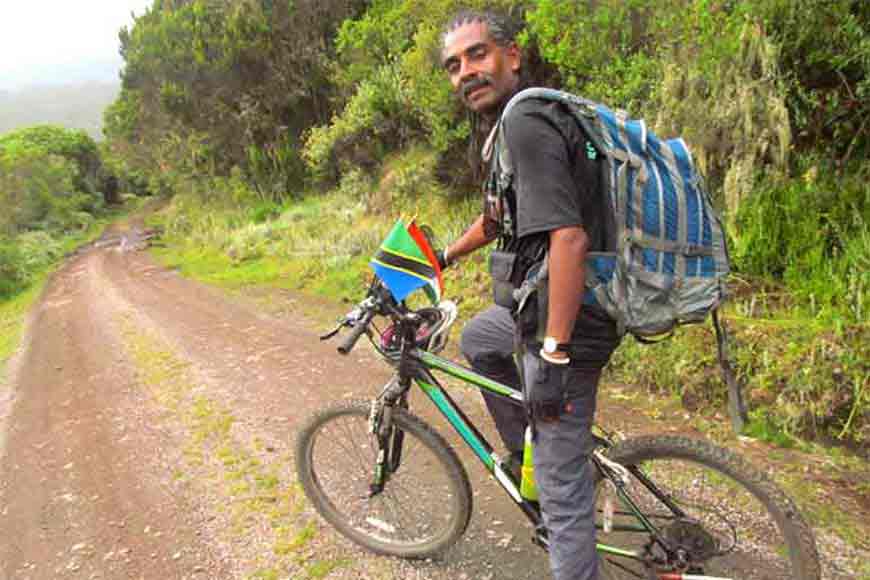 Mount Kilimanjaro is a dormant volcano in Tanzania. It has three volcanic cones: Kibo, Mawenzi and Shira. It is the highest mountain in Africa and the highest single free-standing mountain in the world: 5,895 metres above sea level and about 4,900 metres above its plateau base. While climbing Kilimanjaro, trekkers experience five distinct ecological zones on their way to the top. These include Bushland/Cultivated Zone, Rainforest Zone, Heath/Moorland Zone, Alpine Desert Zone and Arctic Zone.
Weather conditions near the base of the mountain tend to be tropical to semi-temperate and are relatively stable all year round. The lower plains are hot and dry. As one heads away from the bush land towards the rainforest, conditions become increasingly warm and humid.
Each zone gets colder and drier as the elevation increases. Plant and animal life also disappear with the rise in altitude through the heath and alpine desert zones. The summit is in the arctic zone, characterized by ice and rock. At this altitude, categorized as "extreme", there can be no permanent human habitation as the body is in a state of deterioration.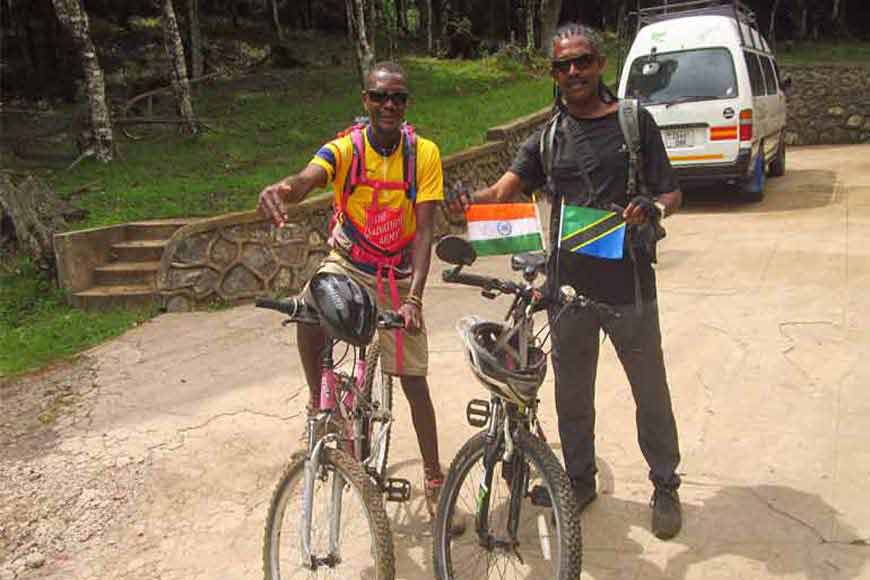 There are seven established routes to climb Mount Kilimanjaro - Marangu, Machame, Lemosho, Shira, Rongai, Northern Circuit and Umbwe. The Marangu, Machame, and Umbwe routes all approach from the south of the mountain (Mweka is used only for descent). Of all these routes, the Marangu route is the most popular one because it is comfortable walking path with a very steady, gradual slope (at least until you reach the last camp).and this is also the only climbing route that uses the same path up and down, which contributes to it being the most crowded climb route on Kilimanjaro. The way to Marangu route begins at Kinapa which is also the headquarters of the Kilimanjaro National Park.
My three companions from Sote Adventure, Julio, Lilian and Wasim parked their vehicle outside the West East lodge in Moshi and came to pick me up sharp at 8 am. We left the lodge at 9am . Our first destination was the local market. My guide Bruno, my cook, Jackson and two porters joined us for the trip from here. My Chetak and Bruno's bicycle were placed atop the vehicle. The distance from Moshi to Marangu Gate, the entrance to Kilimanjaro National park. Is 35 kilometers. The metalled road is smooth but it took almost an hour to reach the gate owing to heavy traffic on the way.
It was almost 11.30 by then and it took another hour-and-a-half to discharge the mandatory paperwork required to be done prior to the journey. Meanwhile, Julio and Bruno completed all the other official formalities very efficiently. Next, I registered my name, address and passport details in the official entry book of the Kilimanjaro National Park register. This was followed by a brief photo session. My four escorts had, by then, packed all the necessary items we would require during the hike in small, portable, easy-to-handle packs. Here I met a group of nine Indian climbers who hailed from Maharashtra. A 10-year-old kid was also part of that team. They began trekking from here but this route was not for me. I would be travelling on my bicycle so I jumped on the vehicle once more and we left Marangu Gate behind and headed for Kilema Gate, the only route where you can reach to the top by cycling.
This route is a rescue passage which meanders for 19 kilometers to Herombo Camp and then merges with Marangu route. We showed our permit and other papers to the security in-charge at Kilema and gave the final touches to our bicycles before boarding. I stuck the national flags of our country and Tanzania on the handlebar of my Chetak. We had our packed lunch together before undertaking the journey. I had a small backpack that contained pouches of drinking water, small cubes of chocolates and basic cycle repairing instruments. Bruno too, was carrying a similar knapsack. We clicked photographs at the Kilema Gate and then our other companions, Julio, Lilian and Wasim bade us goodbye and left. From here my cycle expedition to the highest peak of Africa began. It was 2 o' clock.
My guide Bruno was a very dependable pro who had undertaken more than 250 trips to the mountain top and had accompanied mountaineers from different parts of the world who ventured to reach the Kilimanjaro peak. But this was his second cycling trip. Prior to this, he had accompanied an American mountaineer till Kibo Camp. He spoke English fluently and familiarized me with the local flora and fauna that he seemed to know considerably well. On the first day, we were scheduled to travel for 19 kilometers to reach Herombo Hut. Julio had informed me it would take around two hours to cover the distance on cycle. I wanted to get Julio's statement confirmed again so I asked Bruno but the latter was non-committal. We continued on our journey.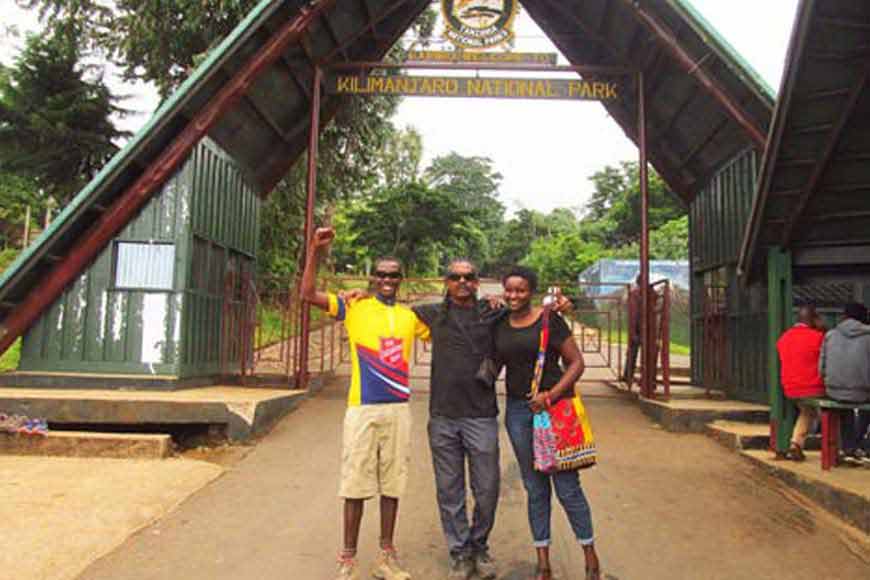 Since the Kilema route is a rescue road, it is quite broad for driving a large four-wheeler but the road itself is full of small uneven pebbles and one has to be very careful while riding. The road was gradually going up. Large moss-laden ancient trees lined the path and made a canopy of sorts. A dense vegetation blocked vision on either side of the road. We carried on while exchanging a few words now and then. The path was quite steep and I realized I was getting a little breathless. We stopped frequently to sip a gulp of water and then proceed slowly again. I was determined to reach Herombo Hut before dusk. Bruno acquainted me with the vegetation around. The surrounding abundance of greenery interspersed with the lilting chirp of strange birds made the journey a pleasurable and a fulfilling experience for me.
After cycling for about 10 kilometres, I noticed the profusion of trees suddenly gave way to a large clearing and moorland vegetation took over. Small bushy plants grew everywhere. The path became steeper as we continued on our journey.