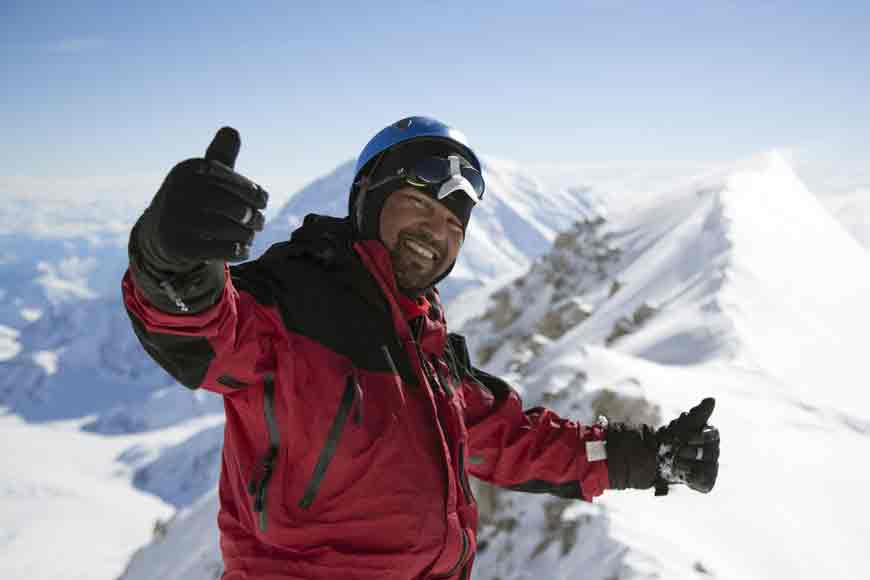 This man from Kolkata is surely on a mission. Else why would an asthma patient take up the uphill task of scaling the highest peaks of the world? Not just a challenge, Satyarup Siddhanta in reality overcame the hurdle of his health issues and successfully completed his recent mission of scaling all the seven summits spread across seven continents of the world. He is the first civilian mountaineer to achieve this rare feat.
Born in Kolkata on April 29, 1983 and brought up in Baharampore, Siddhanta loved the majestic mountains since childhood. He visited Darjeeling frequently with his parents and his encounter with Kanchenjunga sparked the passion in him. After completing his computer engineering, he also did a certificate course in mountaineering from Himalayan Mountaineering Institute of Darjeeling. In December 2010, Siddhanta's life changed after he went on his first high-altitude trek of Everest Base Camp. He was mesmerized when he set his eyes on the majestic peak. It was then that he vowed to conquer height and climb atop not just Mount Everest but also all the seven summits in the seven continents of the world.
Winner of the first season of Grab Your Dream contest, an online hunt for travel ambassadors, Siddhanta is also the founder-president of ABETO – 'A better tomorrow'Foundation and works as a consultant at Brady Corporation. His first feat was on Mt. Kilimanjaro (5,885metres /19340 feet), the highest peak of Africa, which is also a dormant volcano.Next, he scaled Mt. Elbrus in Russia with his team on June 27, 2013. Mt. Elbruslies in the Caucasus ranges of Russia and is the highest peak of Europe. In the past, few individuals had dared to scale this peak. Siddhanta and his team were the first Indians to set foot on this European peak. He also scaled Mount Aconcagua, the highest mountain in South America and highest mountain next to the Himalayas.This peak was climbed solo despite continuous bad weather.
Mt McKinley, also known as Denali Alaska, is the highest mountain in North America. Standing at 20322ft /6194metres, it is third highest of the Seven Summits and is taller than Mount Everest when measured from base to summit with about 18000ft vertical rise. On June 23, 2014, Siddhanta climbed Mt Denali unguided with a group of friends from Bangladesh, Canada, Nepal and the US. This climb is one of the fastest unguided ascent from India with just nine days to reach the summit from sea level. In 2015,he headed for Australia and successfully climbed Mt. Kosciuszko (7310 ft/2228 metres), highest peak of Australia. The same year, Siddhanta had planned to scale Mt Everest, but his expedition was abandoned in 2015, post Nepal earthquake. But he is a man who is not daunted by such impediments. He returned the very next year and scaled Mount Everest successfully to be on top of the world on May, 21, 2016!
And finally, this year December, he completed his seven-peak challenge by climbing Vinson Massif, the highest peak of Antarctica. Only two other Indians, Malli Mastan Babu from Andhra Pradesh and Premlata Agarwal from Jharkhand, have achieved this rare feat.