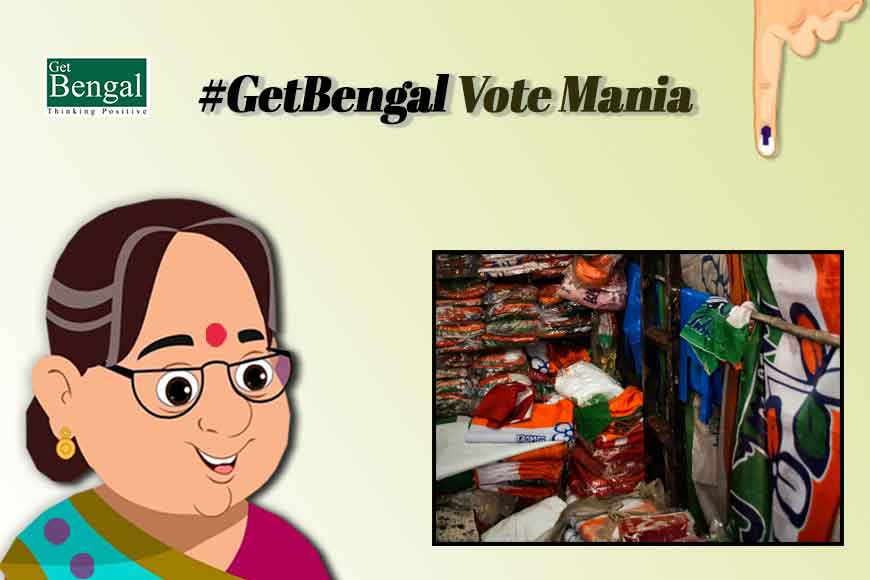 The fever of Lok Sabha elections is at its peak. Be it any village, city or district, no matter where you go, you will come across flags of different political parties as a publicity drive. And in this mayhem of various colourful flags doing the rounds, one wonders where the Trinamool flags are made. Surprisingly, the cloth that makes the TMC flags are coming from Gujarat, the bastion of Prime Minister Narendra Modi. According to vendors of the Burrabazar Flag Market, the flags of TMC are being made in Surat and Ahmedabad of Gujarat.
The flag businessmen of Gujarat have agents spread out in various parts of India which includes Kolkata through which they derive their contracts. At times, the logos and pictures are sent on behalf of the party to craftsmen. Demand for flags differs from one state to the other. In case of West Bengal, the demand for Trinamool Congress flags is the highest. Sarees with the 'ghash-phool' logo of Trinamool are also equally in demand. The flag craftsmen have supplied almost 1000 Ghash Phool saris to Kolkata.
Although there exists no Trinamool unit in Gujarat, the craftsmen of the village are spending their days in making the Trinamool flags. Some of these flags also feature the face of Chief Minister Mamata Bandopadhyay. The magic of Trinamool is not only confined to Gujarat. The craftsmen of Mathura, Delhi and Mumbai are also making TMC flags. The Election Commission has strictly forbidden the use of plastic in the campaign. Therefore, the demand of cloth-made flags is on the rise.
In Kolkata, these flags, usually made of satin cloth are available in Old China Bazar. The flags of 20x30 inches cost around Rs 5- Rs 8 while the flags of 14x24 inches cost around Rs 4-Rs5. Huge flags are available only after an advanced order. A flag of 5 feet costs around Rs80.