350-year-old Sonar Durga idol of Purulia that leaves a bank vault with AK-47 rifles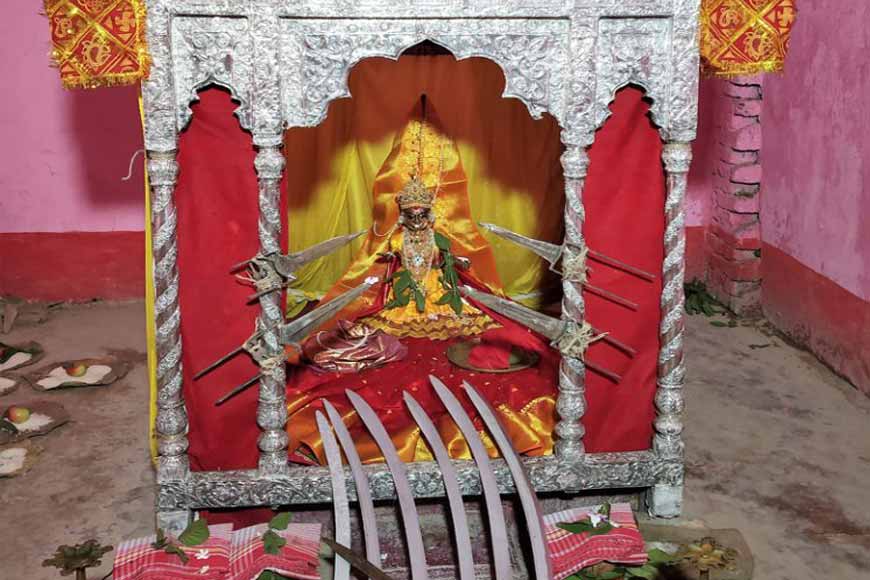 Tucked in the forested tribal terrain of Purulia is a 350-year-old Durga Puja where the Sonar Durga or the idol made of gold is kept in a bank vault and taken out with strict security only during the days of the puja. Imagine Ma Durga walking down from a bank vault instead of from Kailash. But that can't be helped, specially because this almost one foot high idol weighs around 950 grams and is made of pure gold. Quite naturally throughout the year, it remains tucked behind public view and only comes alive during Durga Puja celebrations.
When it is taken out of the vault and carried to the Singh Deo Rajbari of Jaypur, it is escorted by guards carrying AK-47 rifles. While it is worshipped on Saptami, Ashtami, Navami and Dashami, people can join and they do from far and wide. Devotees even come from Jharkhand and Orissa. The Singh Deo family were erstwhile rulers of Purulia and they still hold on to their traditions while worshipping their golden Durga idol.
Joypur Estate was named after King Joy Singh. He had a princely estate in Ujjain, Madhya Pradesh in 1666 but fled after Mughal Emperor Aurangzeb imposed jizya tax on non-Muslims who lived in states governed by Islamic law. Singh along with his people moved to the Manbhum region under Chotanagpur Plateau. He conquered the area after killing Khamar Munda, the head of the Munda tribe, and established his estate.
The idol is different from the usual Devi Durga idols with ten hands. Instead of ten, this idol has just two hands. The idol is decked with a crown of gold and a diamond embedded golden necklace and is in the form of Daker-Saaj.
History goes that King Kashinath Singh (1830-1880) started worshipping the golden deity of Durga in 1867. During one ritual accidentally the 'Kola Bou,' considered to be the bride of Lord Ganesha was burnt. Many believe Kola Bou herself is another form of manifestation of Goddess Durga. Kola Bou is symbolised by a bunch of eight plants – turmeric, wood apple, pomegranate, arum, rice, Ashok, colocasia and Sal – tied to the trunk of a banana (plantain) tree. She is given a ceremonial bath on Saptami and is draped in a white saree with red border, after which she transforms into a goddess. Since Kola Bou accidentally got burnt, King Kashinath thought it might be an ill omen. So for the welfare of everyone he decided to build an idol of gold that will never be destroyed. He ordered goldsmiths of Benaras to design a golden idol of 'Mahamaya' quite similar to the idol that one gets to see at the Annapurna Temple of Varanasi.

Kashinath Singh offered one 'ser' (a unit of measurement, which is now obsolete; the equivalent of 933.10gm) of gold coins issued during the era of Mughal Emperor Akbar to the goldsmiths for making the idol. No wonder the Durga idol of this Rajbari is still held in such respect and with so much care. The puja also holds special customs that are not found in any other Rajbari. On Shasthi, the 'Pranprathistha' – consecration — is performed with hymns and other rituals. On Saptami, the door of the Golden Goddess is opened for the devotees from 10 in the morning till the day of Dashami. Kumari Puja – worship of teenage girls — and veneration of weaponry is carried out on Asthami when 'bhog' is served to the deity. Brahmins are fed too. Long back, cannons were fired to usehr in the Sandhi Puja and send the message far and wide. Once upon a time at this puja, 200 goats and a buffalo were sacrificed. But such practices are obsolete today and instead vegetables like cucumbers, white pumpkins and sugarcanes are sacrificed.
A very unique ritual at this Rajbari is offering of 'chang' fish, a small freshwater fish that are charred on an earthen plate. It is followed by Aparajita Puja for the destruction of the demonical energies. After Dashami the local tribals of Santhals and Mundas perform group dance and play tribal drums along with music for the victory procession. A special sword or Khara that once belonged to Khamar Munda is thought to have special divine powers and was once worshipped. But after the fire incident only the golden idol is worshipped.