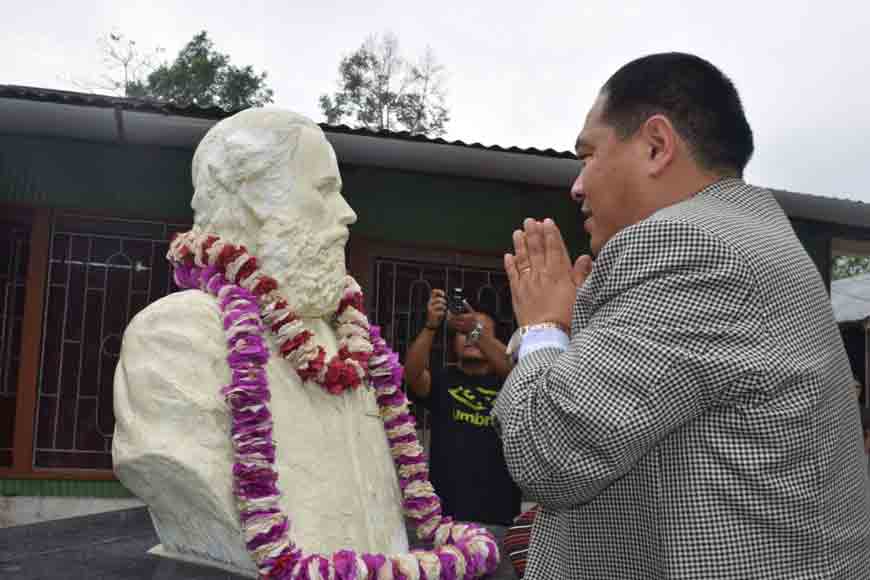 After my joining Cinchona Plantation as Director in November 2013, I wanted to know who started the Cinchona Plantations of Darjeeling but no one in the directorate could answer me. Later, I came to know it was Dr Thomas Anderson, a Scottish doctor who had done it to harvest this medicinal plant and save malaria patients. Dr R B Bhujel, my teacher, informed me that Coronation Bridge also known as Bag Pool is in his name.So, it is also known as Anderson Bridge.

I went to Bag Pool to see if there is anything written about the bridge and Anderson and spoke to locals, who had no clue as to who he was. Suddenly, I remembered a huge photograph and write up on this bridge that I had seen in a hotel near Sevoke Petrol Pump. I realised it still must be up there and I needed to investigate its history. I went there without wasting time where it was confirmed that the photograph and write up was aboutanother Anderson, who was an engineer.

It took nearly one year of investigation, after which I chanced upon the photograph of Thomas Anderson. And I remember it was midnight when I came across his photograph while searching on Google. I was so happy that I jumped that night shouting and my co-workers who were fast asleep wokeup to see if I have gone mad in my official bungalow. They could not understand why I was shouting at midnight. I politely asked them to go to their beds and said sorry for disturbing them.

However, I was hell bent to honour this man who had started the Cinchona Plantation. Immediately, we installed his statue but inside my heart, I had doubt. Is it the right photo of Anderson! So, I kept on searching for his descendants and requested my managers also. It was a near impossible task, but I did not give up. I came across Mrs Slelagh Southwell of Scotland. I wrote her as many as 53 emails giving all details of Dr Anderson. She was also interested to know more about Anderson as she was searching for her half cousins in Cinchona Plantation. She worked very hard to find Anderson's descendants and wrote to me:"I feel I could have become a very good investigating officer." To my utter surprise, she found them in England. Mr Lawrence Anderson - great grandson of Anderson. It was possible only because of the help of Mrs Sleelagh Southwell that I could trace the Anderson family. Southwell isthe grand-daughter of General Manager Henry Thomas. She lives in Scotland and has come to the Cinchona plantation to find her half cousins.