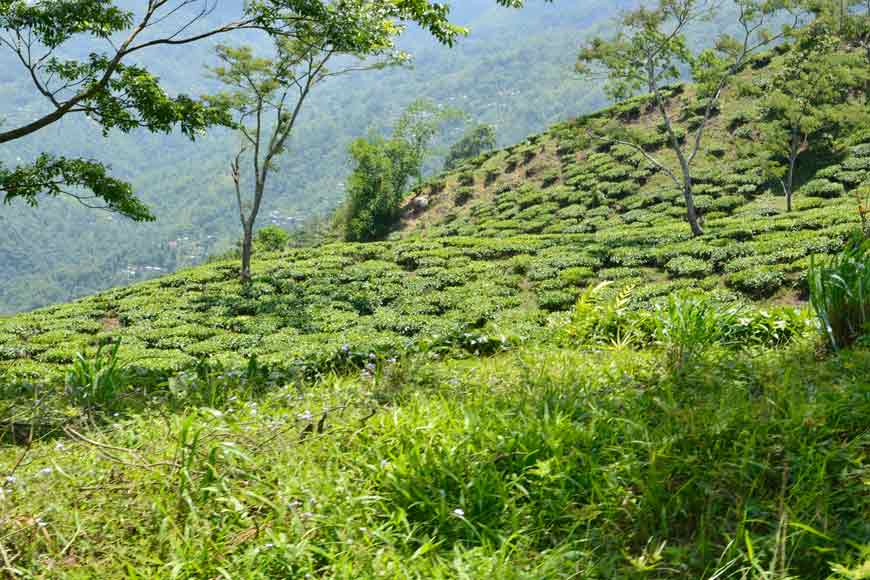 After working for few months without any break, I thought it's better to go somewhere away with the kids to enjoy their summer holidays, preferably in the lap of the nature. So, my destination this time in the month of May was a remote hamlet located close to Darjeeling, Tinchuley. It is only 80 km from Siliguri by car and 32 km from Darjeeling. We went by car from Darjeeling and the drive was very picturesque, through spiral roads and lush green Peshok tea garden.
Snow capped Kanchenjungha
Located at an altitude of 5,800ft, this place is famous for its wonderful180-degree view of the entire range of Eastern Himalayas, with majestic Mt. Kanchenjunga, vast orange orchards, full of natural flora and fauna, and of course emerald green tea gardens. It is interesting that Tinchuley also offers a breathtaking view of Teesta River, running amidst the forest and the hill stations like Gangtok, Kalimpong and Darjeeling from Tinchuley. The weather was very pleasant, cool and fresh. Just one warm jacket or woolen sweater was sufficient.
Mist cover Tinchuley
Tinchuley is a small village, consists of 17-18 families, who have developed Home Stay facilities for the tourists with the help of WWF, to make it a model organic village. They have also shown interest in modern organic farming, developed floriculture and vermiculture. We stayed with a very nice family with two generations, who were happily looking after us by providing breakfast, lunch and dinner as per their tradition. They even made mouthwatering home-made pickles, which were so yummy!We were indeed touched by their heart-warming hospitality and felt like home in the lap of the Himalayas. Colorful Buddhist flags atop every house made the place look like heaven.
Tall Pine, Fir trees at Tinchuley
Apart from relaxing, Tinchuley offers various activities too, like a walk amidst pine and oak trees and blooming wild flowers, which grow in abundance in the area, bird watching, cave hunting, photography or just roaming around with binoculars. Several birds like different species of sparrows, cuckoos, thrushes and warblers can be found in the forest of Tinchuely.
Edge of the hills
One can also go sight-seeing to Tinchuley Monastery, Durpin Dara Hill, the Teesta River and Rangit River and Gombu, Orange organic farm, Chotamangwa, Takdahand many more. The road was very steep but enjoyable. There are few nurseries on the way too if you want to enjoy the local plants. Nirmal's orange orchard in Lopchu road, just 8km away from Tinchuley is a family owned farm with a factory, producing fresh orange juice, marmalades and pickles which you can buy too. The sweet and fresh taste of orange juice was delicious. There are also various spices and coffee plantationsenroute.
Teesta and Rangeet Confluence from Lover's view point - a tourist attraction
The monastery at Tinchuley is for those who would like to enjoy some solitude with meditative chants, gong of prayer bells and flutter of prayer flags.The view of the confluence of river Rangeet and Teesta is simply magnificent from Lover's View Point, which is 9km from Tinchuley. The hills on the left side are in Sikkim while right side hills belong to Kalimpong . The river Rangeet with its deep green and crystal-clear water gushes in and meets the forceful mountain stream Teesta at a point called Triveni. Tinchuley is a place to relax, rejuvenate and soak in the mystical magic of the hills. And it is also a photographer's heaven like me!