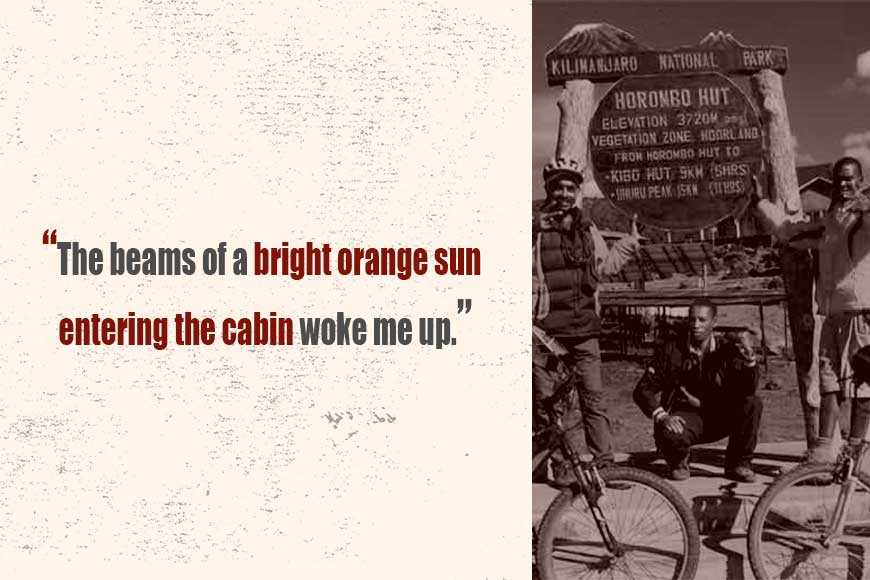 I suddenly woke up with a start. There was a strange uneasiness in my body and I was sweating profusely. I struggled to get up and sit and realized I was inside the sleeping bag. Now I remembered everything – I was accommodated in a log cabin the previous night at Horombo Hut, located at a height of 3,820 meters, on my way to scale Mount Kilimanjaro.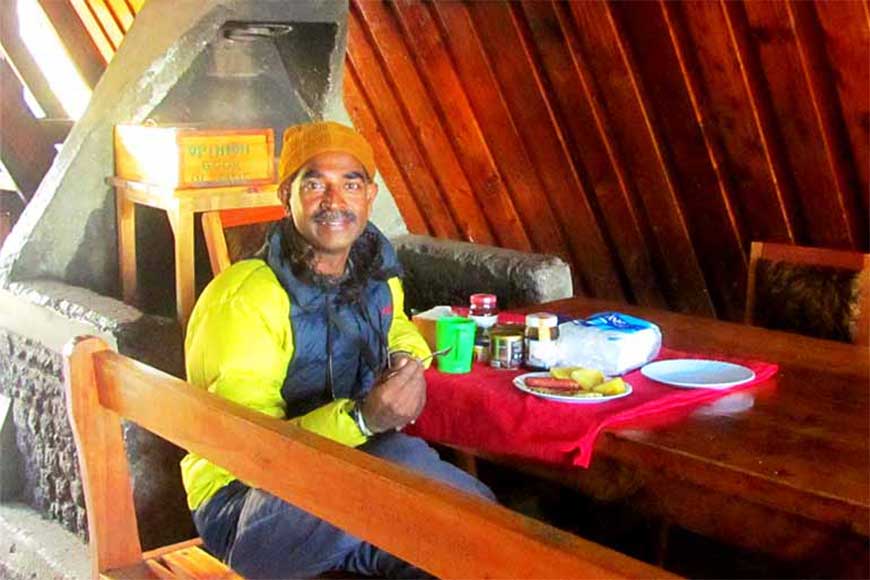 A good night's sleep had rejuvenated me and I felt refreshed. My body was getting acclimatized to the surrounding and that's the reason I was feeling so warm and uncomfortable in my feather jacket and woolen socks that I had put on before hitting my sack. I checked my watch. It was 2 am. I turned around and glanced at my guide, Bruno, who was fast asleep. I pulled out my socks and took off the jacket as noiselessly as I could before gulping a sip of freezing water and sliding in my sleeping bag.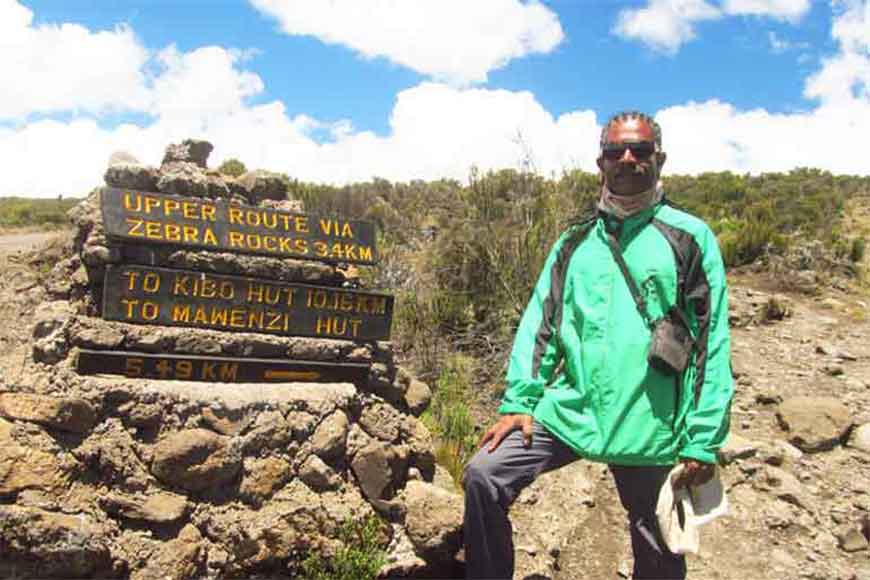 The beams of a bright orange sun entering the cabin woke me up. My second day's expedition was to begin soon. I had a discussion with Bruno and Jackson the previous night and we decided unanimously to spend the day at Horombo Hut to acclimatize ourselves with the freezing cold and less oxygen levels in the higher altitudes. We scaled a part of the rugged mountain for some practice and returned to Horombo Hut. Two porters of my team were supposed to join us today and then we would all head for Kibo Hut. This Kibo Hut or Kibo Camp is known as the base Camp or summit camp.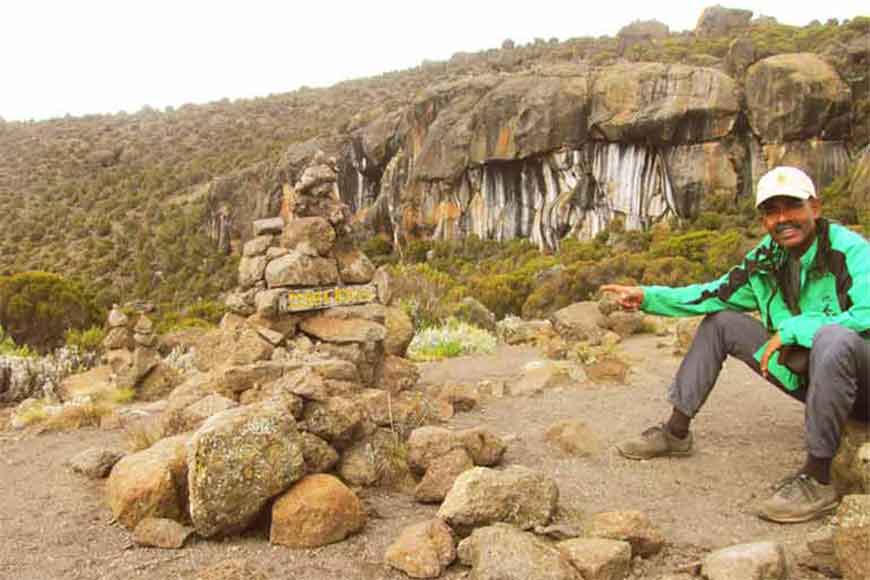 Bruno was still asleep. I did not want to disturb him so I left him in the cabin and went out looking for Jackson. I needed a steaming hot cup of coffee. I searched for Jackson everywhere and then finally traced him in the porters' quarter.
We exchanged pleasantries in Swahili and he handed me over my coffee. I set forth to explore Horombo Hut area, with the cup held in my fist. I was attracted to look northward and my eyes were transfixed behind the mountain wall as I looked at the resplendent peak of Mount Kilimanjaro . I stood in absolute silence, enjoying the heavenly beauty of the majestic peak.
This camp has a couple of A-shaped wooden huts which are let out for hiring. Each hut accommodates about six to eight mountaineers. Horombo Camp has provisions for putting up 120 climbers at a time. Other than these, there are camp sites as well where adventurers can live in their tents. There is large kitchen, a sprawling dining hall, room for porters' stay, camp warden's office and a toilet complex. Two more large rooms are being constructed to accommodate more hikers. There are two clean water natural springs here so there is no shortage of water in the camp. Although Horombo Hut was the first camp on my ascend route, it is actually the second camp for those who take the other routes. The first pit stop on the Kilimanjaro trail is Mandara Hut.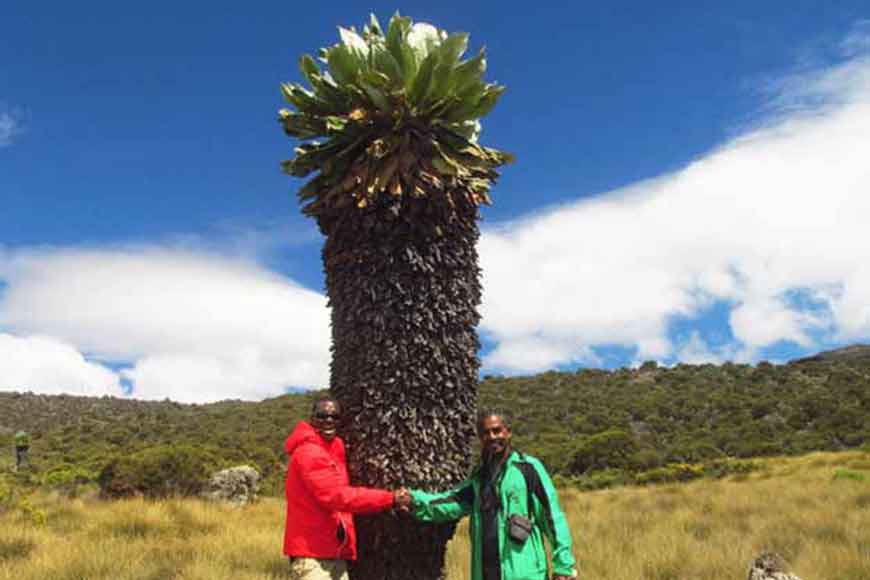 I returned to our cabin and saw Bruno up. He asked me to have breakfast and get ready. I went to the dining hall to see Jackson waiting for me with a sumptuous spread containing bread, jam, margarine, spicy omelette, sausages, french fries, pineapple and coffee.
After breakfast we went for a long walk to acclimatize ourselves. Bruno and Jackson chatted in Swahili and I walked behind them, looking around me. A little above the camp site, a walking trail went in the direction of the Zebra Rocks. From here the moorland vegetation paved way for Alpine vegetation. Trekkers usually take a walk from Horombo Camp to Zebra Rocks and return to adapt to the changing weather condition and the height. This reduces the chance of fatigue and mountain sickness one often encounters in the camps located in the higher altitudes.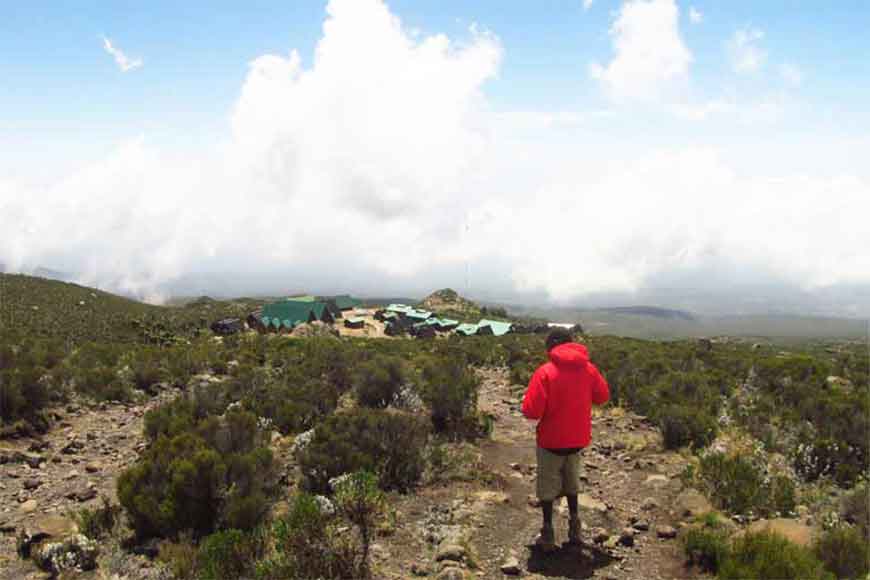 The distance from Horombo Hut to Zebra Rocks is two kilometers. Located at a height of 4010 meters, it is about 300 meters higher than Horombo Hut. Bruno was showing me around. On our right side I could see Mawenzi Peak, at a height of 5148 meters, it is the third highest peak of the continent. There were six or seven ragged peaks clustered together. On the slope side of the peak I noticed very strange looking huge trees in abundance. Bruno informed me they are called Cinasia. He said, these trees grown in areas where there is an abundant source of water. During the trek, we came across strange trees and shrubs which are area specific and grow in this region only. Exquisite yellow flowers bloomed around in happy abundance. Huge dry tree trunks looked like fossils were strewn around. I was tempted to pick one and take it as a memento but they were too hefty for carrying.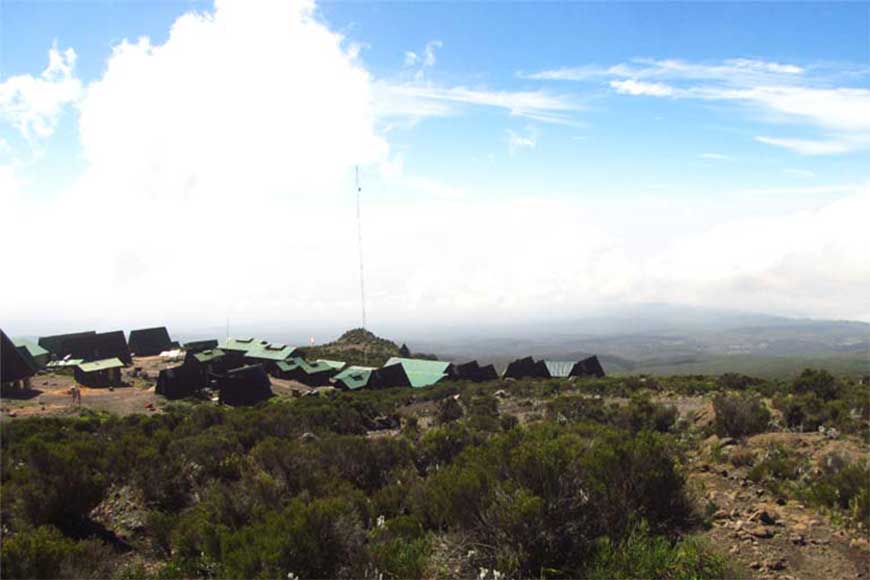 We reached Zebra Rocks within half-an-hour. This was a small wall built from crystallized lava deposits with zebra- like marks created by streams of rock salt water flowing incessantly from above. As we stood right in front of Zebra Rocks, we could see thin white thread-like ice meandering from Mawenzi Peak. Jackson informed the ice would melt later in the afternoon as the heat increased. We took a short break here. I noticed tiny birds here. Bruno informed me you might chance to spot rodents here as well. At 11 am, we came back to our camp site. We had coffee again and then took out our bicycles to check if everything was okay. Tomorrow we would embark on our expedition and our bicycles would have to endure the pressure of this journey with us.
Story Tag:
Sports in Bengal, Bengali Cyclists, Ujjwal Pal