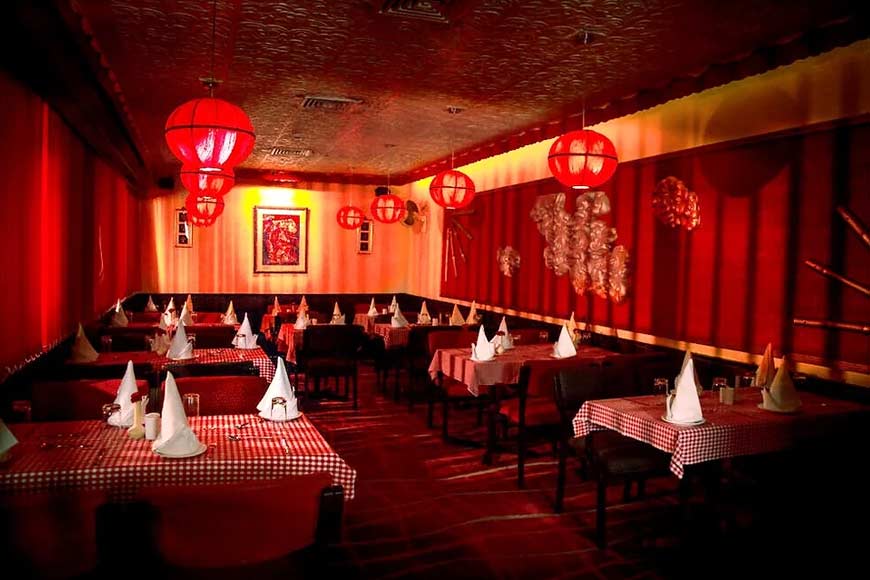 Kolkata is renowned for its close affinity with food. There are endless number of eating joints spread across the city to usher in and satiate the hunger pangs of people from all socio-economic background. There is the typical roadside 'dhabas', pice hotels serving Bengali meals, cabin and restaurants at one end of the spectrum and on the other are the star-rated restaurants, cafes, bars and tea rooms. Many of these were established by restaurateurs from the West who landed in Calcutta during the British rule to try their luck in the burgeoning city. Over the years, these niche cafeterias thrived and made their way into almost every gourmet's favourite list but many of these eateries could not keep pace with the fast changing socio-political and economic scenario of the city. New flashy, garish outlets appeared to cater to the nouveau-riche clients and the number of well-heeled, aristocrat patrons who stuck to their favourite joints dwindled. As a result, many such iconic restaurants shut down permanently and only a handful of them continued to thrive as they moved on with the times to cater to the changing palette of the new generation of foodies.
Trincas is one such legendary restaurant that has been in business for the past six decades and more and still continues to be one of the most popular eating places in the city offering multi-cuisine fare. Located in the heart of the ever-bustling Park Street, Trincas is one of the three famous restaurants of Park Street winning the heritage tag by the prestigious INTACH (Indian Trust for Art and Cultural Heritage), the other two being Mocambo and Kwality. Trincas origin can be traced back to the British era when a Swiss entrepreneur, Quinto Cinzio Trinca moved from Switzerland to India and joined hands with Joseph Flury and his wife Freida to start a Swiss Confectionery and Tea Room on Park Street in 1927. In 1939, Cinzio Trinca and his wife Lilly stepped out of the Trinca-Flurry partnership and opened Trincas Tea Room and Confectionery right across the street to its current location at 17 Park Street. The new Tea Room soon became a popular joint and Cinizio Trinca continued to run the business successfully for the next two decades and then sold the restaurant to Omi Puri (grandfather of present co-owner Anand Puri) and Ellis Joshua and moved back to Switzerland in 1960.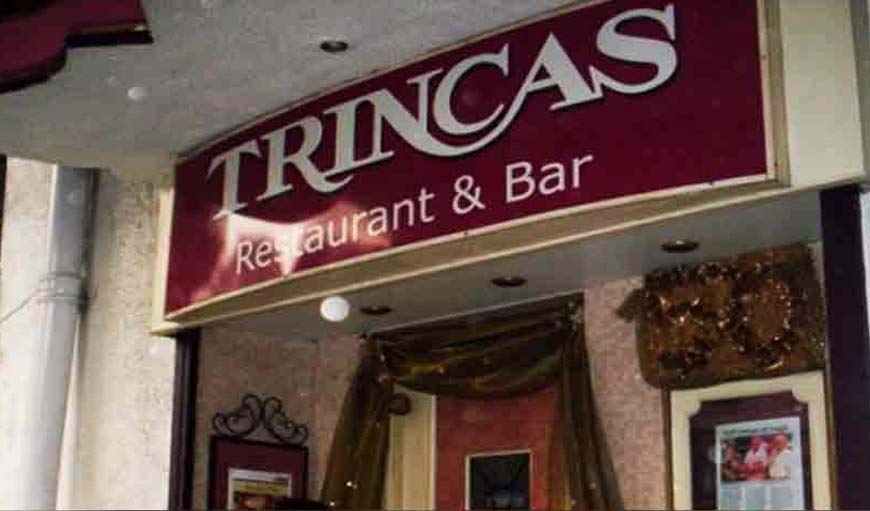 Puri was a visionary and a veteran in the hospitality industry. He along with Joshua converted the quiet tearoom and bakery into a restaurant with live floor shows. During renovation, a stage was added to the restaurant in 1961 and the magic of music started to transform the space. Trincas revolutionized the entertainment environment of the city with its delectable spread and unprecedented live music. This was the rocking Sixties and Trincas fame as one of the hippest and happening spot reached far and wide and gourmands and music aficionados from across the world made a beeline for the restaurant.
In those days, the evenings were divided into three musical sessions – Tea, Pre-Theater and Post Theater – there would be saxophonists and Spanish guitar players, pianists, percussionists and trombonists. Benny Rozario and his boys were one of the highest paid bands in India then and they performed at the Trincas during their heydays. When legendary crooners and divas like Molly and Eve took the stage and performed with their long shimmering evening gowns sweeping the floor and their hairdo in classic Hollywood style, guests would sit mesmerized for hours, totally oblivious of their surroundings as the clock ticked on. Nondon Bagchi, who began his musical career with the Chequered Tricycle, first performed here. The band introduced rock music to Park Street and performed their covers of Jimi Hendrix, Dylan and the Doors. It was here that young Usha Uthup made her debut in 1969. With her deep soulful voice, incredible stage presence and ability to capture a room, the lady draped in Kanjeevaram sarees and her signature bindi, bedazzled her listeners and became one of the most sought-after singers in the country!
Omi Puri's son Deepak was an alumnus of the prestigious Cornell University, well-known for its top ranked hospitality school globally. He was the main driving force behind Trincas who could read the pulse of the city very well. In fact, he was the one to introduce Kolkatans to the hot and spicy Sichuan fare in 1983. The opening of Ming Room, the first Sichuan-inspired restaurant in Kolkata was a food revolution of sorts. Prior to that, foodies in Kolkata were exposed to Northern Chinese cuisine also called Mandarin-style cuisine or Hakka (soy-based, milder) and Manchurian (tomato, coriander flavours and sweet/spicy sauces) dishes but Szechwan (celery, pepper flavours and more spicy red sauce) was a different ball game altogether.

Kolkata's association with China goes a long way back. The first recorded Chinese who settled in India was Tong Achew. He was a tea exporter who hailed from Northern China. He landed in Budge Budge in 1780 and settled here. Hakkas or Cantonese were the first Chinese immigrants who settled in and around Tiretti Bazaar in central Kolkata and Nan King, the first eatery was established here in the 1920s. This was also the time when enterprising housewives started crowding the Tiretti Bazaar pavements early in the mornings with their home-cooked delectable breakfast menu of steamed pao or stuffed buns, fish-ball soup, dumplings, rice and meat zung, pork sausages, rice pudding etc.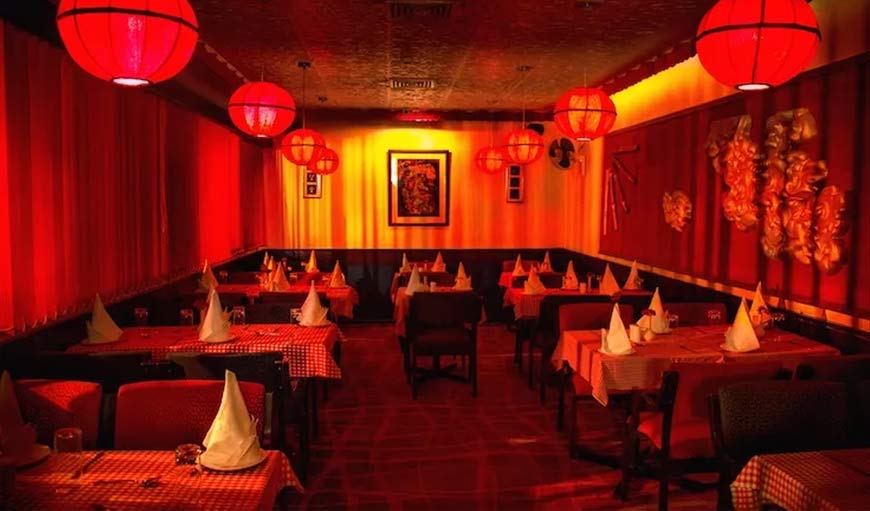 Decades later, a large number of Chinese immigrants settled in Tangra and built tanneries over the Eastern Wetlands of Kolkata in the early 1980s. They mostly hailed from North China and were hard working and enterprising. Many of these families, especially the ladies, started catering from their homes. They opened eateries in their outer rooms and welcomed guests with a sumptuous spread of popular dishes including soups and Hakka Noodles, Wonton Noodles, Fried Wontons and Cantonese Chicken. Within a short time, gourmets thronged to these outlets for a delectable fare. Kafulok, Kim Fa, Ah Leung, Kim Ling are some of the most sought-after Chinese restaurants in Tangra.
Meanwhile, multicuisine restaurants like Waldorf on Park Street; Embassy and New Cathay on Chowringhee; Chung Wah and Song-Hai on Central Avenue; and Jimmy's Kitchen on Lower Circular Road offered a wide array of Cantonese and Hakka delectable and were patronized by the city's upper crust gourmet clientele.
Amid this scenario, Trincas opened the Ming Room and introduced Sichuan food that hit all the right notes for Indians and in no time, it became the favourite haunt of all foodies fond of Chinese cuisine. Szechuan cuisine evolved in China's largest province. The recipes preferred in this hot, humid and mountainous region are very different from other Chinese cooking styles. Mandarin cuisine uses salt to highlight the natural flavors of northern ingredients. There is also a focus on wheat-based foods used as the cornerstone that meals are built around. Noodles and dumplings are an example of those delicious wheat-based Northern Chinese menu items. Flavors are pure and direct, often emphasized with the saltiness of soy sauce, either light or dark. Szechuan cooking, on the other hand, is more flavorful and more highly spiced than Mandarin-style foods. Szechuan peppercorns, dried and even pickled chili peppers, and garlic are often used to create intense flavors. In fact, Szechuan pepper is a primary flavoring addition. Szechuan peppercorn is also the main ingredient in five-spice powder. Powerfully flavored vegetables such as ginger, garlic and onions are incorporated in almost every Szechuan recipe.
Over the decades, Ming Room evolved as an integral part of Kolkata's culinary heritage. The beautiful décor matches the ambiance. The interior space is lit aesthetically by hanging red Chinese lanterns. A glass window separates Ming Room from Trincas and all the goings-on in the main restaurant is visible from the window without the din and guests can enjoy their meals peacefully in the coziness of the Ming Room. Beyond everything else, it is the food that makes a restaurant, and Trincas has managed to win hearts with its great food.
Image Source : https://www.trincas.in/mingroom