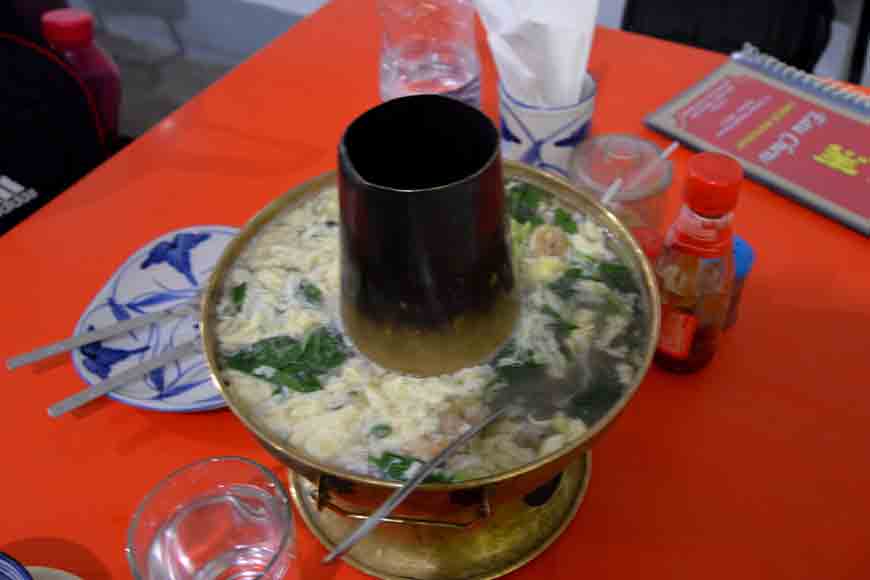 As the mercury starts dipping, we suffer from an irresistible urge for drinking something that offers us the much needed warmth during the freezing winters. Coffee and tea are common in ever weather. But nothing can beat the taste of a hot chimney soup. Chimney soup is generally served in a chimney that comprises of burning coal as the base. The refreshing yet filling soup with a lot of proteins like chicken, fish and other green vegetables is kept at the top. There are a few restaurants in the city which offer the most authentic chimney soup- the most popular Chinese recipe. Devouring these chimney soups together is the perfect way of celebrating winters.
Eau Chaw Restaurant is the oldest Chinese restaurant run by a family within the premises where they live. What makes the place special is the secret family-owned recipes that is rare to find. For decades, it has been serving authentic Chinese cuisine with home-made ingredients. Chimney Soup is the most famous soup available here. Served in a brass pot, the large one is suitable to feed around ten people. The broth looks delicious with fresh vegetables and delicious meat. The cracked egg on the soup gives it a creative edge. It is prepared by slow-cooking and the taste is to die for. The light soup is healthy, tasty and a perfect for a winter lunch. Located at Chandni Chawk, the building might not seem enticing enough to drop in, but the food is too good. The medium soup costs around Rs 500 while the large costs around Rs.1000.

If you want a bowl full of nostalgia, How Hua is the place to look out for. This iconic shop offering chimney soup is quite a sensation in the city. This Free School Street joint that saw a shut down in 2008, has reopened on Prince Anwar Shah Road. Even if the shop has changed location, the chimney soup of this joint is as mouth-watering as ever. It is full of fish, prawn, crab, fish balls, tofu, crab and meatballs. The price of their soup is decent at around Rs 380.
The Tiretti-styled Chinese food and you have Tak Heng to your rescue. The food has a typical Chinatown flavor. The Chimney Soup of Tak Heng comes in a Mongolian hot pot. Be it crabmeat, fish, black fungus, green veggies, squid, you will find every source of exclusive proteins in this special soup. The soup which costs, Rs900 is good enough for five people, but then it solely depends on one's appetite. Located at Hindustan Park, this place is highly recommended for their chimney soup.
Image - Arpita Chanda