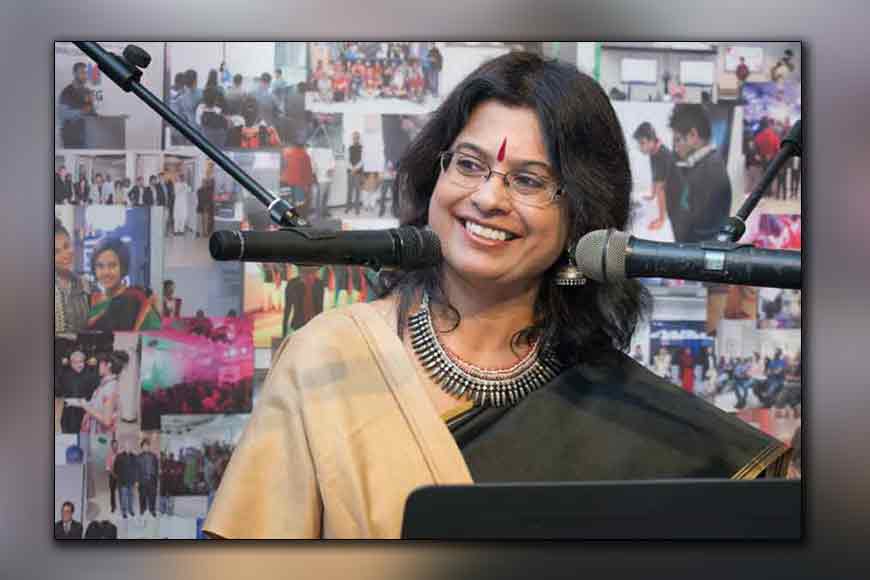 Mousumi Banerjee is a researcher and professor based in USA. She is a lover of art too and spends most of her time with three M's --- Maths, Music and Medicine. She gives an exclusive interview to GB
• You are a scientist as well as a singer and author. How do the three merge in your professional and creative space?
I loved numbers and writing at the same time, since childhood. My High School teacher inspired me to take up mathematics. I wanted to do something in mathematics that has an impact on public health. My work right now is a unique combination of statistical expertise with medicine. My father was a professor of English literature. I grew up listening to Shelly, Byron and today, I am a hardcore scientist. I still remember the way he recited Dante's Inferno, Riders to the Sea. My cousins used to sing. I grew up in an artistic environment. I have no academic training in music and literature but I have imbibed these through a process of osmosis and diffusion. Science gives me intellectual stimulation while through art I return to my roots. I work with data to predict the chance of survival of a patient, but behind those numbers, I can see a human suffering. My affinity towards music and literature has helped me to look beyond data and numbers and associate a human face behind it. It has helped me to look at life and work from a broader perspective.
• Brief about your work on cancer prognosis through bio-statistics
I make an effort to bridge various fields of science with oncology. If a patient is diagnosed with a specific kind of cancer, I try to gauge the chances of his or her survival, that again depends on the type of cancer. It also deals with the kind of optimal dose that would be suitable for the patient. There is a lot of statistical modeling involved in it. With the help of information of patients like age, other diseases, genetic profiling, we indulge in complex mathematical modeling, to determine what is an individual's chance of survival.
There are certain types of cancer like prostate cancer and breast cancer which have good prognosis with available screening tools. Therefore, early diagnosis is possible. On the other hand, pancreatic cancer is a deadly disease. By the time it is diagnosed, it is too late. With the help of cancer prognosis, one can understand the survival chances of a particular patient. We try to gauge the tolerance of a patient towards a particular chemo-therapic drug. My work also revolves cancer registry in Bangladesh. Cancer registry generally tracks the types of cancer people suffer from in a particular region, number of cancer related deaths within a particular population. Otherwise, disease surveillance is not possible.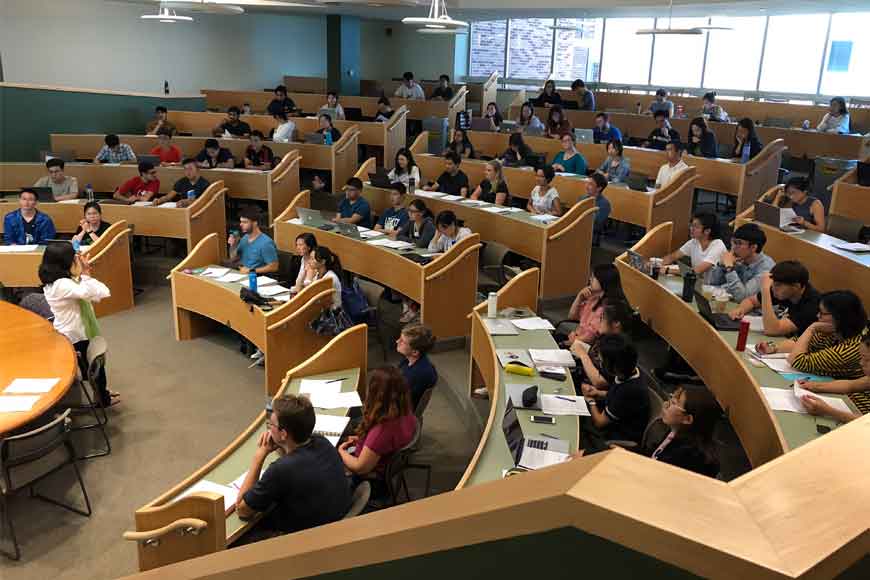 Mousumi Banerjee delivering a lecture
• How much do you miss Kolkata's Indian Statistical Institute and the faculty where you have been a student once upon a time?
I miss those days, the campus. Professionally also I am very much attached to it. I often go there to deliver lectures. This is the place from where I got solid educational foundation. The academic community is small. There are many friends who are a part of the faculty of Indian Statistical Institute who still send their students to my university for application. I still feel a strong connection with Indian Statistical Institute.
• What new research work are you involved in USA, specially with radioactive iodine?
Radioactive iodine is advantageous for distinctive thyroid cancer patients. It might not be useful for all patients as they also involve many kinds of risks. Although, the work focused on prognostication of thyroid cancer patients in a generic way, the research is not confined to use of iodine. Tumour stage and age of patients are also significant factors of survival when it comes to specific diseases.
• Coming to your musical journey, how are you popularizing Rabindrasangeet in the West?
Rabindranath shaped me as a person and is an important part of my life. He is my Chirosokha, chironirbhor.' I have been singing Rabindrasangeet since childhood. We had started a project called 'Tagore Beyond Boundaries' three years back. The idea is to take the music of Tagore to the west. I teach in a University of Michigan where people of varied cultures come to study. But even there many relate to Tagore as a poet, but hardly know of his songs. We have collaborated with Sarod player, Dr. Rajiv Chakraborty to take his songs to the western podium. We have transcribed around 300 songs. The orchestra of 125 people from American High School played Tagore's music. There were 3 songs interspersed with sarod tunes by Rajiv and for the other three, the children of the school sang in chorus with singer Som Chakraborty and me.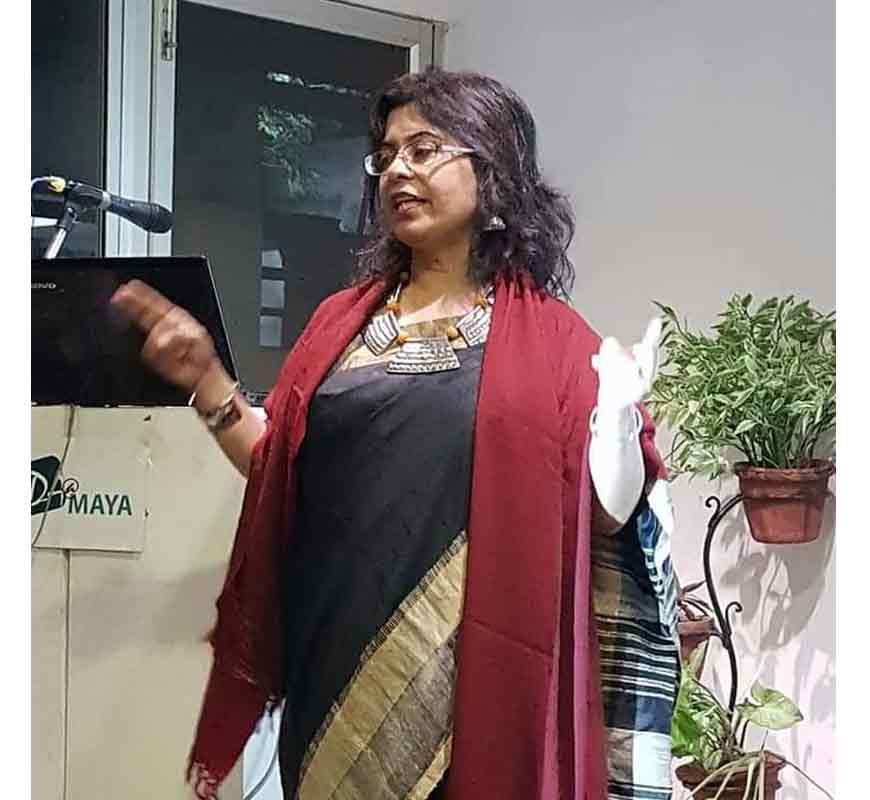 At Maya Art Space
• Do you believe music and science go hand in hand?
Absolutely. There is no conflict. Contrary to popular belief, I think it enriches each other. If you have passion towards it, they can co-exist peacefully. Four years back, my daughter told me that I had presented enough papers and it was about time I started writing and singing. That motivated me. My scientific and artistic lives complement each other.
• You are coming up with a new book. What is it all about?
My last book of poetry was published in 2015. The next book that I intend to publish is personal and is through the eyes of my children. I believe that I am raising my children in a different culture like global citizens and with humanistic beliefs. This is primarily a collection of various aspects of bringing in all my memories. It is called 'What is in a dot.' My children were very close to my father. We remember going to a fish market in Michigan. The entire experience has been penned down in this book. This book comprises of many such memorable and unique experiences of my life.
• Do you come down to Kolkata often? Any plans of any collaborative work here?
I come here twice a year. Apart from lectures, I do collaborative works with Child Health Institute of Kolkata.